Mum sparks outrage after charging ridiculous fee to attend son's birthday party
A mum in the UK has turned to the internet for advice after another parent advised her of the crazy attendance fee for her son's birthday party.
The topic soon sparked a fiery debate on parenting site Mumsnet when the mum shared her son had been invited to a go-karting party that would cost her £70 (about AUD$125)
On the site, the woman explained that her son had been invited and transport to the event would be provided.
"DS (Darling Son) is at a newish school – he was so happy to have been invited to a karting birthday party – turns out the whole class were invited – details were – the date – the activity – transport provided (it's a 80 mile round trip) and a request of Amazon vouchers for present," she wrote.
"I've been updated with further texts from the mother of birthday boy asking for deposits for the karting (£20) and the remainder on the day (£30) THEN that was followed up by a request for £20 for the transport," she continued.
"This morning she (in my opinion) has the gall to request we pack a generous picnic with ice packs and pack extra so the birthday boy doesn't have to bring anything."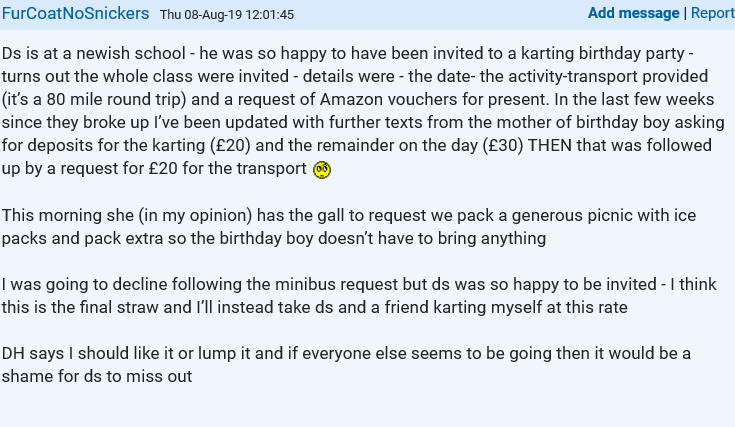 Most parents agreed that it was a totally unreasonable request to ask other parents to fork out so much money.
"I would be so annoyed at this," one user wrote.
"It's not a party. A party doesn't mean other kids having to pay to attend. It's horrible for her to drip feed all of this too after you have accepted. I would have a good mind to tell your son that instead of going, he can have the 70 odd quid to spend on himself!"
"She essentially wants everyone else to pay for her sons birthday. No way would my DC be going," another parent agreed.
"That is absolutely insane. I would definitely decline," another commented.
"Surely if you are throwing the party, you pay for everyone? She sounds cheap."
Would you allow your child to attend?
Become a Healthy Mummy!
Our Challenge is designed by mums FOR MuMS – to help them reach their goal weight and tackle their health and fitness.
The Challenge is home to customizable meal plans, 24/7 social support and realistic exercises mums can do AT HOME.
To find out more on the 28 Day Weight Loss Challenge click here.