This mum overcame not being able to look in the mirror to reach her goal weight in 18 months
After being obese her entire teenage and adult life, Renee said it was hard to look in the mirror and see anything else but that.
Rennee has now lost 55kg in 18 months on the 28 Day Weight Loss Challenge and proudly says she is at her goal weight!
"I bought my first smoothie in March 2016 and have never looked back" Renee said.
Here, she talks loose skin, how her food shopping has changed and how she overcame not believing in herself.
Losing 55kg in 18 months
At her goal weight, Renee has now maintained her 76kg weight for 6 months, saying "never EVER did I think this would be possible."
How did Renee get started on her Healthy Mummy journey?
"Shortly after my separation from my ex husband. It was only me and my then 5 year old. I was now a single mother and I never wanted my son to think that obesity or 'laziness' was any life at all. I wanted to show him that he can achieve anything in his life if he believed enough in himself." she says.
After being obese her entire teenage and adult life, Renee found it hard to look in the mirror and see anything else but that.
She overcame this by keeping her progress photos in a folder (so she can look by if she needs some motivation or simply to feel grateful for how far she's come) and donating all of her old clothes to charity because I she says she will NEVER go back there.
"My greatest achievement would be self belief. I have pushed my body to its absolute limits. Once I overcome mentally what I thought was impossible, nothing could stop me!" Renee said.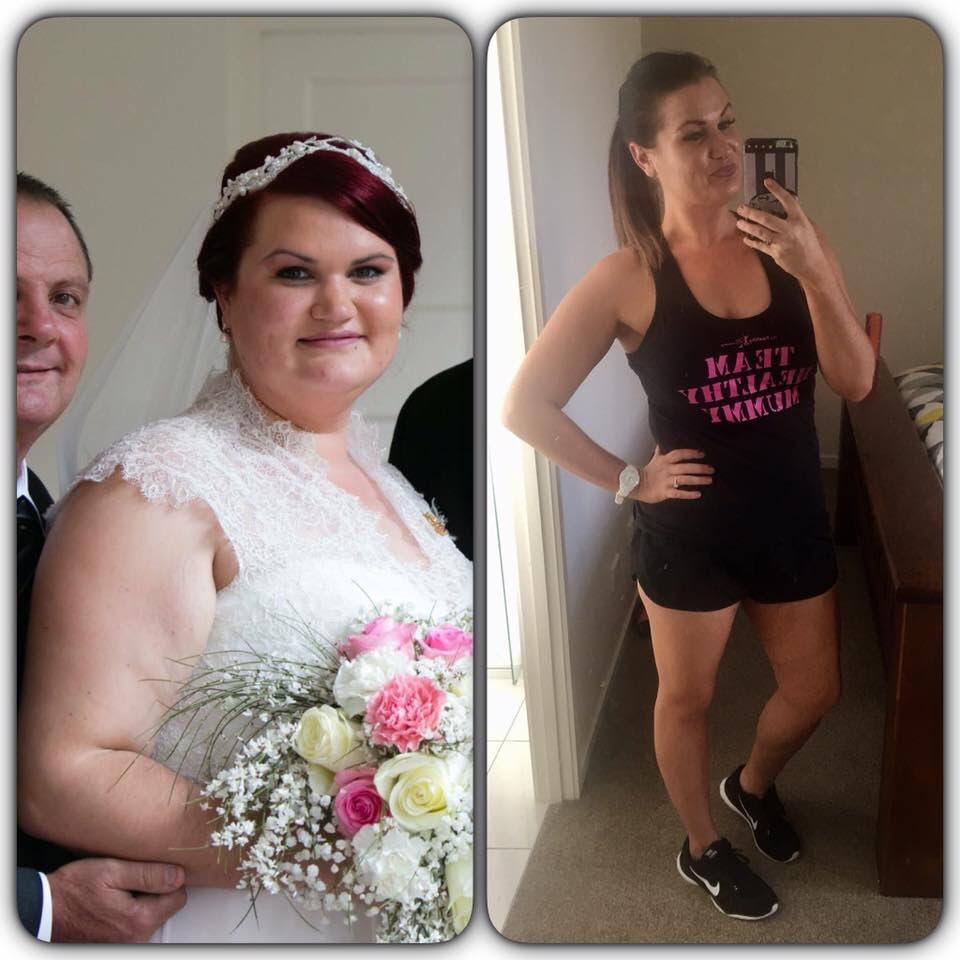 Changes after weight loss
Due to losing 55kg, Renee has some loose skin. She says, "I have been going to the gym 6 days a week to tone and I hope to leg press 200kg in the near future."
Not only has her body changed but her shopping habits too! She buys in bulk and meal preps for each fortnight. "This is perfect for me as I work shift work as a nurse, so I know that when I finish my shift there is a nutritious meal at home for me. Buying in bulk definitely saves me money!" she says.
As Renee has completed 10 Challenges, she has a lot of favourites meals she likes to prep, particularly those that can be made in bulk and freeze well.
Some of them include, Mexican Lasagne, Devilled sausages, and a Coffee Healthy Mummy smoothie. "I LOVE my coffee and it just seems so satisfying blended with ice, but a close second would be vanilla as it is so versatile," Renee says.
The Healthy Mummy has also had an impact on Renee's family as her and her son now ride their bikes together, go down the slide at the park and to the beach as Renee isn't afraid to wear a bikini at the pool or beach anymore.
"My son has embraced The Healthy Mummy way of life so well, he loves all of the meals and once said to me "Mummy, you're skinny like me now!" she said.
"DON'T obsess over the scales"
Renee said she used to weigh myself religiously every Monday and she says this was unhealthy. "There were a few weeks there where I lost absolutely nothing, but my progress photos proved otherwise, so let your mood and energy levels reflect your success," she says.
ALWAYS squeezing in cardio, Renee either does an early morning jog or a walk to the park with her son on his bike.
Renee credits her support around her for her weight loss success, as she says, "I drew my positivity through comments and stories from other ladies on The Healthy Mummy Support group, we are all here for the same reason and I just love that I have 24 hour support."
Find your own success
Our Winter Weight Loss 28 Day Weight Loss Challenge is nearing and do you know what that means? Winter won't beat your goals!
This Challenge is also loaded with tips on how to beat the winter food cravings and stay motivated and inspired through the colder months. With over 4,00 recipes and 350 exercise videos all in our handy app, you will slay this Winter.