We surveyed over 1,800 of our mums to find out how they cope with the stressors of life and their mental health. We found some surprising and some not-so-surprising statistics.
Not surprisingly only 3% of the mums surveyed put themselves as the first priority with most responding with things like "I'm not important", "if they are happy I am happy", "it's just what I do" when asked why they aren't their first priority. Most of the mums put their partner and kids before themselves (32%) with a small amount saying it depended on what was happening in their lives (17%).
With 32% of our mums feeling out of sorts or just not like themselves weekly we're glad to see that 60% have spoken to their GP about these feelings. However, 28% did respond that they feel they are ok and we do hope they are but looking at some of the other statistics they may just be minimising their feelings.
Most of the triggers of these feelings of stress and just not feeling right came from family commitments with 21% indicating their kids being difficult or financial stress was a trigger. Stressing over a busy week ahead (17%), general stress (16%) and a fight with their partner, friend or family member (16%) were the other big triggers of stress and feelings of being out of sorts.
In terms of how they deal with the stress the favourites were easy exercise (83%), catching up with friends (82%) or going for a walk in nature (77%) as a self-care technique but they also liked meditation (39%) and yoga (37%). But their first choice activity was grabbing a cuppa whether it be tea or coffee and reading or watching some TV (23%).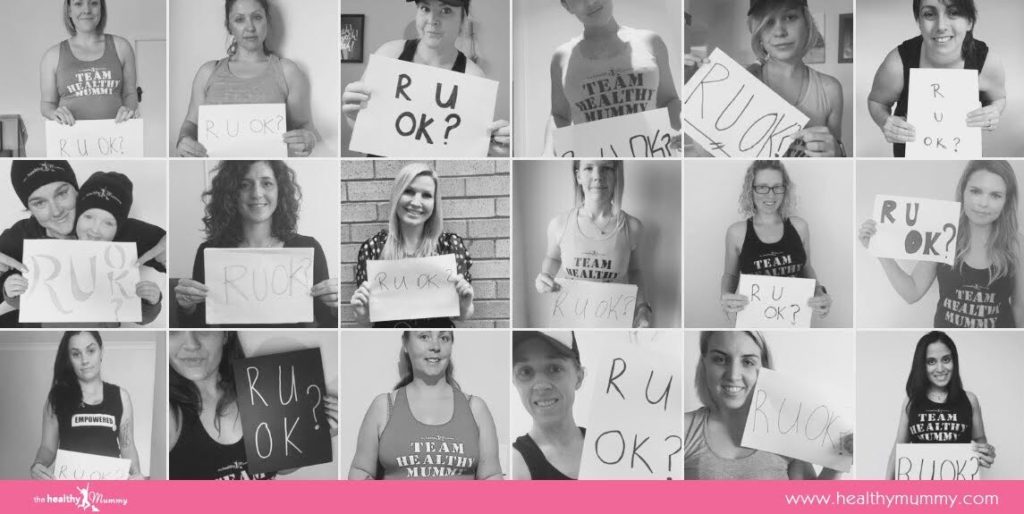 Full results of our R U Ok? Day survey
What's your go-to self-care activity?
23% grab a cuppa (tea or coffee) and read a book or watch some TV
13% go for a walk
10% call a friend or family member to chat
9% catch up with a friend or family member in person
8% put on a favourite song and dance
8% eat food
8% run a hot bath
8% said other (including things like ride their horse, visit the gym, massage etc)
7% go shopping
6% have a glass of wine/drink of alcohol
How often do you feel out of sorts, down or just not like yourself?
32% weekly
23% occasionally
22% only when outside stressors occur
19% daily
5% all the time
0% never
What do you think or notice are triggers for you to feel down or not yourself?
21% kids being difficult
21% financial stress
17% stressed over a busy week ahead
16% general stress
15% a fight with your partner or a friend or family member
8% other (including things like separation from their partner while caring for children, toxic work environment, hormones, loss and more)
0% chose work or all of the above
Where you place yourself as a priority?
32% kids and partner and then me
30% everyone else than me (last)
19% kids first then me
17% depends on what is happening
3% first
Some of the reasons why our mums didn't put themselves first as a priority included:
"I believe their needs are greater than mine"
"Because sometimes it feels if everyone else is happy then life is a bit easier"
"Because I like to make sure they have everything they need before meeting my needs"
"I always like to make sure my family has everything that they need to ensure they are happy then I do me. It's just a habit."
"I am a mum always put everyone before me they anyways need something"
"The kids are reliant on me. If they aren't happy I'm not happy."
"Cause if they are happy then I am happy"
"Taking care of my kids because they can't take care of themselves. I run the household and make sure everyone is ok."
"Sometimes there are not enough hours in the day, and if I don't do things I feel like I'm drowning"
"Because my biggest fear is my loved ones not being looked after"
"Just feel I need to make sure all is sorted for them and then if there is time or money left, then me"
"I have always put other people first. I do realise that I need to start putting myself first and am trying to work on it because if I fall apart everything else will."
Have you ever seen a doctor or other medical professional about your feelings of not feeling like yourself or lack of motivation or just off?
60% yes I have spoken to my GP
28% no I'm ok
9% other
2% not sure
1% psychologist
1 % no
Which common self-care techniques have you tried to calm stress and refresh?
Meditation
39% have tried meditation and liked it
20% have not tried meditation
19% would like to try meditation
14% have tried meditation but not liked it
9% not interested in meditation
Yoga
37% have tried and liked yoga
26% would like to try yoga
20% have not tried yoga
10% have tried yoga but didn't like it
7% not interested in yoga
Easy exercise
83% have tried easy exercise and liked it
8% would like to try easy exercise
3% have not tried easy exercise
1% not interested in easy exercise
Journalling
26% have not tried journalling
22% have tried journalling and liked it
21% not interested in journalling
20% have tried journalling and not liked it
12% would like to try journalling
Catching up with friends
82% have tried catching up with friends and liked it
7% would like to try catching up with friends
4% have not tried catching up with friends
4% not interested in trying catching up with friends
3% have tried catching up with friends and not liked it
Walk in nature
77% have tried a walk in nature and liked it
12% would like to try a walk in nature
6% have not tried a walk in nature
2% have tried a walk in nature and not liked it
Read some of the tips our mums gave for how to help keep the connection open and ask a friend, family member or stranger you think might be struggling R U OK?
If you feel depressed or are suffering from depression and or anxiety, we advise you to seek help from your GP or call Lifeline 13 11 14, Perinatal Anxiety and Depression Australia [PANDA] 1300 726 306 or Beyond Blue 1300 22 46 36.
Join our community of supportive mums!
If you are wanting to get that bit of extra support in your journey to better health come and join our community of over 1.5 million mums.