Meal prep. Meal prep. Meal prep. The benefits of meal preparation are next to countless.
When following a healthy eating plan, meal prep can help you stay on healthy eating track, save on groceries, spend less time in the kitchen and help you reach your overall weight loss goal.
And though it has BIG results, it can take a while to perfect – just ask 28 Day Weight Loss Challenge member Cassie.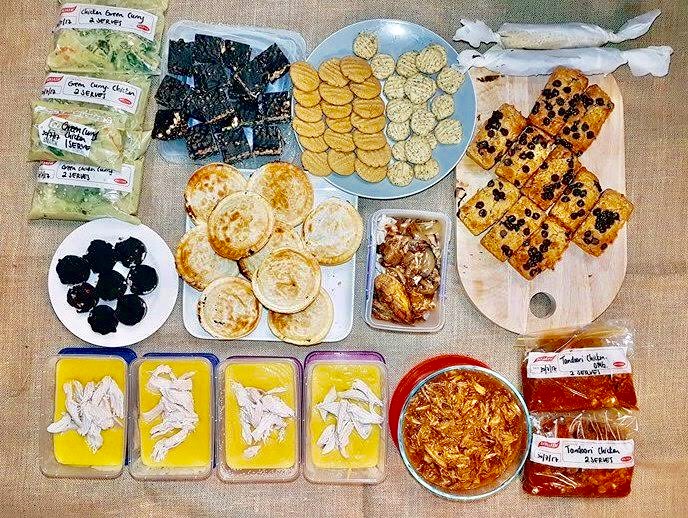 How meal prep has helped mum gain control over her life and save on groceries
"Remember when you were learning to ride a bike? How it was difficult and unnatural to begin with, but you kept practicing, and one day you were off riding?!
"That's how I have felt about food prep this month."
One of Cassie's July goals was to improve her meal prep skills. She admits that in the beginning meal prep felt weird and 'clunky'. However on Sunday evening – she says she finally nailed it.
An epic afternoon
Cassie's meal prep begun at 3pm on Sunday afternoon. She didn't finish until about 10pm that evening. However, in that time, also she managed to clean the house, eat dinner, bathe her children and put the kids to bed.
"Hands on time would be around 4 hours," Cassie reveals.
What Cassie made
Cassie was excited to meal prep fresh, savoury dishes. Most of the meals she chose to prepare were chicken based.
"This made things easier for me as I prepped all the meat at the same time," she says. "The veggies were similar across the recipes too, so they were all chopped first."
Cassie had her slow cooker on, her pie maker on as well as her stove, oven and Thermomix.
Cassie has no doubt her meal prep will save her on 'those nights' where she feels like takeaway – as she will already have a freezer full of delicious, healthy food.
"Besides…it will be easier to defrost something from here then to get takeaway."
This is what Cassie made: 
1. x12 serves of Slow Coked Asian Chicken 
This recipe is ideal for cooler days, when all you want is something warm and slow cooked. Tender chicken and full of delicious Asian flavours, this chicken dish is a winner.
Best of all it's only 320 per serve INCLUDING the rice, making it idea if you're following a healthy weight loss plan.
2. x7 serves of Chicken Green Curry 
Cassie made a delicious, chicken green curry which was based on the Healthy Mummy's freezer-friendly veggie packed yellow curry recipe – which you can check out here.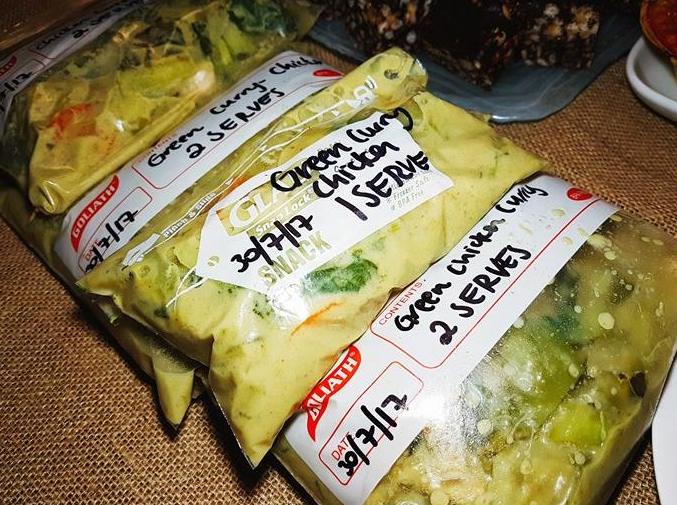 3. x5 serves of Roast Chicken 
This is the recipe Cassie and her family ate on the night of her meal prep. She also packed up the leftovers, ready to go for another lunch during the week.
This recipe was inspired by the 28 Day Weight Loss Challenge Roasted Dijon Chicken recipe – which is available to Challenge members.
4. x4 serves of Chicken and Leek Soup 
This recipe is another one found in the 28 Day Weight Loss Challenge Recipe Hub. It has less than 410 cals per serve, is super creamy and easy to make.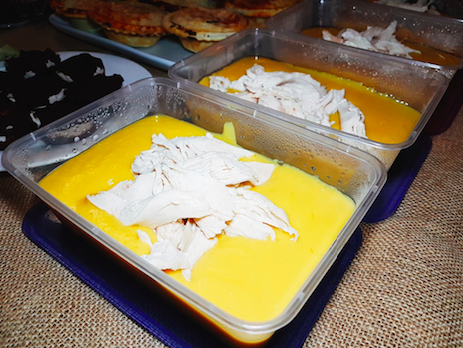 5. x12 serves of Chicken Pies 
This recipe has 503 cals per serve, more than 20 grams of protein and contains ZERO grams of free sugar. You can also grab this recipe in our 28 Day Weight Loss Challenge Recipe Hub.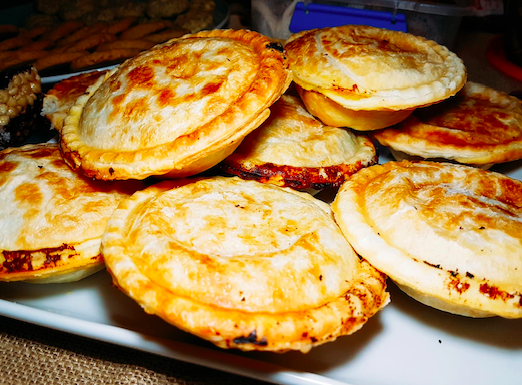 If you wish to access this recipe and other healthy recipes – sign up to our 28 Day Weight Loss Challenge HERE. 
5. x4 serves of Tandoori Chicken  
This recipe is also available to those on our 28 Day Weight Loss Challenge. The chicken combined with the brown rice is a high fibre dish, which will help keep you feeling fuller for longer.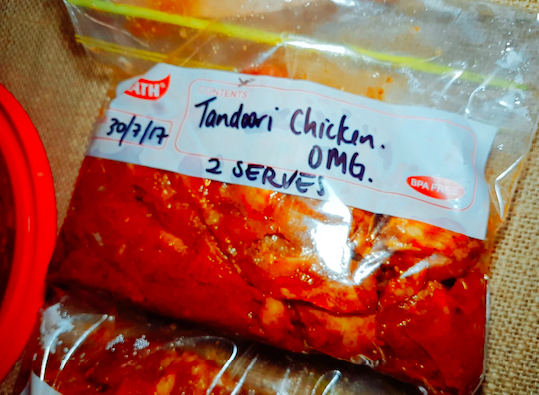 6. x10 serves of Choc Chip Banana Bread 
This recipe is NEW to the 28 Day Weight Loss Challenge and has been a hit with so many mums (and their kiddies). After all, who doesn't love banana and chocolate together?!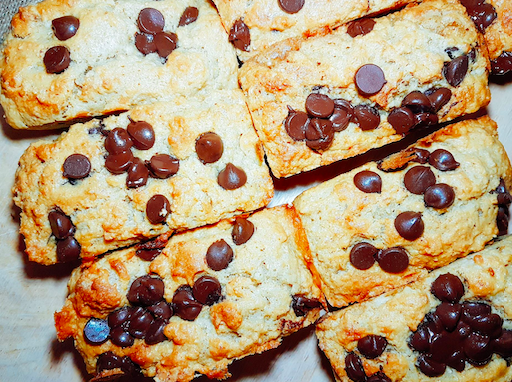 7. x14 serves of Spicy Ginger Cookies  
Less than 193 cals per serve, these cookies and easy to make and will no doubt become a family-fave. Again, this recipe is available to Challenge members on the 28 Day Weight Loss Challenge.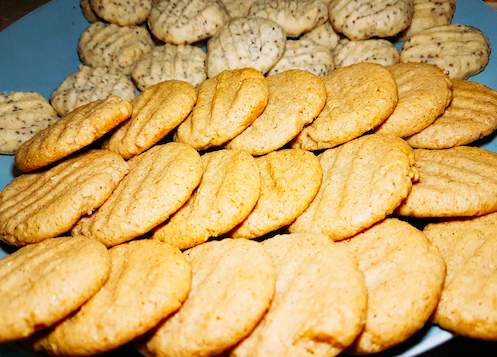 8. x10 serves of Chia and Lemon Cookies 
These chia and lemon cookies have 139 cals per serve. You can grab this recipe here.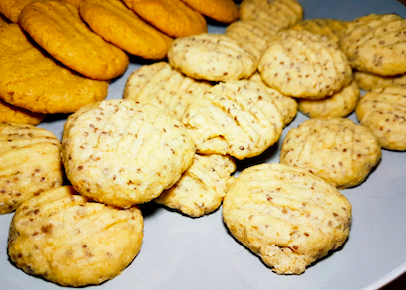 9. x18 serves of Peanut Bubble Crunch 
We haven't stumbled across too many women in our community who have NOT fallen in love with this recipe. The ingredient-stars of the recipe include rice bubbles, peanut butter and dark chocolate.
10. x8 serves of Choc Mint Creams 
This recipe is for the mint lovers. Coconut cream, peppermint and dark chocolate – yummy!
Members of the 28 Day Weight Loss Challenge can access this recipe via the Recipe Hub.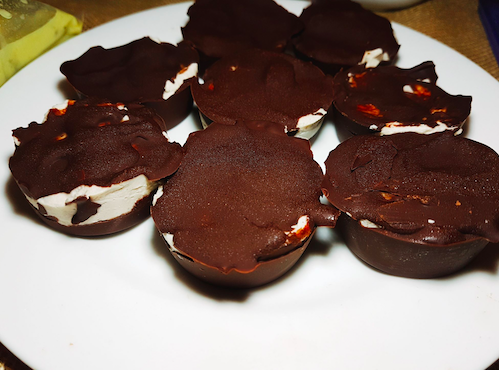 Preparing, cost and pantry staples
For this meal prep, Cassie mostly used ingredients and pantry staples she already had at home. She had bought some chicken on sale, hence wanting to base this week's meal prep around chicken dishes.
As an estimate, Cassie believes this meal prep would have cost her $80. That includes two whole chickens, over 1kgs chicken thigh, 500g chicken mince and 600g chicken breast.
She was able to make 41 main meals (servings) and over 60 snacks.
However, later on, Cassie says she will add garnish and rice to some meals.
Where does Cassie do her shopping?
Cassie says, "I split my shopping between my local fruit shop and Aldi/local independent supermarket. I like to try support small businesses, then try keep costs down by getting a lot of staples from Aldi."
Where will she store this food?
"Most of this food will be going to my freezer stash," she says. "My kids are pretty fussy so I often find myself cooking two meals.
"My partner and I will often eat once the kids are in bed, so having these meals prepared will mean I'm not cooking two meals every night and we also won't be eating so late.
"I'm building my freezer stash- last weekend I prepared red meat dishes, this week chicken and next weekend I will be making vegetarian meals to freeze."
Tips and insight for other mum's interested to meal prep using Healthy Mummy recipes
We thought Cassie's recipes and creations looked unreal – so we had to ask her – what is her FAVOURITE Healthy Mummy recipe.
"Choosing a favourite Healthy Mummy meal would have to be like choosing a favourite child," Cassie jokes. "I've been thinking about the slow cooked brisket with roast cabbage a bit lately. We also love the Bacon and Kaleslaw for a quick easy meal."
For mums who have never meal prepped before – but are inspired to do so – Cassie says to start slow.
"My first few attempts at prepping were a few snacks and extra serves of meals I was already cooking.
"I've slowly worked my way up to this. I enjoy having a freezer full of meals. Find what works for you.
"My parents gifted me an upright freezer 6 years ago and I always wanted to fill it with meals, but it always ended up full of meat that I would need to defrost then prepare. I'm so excited to see my freezer full of healthy meals for the first time!"
Cassie's Healthy Mummy Journey
Cassie signed up to 28 Day Weight Loss Challenge in January 2017. 2016 had been a difficult year for the mum, so she was determined to turn 2017 around.
"Signing up to the 28 Day Weight Loss Challenge was my first step. Through meal planning and prepping I feel as though I have more control over my life and more time to spend with my family."
Along the way, Cassie has also managed to lose 9 kgs.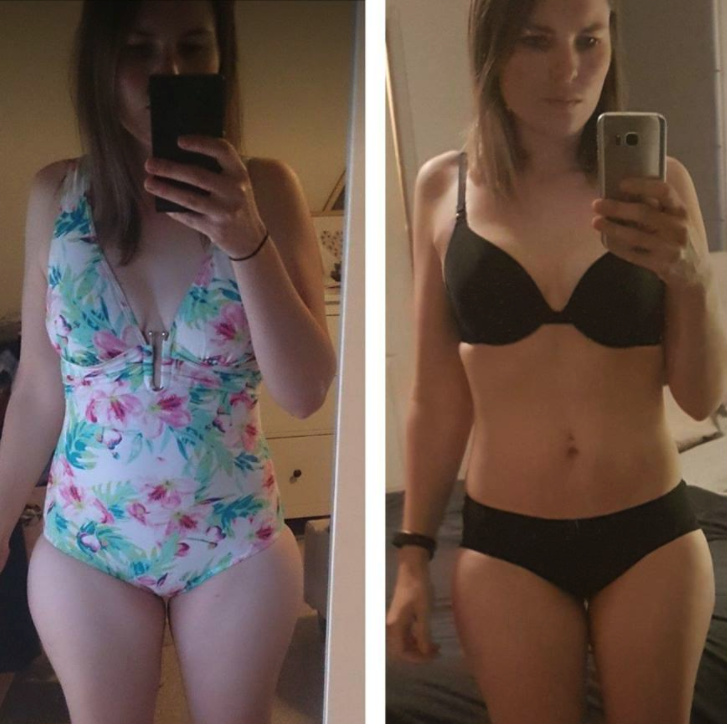 Access meal plans, recipes and meal prep tips on the 28 Day Weight Loss Challenge
If you are inspired by Cassie's meal prep and journey – and are keen to follow a healthy eating meal plan, master your meal prep skills and tackle your weight – then be sure to check out our  28 Day Weight Loss Challenge.
Our 28 Day Weight Loss Challenge has been able to help thousands and thousand of mums lose weight, blast belly fat and improve their overall health through healthy eating plans and exercise programs.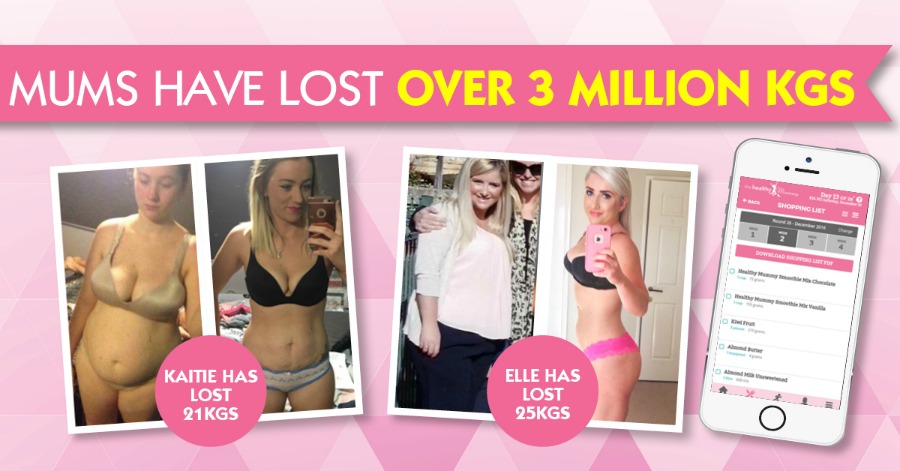 To learn more about the  28 Day Weight Loss Challenge click HERE.