2017's Best New Baby Gadgets – Three Products New Parents Will LOVE
The must-have baby gadgets for 2017 have just arrived – and we have the inside scoop on what three products are making waves among pregnant and new mums.
These products almost make me want to have another baby. Almost.
It's shaping up to be a great year for new baby gear!
Sure, technology has its downfalls, but these techy baby gadgets are beyond awesome. Designed to help parents during the early stages of infancy, we simply had to share these top three finds, all launched at a CES 2017 in Las Vegas this year.
The Contraction Calculator
Many first-time mums-to-be will remember those final weeks during pregnancy when every minor contraction send them into major panic. Am I in labour? Is the baby coming? Should I go to the hospital?
Enter Bloomlife – a pregnancy wearable device that attaches to mum's belly and measures contractions by reading the electrical activity of uterine muscle. This type of technology is usually reserved for hospitals but it is sure to be a big hit and save a lot of unwanted trips to the hospital for parents unsure if they are in active labour or not.
Like pretty much everything designed these days, Bloomlife is connected to an app so the data is sent to your smartphone. This is the first product launched by Bloomlife and they are already looking at ways to improve the device for more comprehensive baby monitoring.
The Nappy Sensor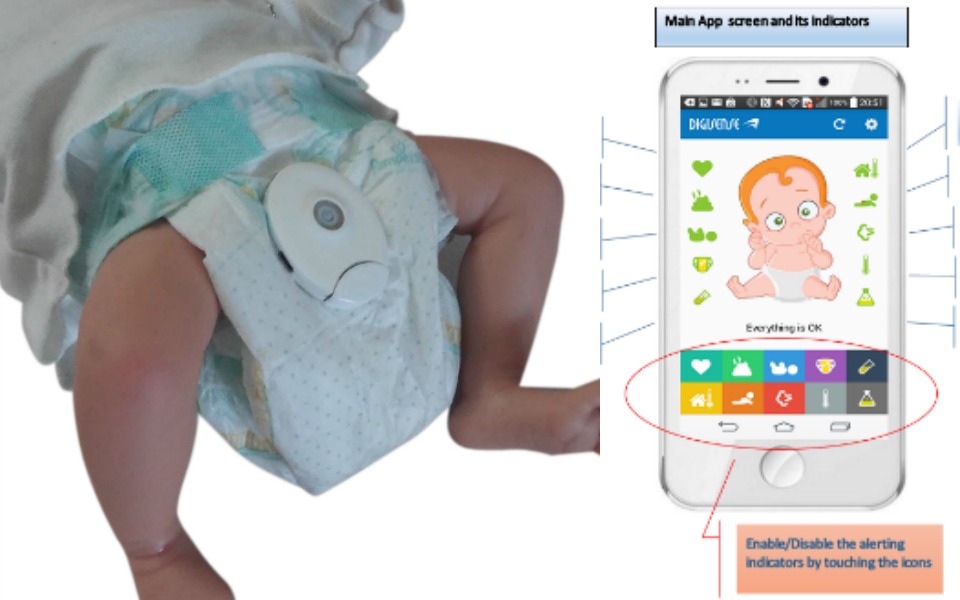 Ever wondered why bub could be crying? Digisense can tell you. Digisense is a button-like monitor that velcros to bub's nappy. It uses wearable real time monitoring technology to monitor more than just the contents of your baby's nappy.
The device is designed to "respond to the needs of baby care during the most critical stage of his live – help prevent Crib Death (SIDS), monitor nourishment and hydration levels, urine quantity and quality, and minimise discomfort and irritation to baby's sensitive skin."
The monitor is connected to an app that allows you to keep track of bub through your phone and can alert you if bub's nappy is wet, his hydration levels are low or if his nutrition levels are falling. And, because the monitor velcros to the outside of the nappy, it's easy to swap over to a new nappy.
The Sleep Training/ Tracking Clock
Our final favourite baby product of 2017 is REMI. REMI is the first smart bedside clock that acts as a sleep trainer, baby sleep tracker, a baby monitor, a walkie talker, a white noise maker and so much more.
There have been several products designed to help parents with infant sleep problems, from a doll to a self-rocking cot and REMI has all the requirements to help, including a walkie talkie so you can talk to bub and a sound system so you can record white noise or bub's favourite songs.
But what makes REMI so cool is that it doubles as a sleep tracker, monitoring sleep patterns and even calculating a sleep score to keep track of bub's sleep.
While the purpose of REMI is to help parents better understand baby's sleeping patterns over time, it can also train your older children to sleep better at night. How? REMI resembles a cute character who smiles when it's time to wake up…alerting children that it's time to get up.
Brilliant, right?
If you love technology and want more information on the latest gadgets – then you have to check out this article on 10 Time-Saving Kitchen Gadgets You MUST Own.