Newborn Instincts: Beautiful Breast Crawl
Is there anything better than a seconds old baby? How about a seconds old baby photographed doing something completely instinctive, yet mind-blowingly beautiful at the same time?
A photographer in the USA has captured the precious moments that brand new baby Harper spent performing what is commonly known as the 'breast crawl'.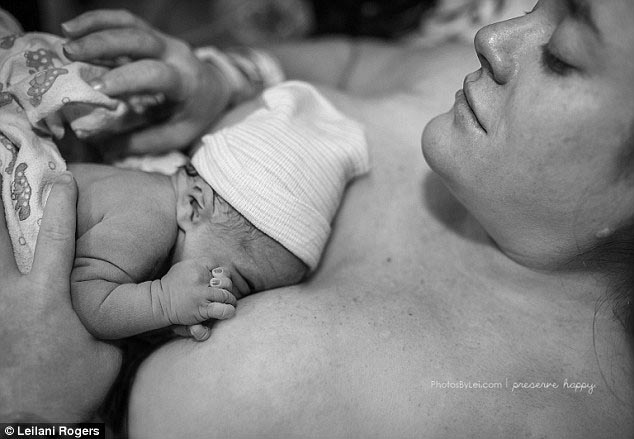 Photograph taken by Leilani Rogers. Image via Daily Mail  
The breast crawl is when a newborn baby uses their senses including touch, smell, sight and taste to gradually make their way up their mothers body to the breast where they will latch on and begin having their first feed.
It's a completely natural and instinctive phenomena, which isn't always seen in modern day maternity units due to the sequence of events that often unfold after birth. For the breast crawl to occur, mother and baby need to remain together, enjoying skin to skin contact for as long as it takes for baby to make his or her way up to the breast and find the nipple.
In the case of new mother Jessica and baby Harper, it took almost 48 minutes for the newborn to find what she was looking for.  After which she attached perfectly and enjoyed her first feed (no doubt well deserved after all that effort!)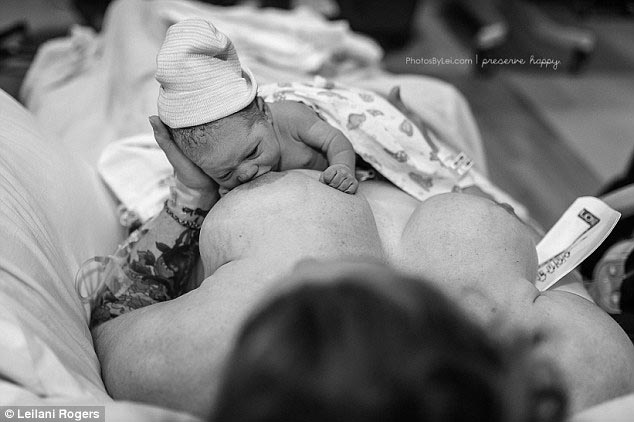 If the situation allows, giving mother and baby time to initiate the breast crawl/baby led attachment can circumvent many common issues with initiating breastfeeding such as latch and attachment issues and sore nipples.
Breast.org, a website dedicated to helping facilitate the breast crawl in hospitals around the world has the following tips for helping achieve this experience if your birth allows for it:
Discuss the Breast Crawl during pre-delivery counseling sessions.
Delay Injection vitamin K, weighing, routine measuring and dressing (wrapping) of the baby till after the first breastfeed
The baby and the mother should be covered together with a blanket or towel, so that they keep warm while continuing with skin to skin contact.
Raise mother's head on a pillow to facilitate mother-baby visual contact.
Do not wash / wipe breast before feeding.
Continue the first skin-to-skin contact, until completion of the first breastfeed.
Most babies would finish the Breast Crawl in 30-60 minutes. Hence, if a baby has already been in skin-to-skin contact for an hour or more, and has not reached the breast, or has tried to attach several times and has not succeeded, then it can be gently moved nearer to the breast and helped to attach.
Do not move the mother out of labour room until completion of the first breastfeed.
The child's father or a close female relative should be a part of this entire emotional interaction. However, if this is not possible at the outset, then they should be called in at the earliest feasible and acceptable time.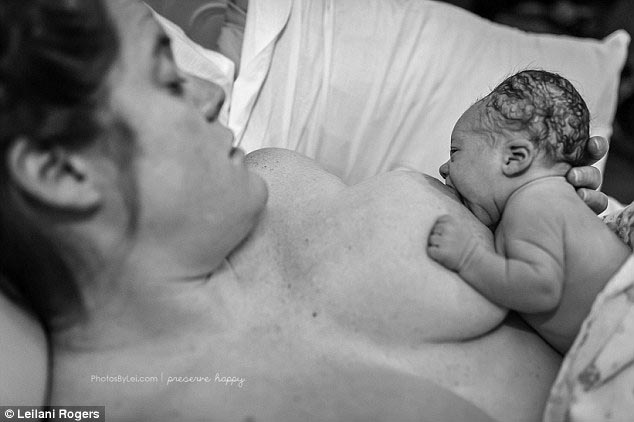 Photograph by Leilani Rogers. Image via Daily Mail
For more advice and support with breastfeeding and parenting a newborn, check out the Healthy Mummy blog.