Nicole Becomes a Healthy Mummy Motivator
Each month, the Healthy Mummy team are going to be bringing you a Motivating Mum who is on our plans and is losing weight to bring you an extra dose of motivation to help you in your own weight loss efforts.
If you would like to be one of our Healthy Mummy Motivating Mums please send us your name and details to i[email protected] Please note you to have already lost weight on our plans to be selected.
Today we meet Nicole Hope who has lost 9kg on our Healthy Mummy Plans and over November will be showing us how she is staying healthy and motivated to reach her goal weight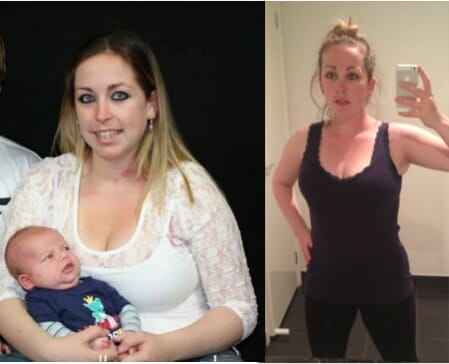 "Hi to all the Healthy Mummies,
My name is Nicole Hope, I am a very proud and busy mum to a 2 year old boy Ryan and 7 month old boy Joel. I was very excited to be chosen to be a Healthy Mummy motivating mum for November as after first losing 10kgs on the healthy mummy  program. This is the exact motivating tool "I" needed to reach my initial goal weight I set in June.
I have always struggled to maintain my weight and have always fluctuated, but after falling pregnant with my first child I gained a massive 25kgs during pregnancy. I didn't lose much of the weight after having him and when I fell pregnant again I had a starting weight of around 80kgs which was about 12kgs heavier than I was at the start of my first pregnancy.
I was determined not to gain anywhere near as much weight second time around and managed to only reach 86kgs by the end of my second pregnancy. My second birth was an emergency c section after a 26 hour labour, a nice healthy 8 pound 13 ounce baby boy entered our little family. As the weeks rolled on I loved having a new born again but hated what I saw in the mirror I was feeling fat and ugly and hated my partner coming anywhere near me. I saw a friend share a link from the Facebook page and I ordered my 28 day plan that is when my journey began.
I started at around 80kgs in June and by the end of August I had lost 10kgs and was feeling fantastic. The plan was fantastic for me and worked so well. I then dropped another 2kgs in the coming weeks. But as the boys got older and life got busier. I struggled to maintain the healthy eating lifestyle. My 2year old had his tonsils and adenoids removed and grommets put in and my 7 month old baby came down with continuous kidney infections. So with all the hospital stays it just became harder for me to eat healthy on the run, or actually eat at all.
I gained the 2kgs back and I'm now back to around 70kgs. After gaining this weight again I decided to purchase the healthy mummy smoothy products as I didn't try them the first time I started the 28 day plan. Since having these healthy mummy smoothies it has made it allot easier to eat a quick and filling lunch if I have no time to prepare a meal. I am also a breast feeding mum and it is wonderful to have a product like the healthy mummy smoothy which is suitable for breastfeeding and also have wonderful recipes that can even help you boost supply.
I applied to be a motivating mum to motivate myself to reach my goal weight of 65kgs before Christmas and also so my partner could set him self a goal of 10kgs also. We will be trying to complete this as a family and we are aiming for at least a 3 days a week as a group family exercise sessions. I will also be trying to include my boys in as many of my activities to show that it is possible to exercise even with young children.
My biggest challenge this month will be making myself eat, as when you're busy you either forget to eat or you get that hungry you grab quick and unhealthy snack. I will be hoping for roughly a 1 kg loss a week. But I do see this will be hard as I will be gaining muscle mass so I am prepared to be able to visually see the results on myself but not necessarily on the scales
My current details are
Weight 69kgs (down 9kgs)
BMI 26 (down from 29)
Bust 100cm (down 10cm)
Waist 83cm (down 4cm)
Hips 96cm (down 3cm)
Thighs 57cm (down 1cm)
I hope you all can follow my exciting journey and I hope I can motivate you this month and show that it is possible to enjoy the weight loss and your family all together.
Nic.
GET YOUR 10% DISCOUNT
If you are ready to lose weight then The Healthy Mummy plans offer a healthy and safe exercise and diet plans that are safe if you are breastfeeding and you can use code LOYALTY for a 10% DISCOUNT at the checkout.
Plus we have Cookbooks, Calorie Bibles, Exercise DVD's, Meal Replacement Smoothies and Our 28 Day Plan in our shop.