I love cooking but do not particularly like to wash up. This is why I love this hearty, warm, delicious and healthy one-pan chicken roast dinner, perfect for your healthy eating plan.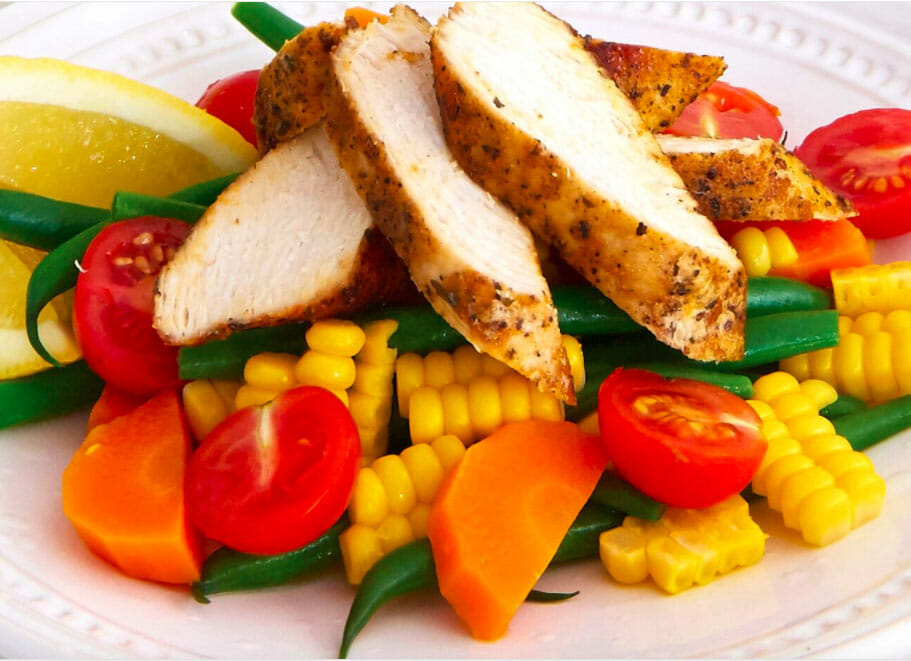 One-pan chicken roasted dinner recipe
Prep time: 10 minutes
Cook time: 45 minutes
Serves 4
Ingredients
4 x 120gram chicken breast fillets
2 tbs of mustard
2 tbs of red wine or balsamic vinegar
2 tbs of honey
2 tbs of oil
2 sprigs of rosemary
2 cloves of crushed garlic
1 handful of parsley
2 zucchinis
1 box of cherry tomatoes
1 eggplant
Directions
With 1 tbs of the oil, pan fry the chicken breasts for 2 minutes on each side.
Chop up the zucchini, tomatoes and eggplant and place them in a lined pan into a pre heated 200 degree oven for 20 minutes.
Combine the mustard, remaining oil, vinegar, rosemary and crushed garlic.
Place the chicken breasts amongst the vegetables and pour over the marinade. Place the pan back into the oven and cook for a further 15 minutes.
Voila! Enjoy another delicious roasted chicken recipe! For more roast recipe try our delicious pork roast recipe!
Around 310 calories per serve.