This chicken dish is juicy, tender and a beautiful warm meal to add to your healthy eating plan this week or next.
It is quick to make and the flavours are lovely and fresh.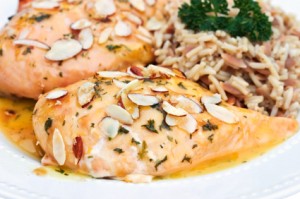 Prep time: 5 minutes (plus marinating time of up to 4 hours)
Cook time:  25 minutes
Serves 4
Ingredients
500 grams of chicken breast
2 oranges for juice and rind
1 brown onion diced
2 cloves of garlic crushed
1 tbs of dried mixed herbs
2 tbs of slivered almond
1 tbs of oil
Salt and pepper to taste
Directions
In a bowl squeeze the two oranges and grate the peel of one orange. Mix in the herbs, crushed garlic and salt and pepper.
Slice up the chicken into the desired size and marinate in the juice. It is best to cover and leave it to marinate for a few hours but it depends how much time you have.
When you are ready to cook the chicken, heat a pan and add some oil. Cook the brown onion until soft. Add the chicken, juice and rind. Bring the juice to a boil then reduce the heat and cook for 20 minutes.
In a separate pan, dry cook the slivered almonds.
Once the chicken is ready, plate it up and sprinkle the slivered almonds on top. For more chicken recipes try this delicious five-spice chicken recipe!
Serve with rice and some steamed vegetables.
The chicken per serve is 230 calories
Special Offer & 10% Discount
If you are ready to lose weight then The Healthy Mummy plans offer a healthy and safe exercise and diet routine that are safe if you are breastfeeding and you can use code LOYALTY for a 10% DISCOUNT at the checkout