Kimberley's Tips For Overcoming Obstacles To A Healthy Pregnancy
Hi fellow healthy mummies!
I'm Kimberley and I am one of your Inspirational Mums To Be for July!
Following on from the lovely and very inspiring June mums Caren, Samantha and Danielle I hope we can continue to fill your inspirational boxes and leave you feeling empowered to have a happy and healthy pregnancy no matter your situation.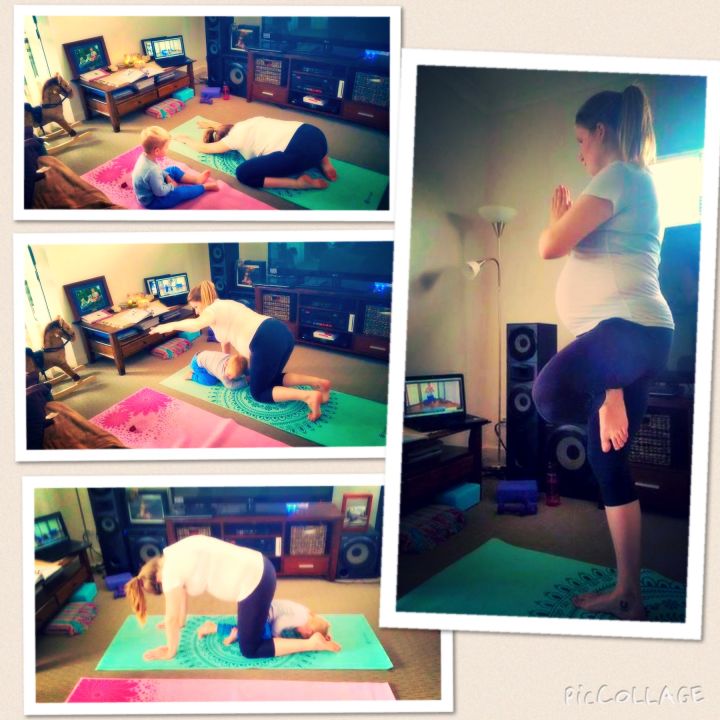 As with every body and life, every pregnancy and journey is different. Some of us are contending with health complications and common to more severe aches and pains that coincide with pregnancy while some of us may be struggling with time, energy, or resources. No matter what we are dealing with our main and common ground is that we are trying to maintain a healthy pregnancy within our own means.
My pregnancy has come with many ups and downs but something that has been of some challenge to me is living in a remote/ rural community. I don't have what I now consider luxuries that people who reside in larger areas are able to access in regards to health and fitness (such as supermarkets, gym/trainers/exercise classes, childcare services, medical services, etc).
Making do with what I can access and a little creativity and improvisation has been something I have had to work on to maintain health and fitness this pregnancy and it hasn't come easy. My family previously lived in a larger community with everything we needed and enjoyed only a stones throw away, so it has been an adjustment.
Some of the ways I have overcome the obstacles of rural living have been to be more prepared, organised and creative.
I'm a massive procrastinator so it's not something that comes naturally or easily to me. Produce is one of the harder obstacles, fresh fruit and vegetables are limited and as we all know don't have a long shelf life. And I love my food!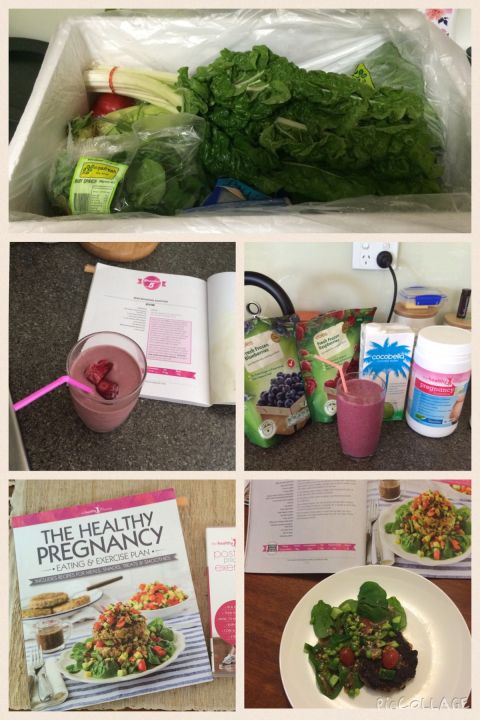 Ways I ease the pressure include: keeping more frozen goods on hand; freezing some of what I purchase or make; lots of bulk buying when I do a shopping trip; and most of my trolley and pantry contents are raw ingredients as I prefer to limit a lot of processed items by making what I can myself.
I am also lucky to be able to participate in a grocery hub at a nearby town which takes a bit of hassle out of shopping. We get a fortnightly delivery of fresh seasonal fruit and vegetables, but every box is a surprise and usually has something I generally would not have selected myself (it's been a great way to try new things and have a broad variety in our diets).
Sometimes it's not always ideal, but I make do with what I have to provide nutritious food for myself and my family. When it comes to cooking I often have to substitute ingredients because I don't have exactly what is needed.
When it comes to those days where things just have not gone smoothly I have a few favourite quick and easy recipes I fall back on (such as risotto) which I have most ingredients for and use what ever else I do have on hand.
I find there is always a way to get past complications and obstacles when we can be positive and inspired. Since it's release I have loved incorporating many of the recipes from the Healthy Pregnancy Eating and Exercise Plan such as the beef burgers with salsa and vanilla porridge with blueberry compote.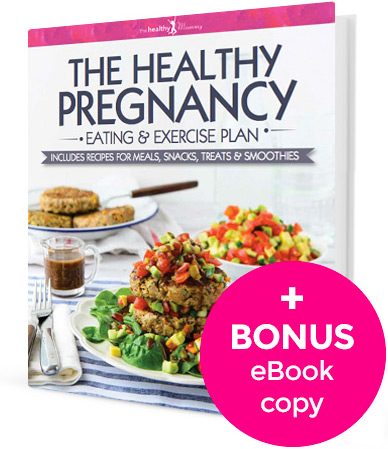 My diet is by no means perfect, there are still times where we may get takeaway or something undesirable finds its way into the trolley but it's all part of the learning experience.
I have found the same applies in regards to finding exercise and ways to engage myself to do so. I like to mix it up to keep myself motivated and interested in moving.
Some of my favourites are walking, cycling, the gym and yoga. I also tend to do most of my exercise within the home, especially over these cooler winter months.
I have an area in my lounge room that I keep all of my equipment in and I try to fit in some sort of exercise during the day.
I often use the Internet to access YouTube for pregnancy yoga and Pilates workouts and also love the stretches provided in the Healthy Pregnancy Eating and Exercise Plan and often incorporate them into my day.
Most of my exercise involves my toddler so he in himself is a big motivator to me, so even going for a walk for fresh air or taking the ball to the oval to chase around are welcomed ways to keep active. It really is about the simple things and making the most of what you have available whether it be in physical form or even mentally.
With some inspiration and a little will power to make things work no matter my situation I have been able to keep my pregnancy healthier, more fit and happier then my first. I've enjoyed being able to stay as active as my body would allow and with a little work provide myself with nutritious meals and snacks.
Healthy comes in many shapes and forms, so no matter your circumstances lovely ladies give yourself some credit for the things you do to assist in maintaining health and physical activity during this wonderful season of life.
No matter how big or small your challenges may be, let them be a strength not an obstacle and know that you are doing and making the best out of what you have to strive to a healthy lifestyle during your pregnancies.
-Kimberley
Click here to visit our pregnancy products shop.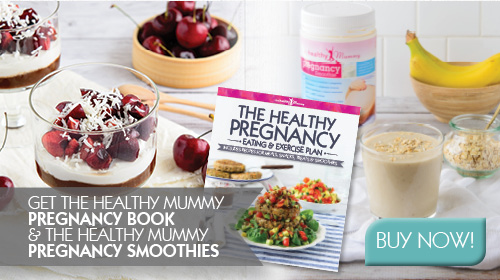 Disclaimer: Always speak to your doctor before changing your diet,taking any supplements or undertaking any exercise program in pregnancy. The information on this site is for reference only and is not medical advice and should not be treated as such, and is not intended in any way as a substitute for professional medical advice..
Our plans promote a health weight gain in pregnancy to benefit the mother & baby and you can read more on this here 
The owners of The Healthy Mummy do not make any representations or warranties, express or implied and shall have no liability or responsibility to any person or entity with respect to any loss or damage caused or alleged to be caused directly or indirectly by the information contained herein and nothing in this disclaimer will limit or exclude any liability for death or personal injury resulting from negligence, limit or exclude any liability for fraud or fraudulent misrepresentation, limit any liabilities in any way that is not permitted under applicable law or exclude any liabilities that may not be excluded under applicable law.