Peanut butter chocolate bars
These tasty and healthy bars are high in protein and fibre to help keep you fuller for longer making them a perfect treat for you to enjoy while following any healthy eating plan.
They are also very versatile and you can swap out the chocolate chips for sultanas, currents or whole nuts making them refined sugar free.  You can make these bars into 12 full bars or cut them into 36 bites making them perfect for the kids to enjoy too.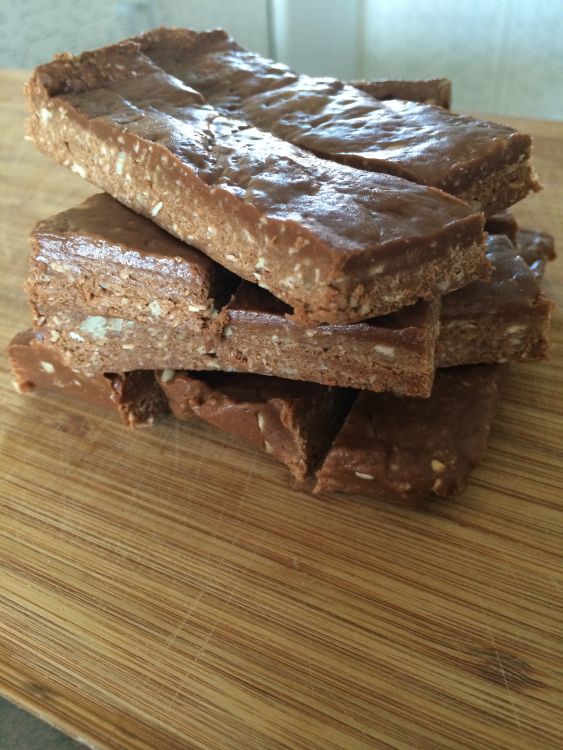 Ingredients
1/2 cup honey
1/2 cup peanut butter
1/2 cup dark choc chips
1/4 cup sunflower seeds
1/2 cup rolled oats
Method
Line tin with baking paper and set aside
Heat the honey in a small saucepan until boiling
Boil for 2 minutes, then take off the heat and stir in the peanut butter and set aside to cool while you prepare the other ingredients
Next process the Healthy Mummy smoothie mix, oats and sunflower seeds
If you like a smoother bar process until the seeds are fine, if you like your bars with some texture process until roughly chopped
Once peanut butter and honey are cooled slightly add to the dry mix, add dark choc chips and stir well to combine
Add to lined tin and press down to make the mix flat and even
 Let the bars cool in fridge for a few hours until it is firm and slice into even bars.
These bars will keep stored in the freezer for 3 months
For bars cut into 12 – 188cal per bar
For little bites cut each bar into 3 total of 36 bites – 63cal per bite
Recipe sent in by Natasha Pechlivanidis
Over 4,500 healthy recipes
And for 1000's of healthy snacks and over 3,000 healthy meals – check out the 28 Day Weight Loss Challenge!