Pear and Spinach Healthy Mummy Smoothie
Pear are deliciously sweet but low in GI (glycaemic index) and high in fibre which means they are a great fruit to add to your Healthy Mummy Smoothie.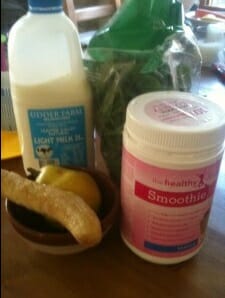 Couple with a frozen banana and some immune boosting baby spinach. This combo is sure to keep you going until lunch and keep your health on the right track and help you lose weight this winter.
How to make it:
2 tbs of vanilla Healthy Mummy Smoothie mix
1 banana (frozen if you like)
1 pear (peeled and cored)
1 handful of baby spinach
200ml of milk
Whiz it altogether, maybe a little longer than normal because of the baby spinach and voila.A delicious combination to get your day on track.
Special Offer & 10% Discount
If you are ready to lose weight then The Healthy Mummy plans offer a healthy and safe exercise and diet routine that are safe if you are breastfeeding and you can use code LOYALTY for a 10% DISCOUNT at the checkout