Pear, Walnut and Haloumi Cheese Salad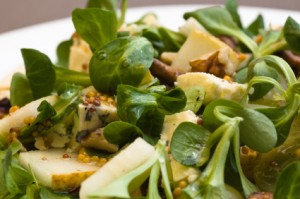 This Pear, Walnut and Haloumi Cheese Salad is great as a side or if you want to make it a delicious main meal, add in the turkey and quinoa (or brown rice if you like) to really fill you up.
A lovely addition to healthy eating entertainment or for a weekend meal with family.
Prep time: 5 minutes
Cook time: 10 minutes
Serves 4
Ingredients
2 pears peeled and sliced into 16ths (each pear)
4 tbs of walnuts (slightly crushed)
8 slices of haloumi
4 cups of green mixed salad
8 slices of deli turkey (optional)
1 cup of cooked quinoa (optional)
Dressing
2 tbs of mustard
1 lemon squeezed
1 tbs of apple cider vinegar
Directions
Slice up the pears and the haloumi and pop the haloumi under the grill. Cook the haloumi on each side for a few minutes.
Dry pan fry the walnuts to release their flavours and toast.
If you are going to include the quinoa, rinse it and cook as per the packet instructions. Drain and set aside.
In a separate dish/bowl combine the dressing ingredients together and put aside.
Put all the salad ingredients into a large bowl. Tear up the turkey and place it on top if you like. Lightly toss the combine and portion out onto separate plates. Drizzle with the salad dressing.
270 calories per serve (including turkey and quinoa)
If you are ready to lose weight then The Healthy Mummy plans offer a healthy and safe exercise and diet routine that are safe if you are breastfeeding