Penny's Holiday Weight Loss Tips
Hi Guys,
For the last couple of weeks we have been on holidays, and today, after a long drive, I am officially home! Unfortunately for us both there are no more daily theme park visits and no more beach walks. But on the plus side, being home means my exercise routine and healthy eating weight loss plan with the healthy mummy program can be stricter now.
Although a holiday I guess can be classified as a time to relax and get away from home life and routine, I knew that if I let myself go I don't think I would get back on track for a while.  I wanted to talk today about how I found time for weight loss while on holidays, and what I did to stay on track (most of the time) and maintain my 9kg weight loss on the healthy mummy weight loss plan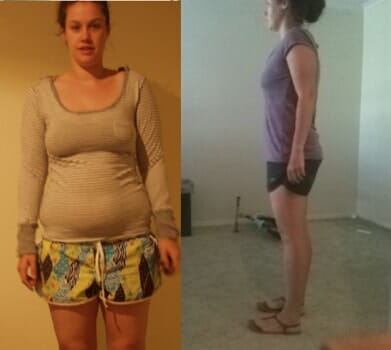 1) Dining In:
I love cooking and could do it in my sleep if possible. When planning holidays the first thing I think about is what will I watch on TV (I chose to remove access to TV channels while I was pregnant so only DVD's can be watched at home, a TV on holidays is total luxury for me) and is how can I cook dinner? I normally go for a self-contained holiday apartment which has cooking facilities, is within my budget (leaving more money for goodies), is larger than a small hotel and it seems to work out cheaper with a family. To save me all that trouble looking for somewhere to stay, a dear friend of mine offered to stay at his apartment. Hello total access to a full sized fridge, full size pantry, cooking facilities, any appliance you can image and digital TV.
On the days we were really busy it was inevitable that I would be exhausted and didn't feel like cooking. Pre-baby I would spend these lazy nights procrastinating on the internet, but now on my new journey to my goal I have become highly addicted to the content on The Healthy Mummy website, from the savoury dinners, to decadent (yet healthy) desserts, and stories from other Healthy Mummies. All the recipes take no time at all and are super easy to follow, therefore it doesn't matter how "tired" I thought I was I am able to cook a nutritious and tasty meal for the family. Myself and the other  Motivating Mums for December post our creations on the facebook page and have also been using  #decmotivatingmum on instagram! You'll be sure to find a smoothie recipe or meal you'll find tasty and want to put the ingredients on your shopping list.
2) Dining Out:
Being in a large city meant I was attracted to any new cuisine or dining experience each and every time I left the house. Whether it was on the way home from our morning beach walk, or as we drove home from a day out, there were temptations everywhere. I chose wisely the majority of the time. There is a great blog post called "How to eat well when dining out"  that I took into account when deciding what to eat! Anytime I am lost or need to be swayed one way there is ALWAYS a very knowledgeable post from the website that educates me to the best decision for my journey to my goal!
I did indulge a little but I think there are so many good and nutritious options these days to choose from there is no excuse to just settle with crap, unfilling food!   And although I did stay away from what I consider to be the worst options like Chinese, Thai, food court and the well-known fast food outlets, I still was getting noticeably bloated when eating out- mainly from out trip to the Italian Bar!!!
3) Exploring the town:
Dining in and dining out were my main food factors, but lastly there is the little issue of what to eat while exploring the town and visiting tourist destinations! Especially when going to theme parks which are known for their deep fried meals! Not only are these expensive but in the past they have definitely left me feeling sluggish and lazy at the end of the day! Now I cannot imagine a solid 3-5 hours of snacking on chips, burgers, lollies, fairy floss and soft drink. So how did I manage the stay away from the 'famous plate of yellow'. My term for fried food. Have you notice how it's all the same colour? And how you need a large portion to feel full? I would much prefer a smaller portion of a 'happy rainbow plate'- plenty of colourful veggies, quinoa or rice, and some tasty marinated meat!
I visited the supermarket as soon as we got to our destination and filled the fridge full of staple snack foods- carrots, beans, nuts, and celery!  Before we left the house I made sure to fill our cooler with bottles of cold water and cut up snacks!!! I found that these taken to the theme parks or playground provided us with enough energy and fuelled us for a day of taking in new experiences! I also found that: *I would eat before we left the house to avoid even thinking about impulse purchasing food because I thought I was hungry, *ensured I had prepped a meal and it was ready to enjoy when I got home, *fruit is more filling than I thought!
4) Exercise:
I could write a whole post on my experience of exercising while on holidays but I will sum it all up here as it's incorporated into how I stayed on track! It took no time out of my day as I worked the exercise into every spare moment I could! Like The Healthy Mummy philosophy, I'm a firm believer that in order to shift your weight and live a healthy lifestyle, food choices and exercise patterns come hand in hand! I did these things during out stay- * got to out days destination well before opening time and went for a huge walk, not only did it mean we got a good car park, but I felt refreshed and energised to being exploring, *parked as far away from the shops, *if where I wanted to go was within about 3km from our apartment I walked (could always catch the bus back if I felt my legs were weak), *put on the Healthy Mummy exercise DVD before baby woke up or while he slept, *got out of the apartment every single day, *made sure I played on the playground with toddler rather than sitting on the parents chair, *interval jogs while pushing the pram, * hill walks, and *put toddler in carrier and walked along the sand! And what a workout that last one was! An amazing lengthy incidental leg work out all with a 15+ kilograms on my chest! Definitely  a great toning exercise for my calves and thighs.
Special Offer & 10% Discount
If you are ready to lose weight then The Healthy Mummy plans offer a healthy and safe exercise and diet routine that are safe if you are breastfeeding and you can use code LOYALTY for a 10% DISCOUNT at the checkout