Perfectly-Timed Photo Captures Breathtaking Birth Moment
This superbly-timed birth snap is everything we love about labour – the raw, unique and miraculous all rolled into one. Photographer Beth Farnsworth took an incredible series of photos as this mumma's waters broke, capturing the cool-as-a-cucumber expression of her obstetrician and the moment a new life gushed into the world.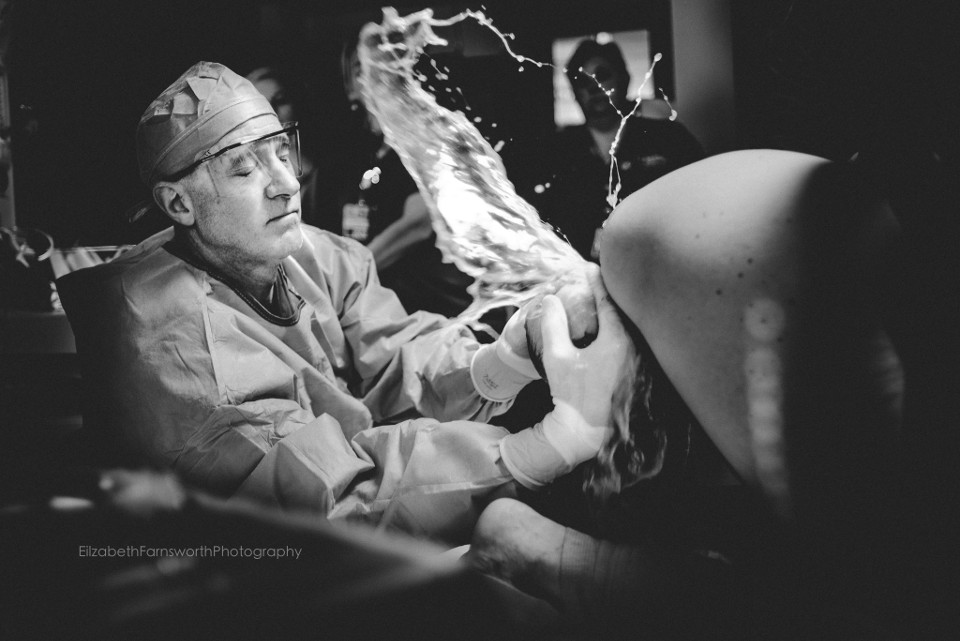 If you've ever wondered just how forceful the rupturing of membranes can be (even when defying gravity), this amazing series of birth photos is the perfect demonstration.
'I caught that!'
Photographer Beth Farnsworth, who works in the Roanoke, Virginia area, says she managed to nail the perfect shot thanks to a mixture of the right angles and luck.
"The birth was little girl number five for this family. They had done previous birth centre births, so this hospital birth was a bit different for them," Beth explained to The Healthy Mummy.
"The mum knew she wanted to labour and birth on her hands and knees, so was quick to remind her OB and nurses of her plan. Everyone was very encouraging and positive about it all!"
Beth says that while the mum was in transition, she'd had some leakage of her water, but it wasn't until her baby's head emerged that the real action began.
"When they baby's head emerged completely, there was a loud gushing noise and the nurses all had a loud gasp! I remembering shouting 'I caught that!'. But with only another push, the baby was out quickly and the rush of birth caused everyone to completely forget it even happened, admittedly! It wasn't until editing the images that I was able to fully see what was captured! It was quite amazing!"

Magical moment caught on camera
Beth explains that the couple love the images, given the husband isn't keen on being at the business-end of proceedings and missed the moment.
"When seeing the birth pictures, the mother was so thankful for the capture because she didn't even know it had happened in the moment! She just kept stating 'What an amazing capture!! I had no idea'."
We have to take our hats off to the incredibly calm demeanour of the obstetrician, who took it all in stride.
"The doctor is one of the most favourite OBs in our entire town. EVERYONE loves him, he has 11 children himself! He is always encouraging of women and their wishes!"
To see more of Beth's amazing work, head to Elizabeth Farnsworth Photography or take a look through her Instagram account.
And make sure you have a look of the amazing images taken by a Gold Coast mum's husband, as she delivered her own baby via c-section!