Piña Colada Smoothie Recipe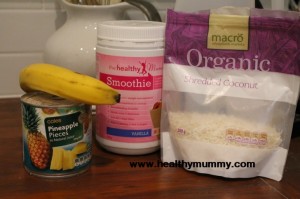 Unsurprisingly, the whole family loves this Healthy Mummy Smoothie. I am not sure whether it is the combination of the pineapple and coconut or just how thick and smooth it is.
Either way, this Healthy Mummy Smoothie combo has the gorgeous sweetness of the pineapple (which has the great weight loss enzyme bromelin) and the added fibre and flavour from the coconut. Win win!
What you need is (per person)
2 tbs of vanilla Healthy Mummy Smoothie mix
1/2 banana
2 pineapple rings
1 tbs of shredded coconut
200ml of milk
Blitz it away and you are on holiday! Enjoy our delicious Piña Colada recipe!
Special Offer & 10% Discount
If you are ready to lose weight then The Healthy Mummy plans offer a healthy and safe exercise and diet routine that are safe if you are breastfeeding and you can use code LOYALTY for a 10% DISCOUNT at the checkout