Poached Ginger Chicken Noodles
Poaching chicken is a great and healthy way to cook chicken.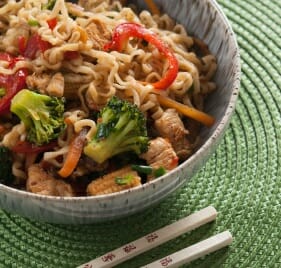 Cooking it in a saucepan full of stock gives it a fantastic tenderness and juiciness. Not to mention it requires no oil or butter whatsoever. another delicious butter chicken recipe!
You then simply use the same stock to quickly cook your veggies and noodles.
You can really use any veggies that you have on hand, so long as they will benefit from just a few minutes of cooking time.
Ingredients:
2 chicken breasts, trimmed of any fat, cut into chunks
1L chicken or vegetable stock
50g ginger, peeled and diced
½ head broccoli, cut into florets
1 tin of baby corn, drained
1 red or orange capsicum, finely sliced
400g noodles of your choice
2 tbsp soy sauce
Juice of half a lime
Small bunch coriander leaves (optional)
Method:
Place the stock and the ginger into a large pot and bring to the boil.
Add the chicken and reduce the heat to low.
Cook the chicken on a gentle simmer for around 15 minutes or until cooked through (cut one chunk in half to check).
Set aside the chicken, and turn the heat for the stock up to medium.
Shred the chicken when it is cool enough to handle.
Add the broccoli, capsicum and baby corn to the stock and cook for 3-4 minutes until tender.
Remove the vegetables and then add the noodles, cooking for the recommended time from the pack.
Drain the stock from the pan and throw back in the noodles, vegetables and chicken.
Drizzle with the soy sauce and lime juice, then sprinkle with the coriander if using.
Serves: 4. Calories per serve: 380.
If you are ready to lose weight then The Healthy Mummy plans offer a healthy and safe exercise and diet routine that are safe if you are breastfeeding and you can use code LOYALTY for a 10% DISCOUNT at the checkout