How Much Pocket Money Do Aussie Kids Really Receive?
How much pocket money Aussie kids get can be a hotly-debated topic around the dinner table, especially with those on the receiving end.
But according to a recent report it's a consistent rite of passage for most Australian kids, with close to 70 per cent of adults surveyed saying they got it as a child.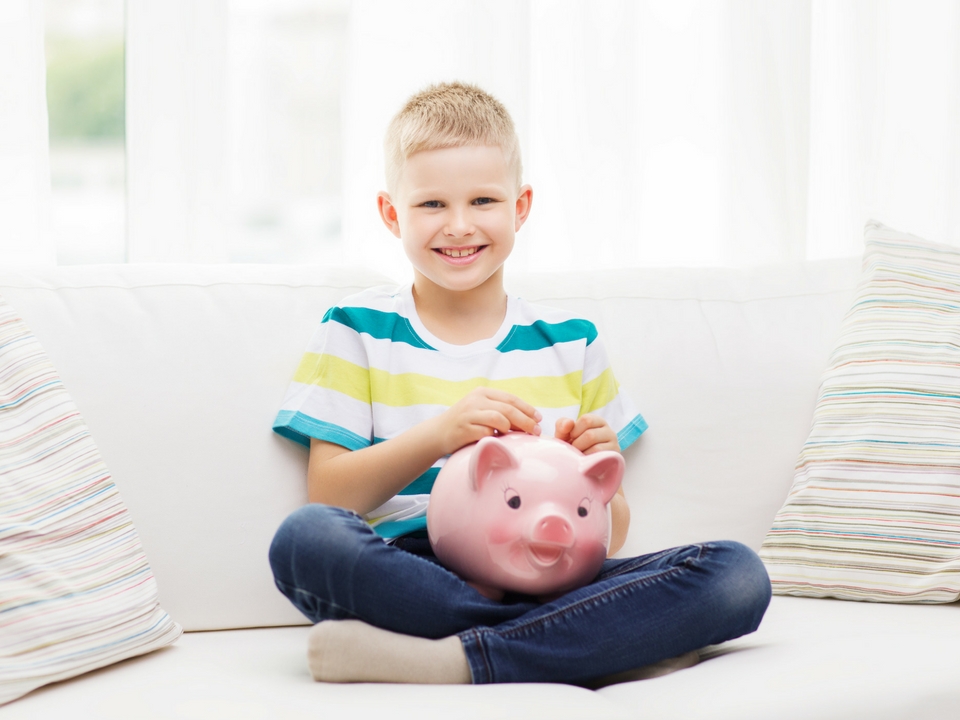 The 50 Years Of Pocket Money report was released by Teachers Mutual Bank. The report surveyed 1364 people from ages 8 to 65+ across Australia.
They asked about their view on pocket money and their own experiences growing up and earning a few dollars.
Generations Of Pocket Money
One of the most surprising findings was that Aussie children are 21 per cent more likely to be expected to work to earn pocket money and not just be handed it for no reason.
It's a fact that flies in the face of the idea that Gen Z have little idea of what 'working to earn' actually means.
Chief executive at Teachers Mutual Bank Steve James said Australian children were not simply being handed money.
"Our report has shown that Australians are committed to educating children about financial literacy. And the value of being rewarded for hard work, through the provision of pocket money," he says.
What exactly are Aussie children expected to do to earn their coin?
The Top Chore Earners Include:
Tidying their bedrooms – 85 per cent
Setting the dinner table and/or clearing it after dinner – 77 per cent
Taking out the rubbish – 67 per cent
Looking after pets – 66 per cent
Cleaning the house – 50 per cent
How Much Pocket Money Are Aussie Kids Earning?
Now to the big question. Just how much pocket money does the average Aussie kid receive?
The exact figure is tricky to nail down. But more than half of those surveyed, 56 per cent, believed it was somewhere between $5-$20 per week, with $10 a popular choice.
This figure is in line with the findings that pocket money has been steadily increasing over the past 50 years.
Interestingly, half of the 45 to 54-year-olds who were surveyed recall getting less than $5 per week in pocket money. This compares with 27 per cent of 18 to 24-year-olds.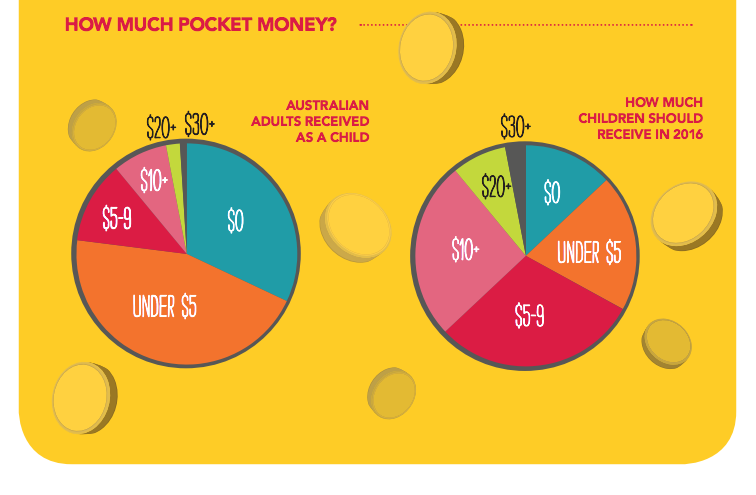 Image from the Teachers Mutual Bank '50 Years Of Pocket Money' report
From the survey it seems like the majority of Australians (almost 9 in 10) believe kids should be paid pocket money.
The majority, 81 per cent, think pocket money should be paid based on chores/jobs completed and not unconditionally.
Furthermore, only 13 per cent of survey participants believed that children should not earn pocket money at all. We'll call them the Scrooge McDucks of the report!
Why Is Pocket Money Important?
The report shows Aussie parents believe pocket money plays a role in helping to shape a child's financial literacy. It also helps in their understanding of money as they grow older.
More than 80 per cent of those surveyed believe that being paid pocket money helps teach kids how to save and spend wisely.
In addition, another 12 per cent think a weekly allowance helps ensure that children understand and develop a strong work ethic.
So it seems pocket money provides a platform for parents to talk with their kids about money.
It's also a way to help ensure they understand concepts around money as they grow older.
If educating your children about money is something you believe in, read this post on 5 important money lessons to teach them.