Prawn and Fresh Lemon Pasta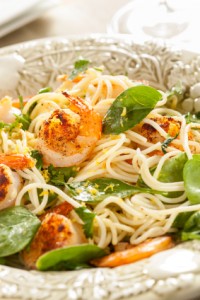 Prawns are a delicious way to get some omega 3 fatty acids and also some iodine.
People often think they are difficult to cook but if you get them pre-shelled or even frozen from the supermarket, they are a convenient and exciting alternative for a protein source.
This meal is quick, easy, delicious and a great addition to a family healthy eating menu plan.
Prep time: 5 minutes
Cook time: 5 minutes
Serves 4
Ingredients
400 grams of cooked prawns
2 handfuls of baby spinach
1 lemon for it zest and juice
1 handful of chopped parsley
2 spring onions
1 cup of parmesan cheese
3 tbs of extra virgin olive oil.
Pasta for 4 people
Directions
Cook the pasta as per the packet instructions
While the pasta is cooking, chop up the spring onions and lightly pan fry them with 1 tablespoon of the oil. Add in the prawns and rethermalise them.
Once the prawns are warm, add in the juice of the lemon and its zest and stir through the parsley and spinach to gently wilt it.
Plate up the pasta and serve the prawns evenly amongst the plates. Top with parmesan cheese and some additional extra virgin olive oil. Click here for more delicious prawn recipes!
420 calories per serve.
If you are ready to lose weight then The Healthy Mummy plans offer a healthy and safe exercise and diet routine that are safe if you are breastfeeding