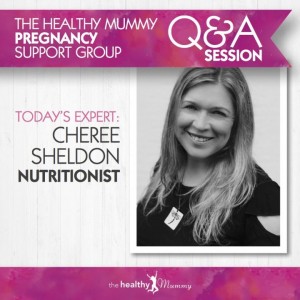 As part of the Healthy Mummy Pregnancy Support Group, we have a fortnightly live chat on our Facebook page with an expert to discuss relevant topics for a healthy pregnancy.
This week we had nutritionist Cheree Sheldon answering questions live for our members.
Cheree is a nutritionist and has studied naturopathy for the past 7 years.
First of all we would like to offer a huge CONGRATULATIONS to Cheree who used the forum to announce that she is 14 weeks pregnancy with bub#2!
Here is a summary of the session from June 3rd 2015.
Q: Is it safe to do something like the Healthy Mummy Junk Food Detox while pregnant? I've had a shocking 2 weeks as we've been trying to sell everything in preparation for a move overseas. I am wanting to do a bit of a reset for myself to cleanse and get rid of the unhealthy cravings I'm now having after indulging in so much of that not so good for me food.
A: As a general rule no detoxing (with pills and potions) is recommended during pregnancy. Instead look at simple ways you can eat clean, and reduce your exposure to toxins. The Junk Food Detox is all about clean eating with little to no processed foods (and no pills or silly drinks!) so this would be fine for pregnancy. Just make sure you add extra calories though to suit you as it is aimed at those wanting to lose weight, and your nutritional needs are greater when you are pregnant. You could just try to eat more fresh, whole 'real' foods rather than trying a specific detox.
Q: I'm currently 10 weeks with baby number 3 and have had Gestational Diabetes in both my previous pregnancies by the smallest margin (around 0.3 over both times). I was just wondering if there was anything I could do to try and avoid getting it this time around? I'm trying to stay active and I started running before I got pregnant so I'm continuing to do that but just wondering what I can do with my diet to help me out as well?
A: They are really unsure what is the cause of Gestational Diabetes, but try to eat small frequent meals. A bit of protein at every meal. Lots of fibre. Low GI. Include lots of cinnamon to help balance blood sugars. And include good fats like avocado  and olive oil. Keep up with a good prenatal supplement til the end as well, to get all your trace minerals. Make sure it contains chromium and manganese as these help reduce sugar cravings and balance blood sugars. Have a slow release protein powder before bed as well.
Q: I recently bought a peach tea cause it looked so yummy. But I've seen it contains sencha and liquorice. Is it okay to drink?
A: Sencha is green tea and liquorice is OK in teas, just not in a liquid herbal extract.
Q: What would be a reasonable daily sugar intake level (e.g. in grams)? I find it difficult to source information online as there isn't an 'official' recommended daily intake.
A: Daily sugar intake will be hard to find as their is no official government recommendation, and you will find a LOT of discrepancy between what a dietitian and a nutritionist/naturopath will tell you. Plus all the "experts" who are just putting their opinions into the mix. I was taught that when choosing processed foods try not to go above 10g sugars per 100g when you read the label. In saying that a product that is 10g white sugar vs 20g coconut or date sugar is not the best option. So instead of counting numbers, just examine your decisions. You can also look at alternatives to sugars that are not harmful like stevia.
Healthy Mummy recommends keeping added processed sugars to a minimum – the smoothies have no added sugar. There's some more information on sugar during pregnancy here.
Q: What is your opinion on taking evening primrose tablets during pregnancy? I'm currently 21 wks, been on them since TTC due to low fats in my bloods (was seeing a naturopath).
A: The research is confusing with evening primrose oil in pregnancy. So if you do a Google search you will find both yes/no. I would have no problem prescribing it if I saw a need, it's not something every pregnant woman needs. But I would be monitoring your lipids in blood every 2-3 months, and also using fish oils and probably UDO's oil as it is a 3:6:9 blend which is fantastic. MCT oil is also worth considering.
Q: I'm 13 weeks pregnant with baby number 2 and I'm unable to take any pregnancy multivitamins due to the iodine in them. I have Graves' disease and taking thyroxine. I've looked online for a pregnancy multivitamin without iodine both pregnancies but to no avail. Are you aware of any? Any advice would be appreciated.
A: One option is to contact a compounding pharmacy and have a really good prenatal in front of you e.g. MyGen, Bioceuticals InNatal or Tresos Natal, and ask them to replicate it without the iodine.
Q: This will be my second pregnancy. My first was a girl I put on 10kgs, looked great and felt great. This pregnancy I am only 16 weeks and feel fat and gross. This time I am having a boy. Why such different pregnancy when I am still doing roughly the same food intake and exercise?
A: Our muscles have memory, and our tummies get into that pregnancy look faster with each pregnancy. The most important muscles to look after in each one are your pelvic floors!! Don't worry about what you look like, enjoy the miracle that is growing inside you, but at each stop light, squeeze that pelvic floor like there's no tomorrow!
All those old wives tales come into play as well. Broad belly = boy/girl, carrying high = boy/girl. Maybe it's time to get a mid-pregnancy facial, manicure, massage, or me-time, so you can re-group and feel good about you!
Q: Are you able to tell me the recommended daily intake of iron for us pregnant ladies? I have been told I have low iron but I would love to be aware of what I should be having.
A: Recommended daily intake for iron in pregnancy is 23mg/day (it is 8mg/day normally!!).
Your GP or pharmacist will probably recommend Ferrograd C, please don't take this, it will just make you constipated and it takes forever to make a difference to your iron levels.
The BEST way to increase your iron is to get some liver, cut it into pill size pieces, freeze it, and swallow as much as you can throughout the day.
The next best way is to use a liquid iron like Spatone or Floradix, and the third best is to use Fusion Iron Blood tonic.
Diet wise with iron, don't eat calcium at the same time as iron (so don't have a creamy sauce on your steak, and have some vitamin C at the same time, so squeeze of lemon juice, or a few strawberries/mandarin after. The calcium fights with iron for absorption and the vitamin C encourages iron absorption.
Just don't buy liver pate as most are made with cream (calcium grrr), and contain preservatives. You can make your own dairy free versions that you can eat during pregnancy as long as you don't make heaps so it's in fridge for ages. Small batches and eat often!! One tip for using liver is to freeze it for 2 weeks before you want to cook with it or take them as pills, as this will kill any bacteria that may be in it.
Q: Any tips for food aversions? I get half way through a mouthful of food and decide I hate the texture. Broccoli is the worst culprit, and I normally love it.
A: My tip for anyone that is having food aversions is to mess around with your textures. Eat very lightly steamed/raw veggies or make veggie crisps instead- where you rub lightly with oil and bake in a medium heat until crunchy.
Q: Is taking breastmilk boosting ingredients during pregnancy beneficial at all?
A: In the last month perhaps, if you know you had issues in previous pregnancies then yes. But there is no real evidence behind it. Most of them only work if there is a problem with milk supply. I would start taking some from birth til breast feeding is established, then ease off until you may or may not need it. The regular Healthy Mummy Smoothies (the non-pregnancy ones) are a great option too as they are packed with ingredients that support your milk supply. More on that here.
Q: Have you got any tips on managing colic in babies? Someone mentioned cooled chamomile tea?
A: Yes, cooled chamomile tea is the first thing I would try, drinking it yourself so it goes through the milk. Most lactation teas have really soothing ingredients in it for colic.
Click here to view our pregnancy products page.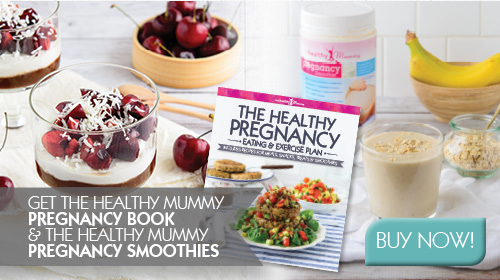 Disclaimer: Always speak to your doctor before changing your diet,taking any supplements or undertaking any exercise program in pregnancy. The information on this site is for reference only and is not medical advice and should not be treated as such, and is not intended in any way as a substitute for professional medical advice..
Our plans promote a health weight gain in pregnancy to benefit the mother & baby and you can read more on this here 
The owners of The Healthy Mummy do not make any representations or warranties, express or implied and shall have no liability or responsibility to any person or entity with respect to any loss or damage caused or alleged to be caused directly or indirectly by the information contained herein and nothing in this disclaimer will limit or exclude any liability for death or personal injury resulting from negligence, limit or exclude any liability for fraud or fraudulent misrepresentation, limit any liabilities in any way that is not permitted under applicable law or exclude any liabilities that may not be excluded under applicable law.