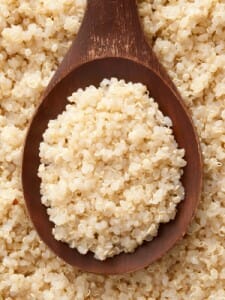 Quinoa-what?
This humble seed is somewhat of a popular superfood at the moment. You may have seen quite a few recipes on our site for it (have a little look here), or heard people talking about it.
Qunioa is an amazing food and one which is great to add to your weekly rotation of meals and your healthy eating plan. It originally comes from high up in the Andes, where for over 5000 years it has been a staple ingredient as it is one of the few crops which grows in the poor soil conditions of the mountains.
I have talked about fibre a lot this week. Not only is qunioa a good source of fibre, on par with brown rice, but it is also superbly packed with protein with the National Academy of Science calling it 'one of the best sources of protein in the vegetable kingdom'. Now that is a statement!
It is also a fabulous source of iron with it having 4 mg of iron per cooked cup. This is great for all women, breastfeeding, pregnant or not. It is also great for your little ones when you are introducing solids.
Quinoa is also a fabulous source of B vitamins, especially folate (great for pregnant ladies again), niacin and thiamine, plus B6. This is great for vegetarians.
So how can you cook this delicious food. My goodness, the options are endless. It is great as:
 A substitute for rice or potato as a side
 As a substitute for rice in a risotto like dish
 Combine it with some chicken or seafood in a salad
 Combine it in a stew or casserole or even a soup
 You can even use the puffed flakes as an option for porridge
 Or you could try this recipe below for some patties.
I love patties as they are great for dinner, lunch or a snack. I also love them with the family as it easy for the kids to eat as they can hold it in their little mits. It comes in three colours, black, red and white. So choose your colour and get going.
Quinoa Patties
Serves 6
Prep time: 10 minutes
Cook time: 35 minutes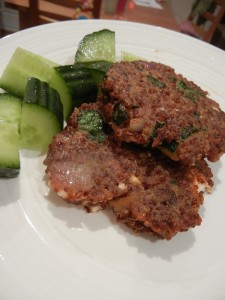 Ingredients
3 cups of chopped veggies (I used zucchini, mushroom and red capsicum)
1 onion
2 cups of cooked quinoa  (about 1/2 cup of seeds pre cooked)
¼ cup of balsamic vinegar
¼ cup of vegetable oil
¾ cup of flour (could use tapioca flour if gluten intolerant)
100grams of reduced fat fetta
Directions
Cut up the veggies and onion and roast in a 180 degree celcius oven for 20 minutes
Cook and drain quinoa
Chop up fetta
In a bowl add the cooked qunioa, veggies, flour, oil, vinegar and fetta and mix it well together
Form 12 patties
Pan fry them for about 5 minutes on each side in about 1 tbs of oil
Once fried, sit them on a piece of paper towel to absorb excess oil
Serving suggestion: A side green salad with green leaves and some chopped tomato. Top with any excess juice from the pan.
330 calories per serve (2 patties)
Enjoy another delicious quinoa recipe!
Hope you are having a happy healthy day ; )
Mandy dos Santos (BSc. Food Science and Nutrition, Grad. Cert. Human Nutrition)
Don't forget to post me a question on Facebook about food or nutrition so you can read more about what you want to read!