All these special ingredients in this Healthy Mummy Smoothie are an added bonus to our nutrition but  also add to the creaminess and flavour of the meal.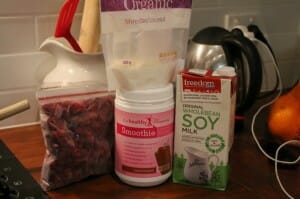 Frozen raspberries bring added sweetness, fibre, vitamin C and antioxidants which is a perfect combo during these Winter months.
Coconut obviously has a beautiful flavour but shredded coconut also boosts the fibre content of the smoothie which is great for breastfeeding mothers.
This smoothie also uses soy milk but it is up to you. It is nice to experiment with different beverage bases for flavour and nutrition.
What you need:
2 tbs of chocolate Healthy Mummy Smoothie mix
1 tbs of shredded coconut
1 cup of frozen raspberries
200 ml of milk (today we used soy)
Blitz it together and taste this beautiful nutty, choc-coco surprise. Really, this is a weight loss diet?
Special Offer & 10% Discount
If you are ready to lose weight then The Healthy Mummy plans offer a healthy and safe exercise and diet routine that are safe if you are breastfeeding and you can use code LOYALTY for a 10% DISCOUNT at the checkout