Refreshing Banana Smoothie
A big thank you to Rebeka Shelberg who has sent in her very delicious healthy mummy smoothie recipe as part of our smoothie of the week competition where each week a mum can win a $100 Coles/Myer voucher
To enter, sending in your best picture of your Healthy Mummy Smoothie recipe with the product tub next to your smoothie.
Make sure you include your recipe too and email the photo and recipe into us at [email protected]
We will publish as many photos and recipes as we can and one mum will win each week.
"Frozen cucumber is one of my favourite healthy mummy smoothie ingredients, it brings a really fresh taste to each smoothie I add it to and I always try to keep a stash of frozen cubed cucumber in the freezer and use it instead of ice. So good!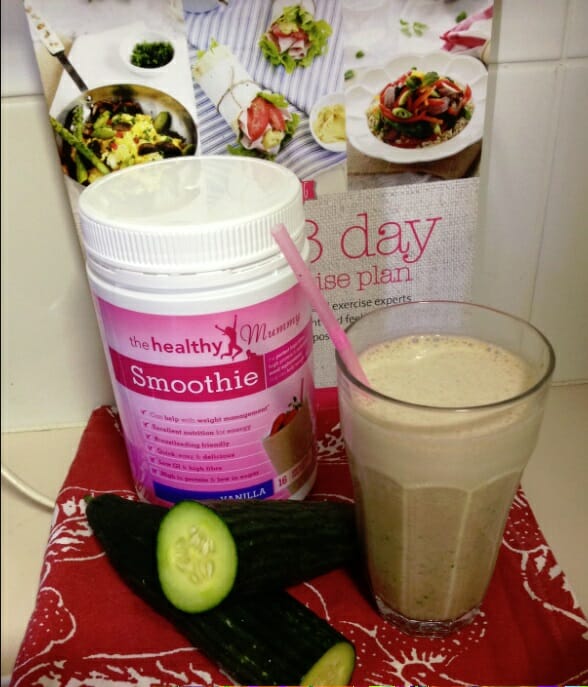 Banana Refresh
1/2 banana
1/2 – 3/4 cup of cubed cucumber (if not frozen, also add 6-8 ice cubes)
Few good shakes of nutmeg
drizzle honey
dash of vanilla essence
2 tblsp Healthy Mummy Vanilla Smoothie mix
200ml milk (I alternate between almond or skim milk)
Blend all ingredients together, slurp and enjoy!
Rebekah Shelberg
Special Offer & 10% Discount
If you are ready to lose weight then The Healthy Mummy plans offer a healthy and safe exercise and diet routine that are safe if you are breastfeeding and you can use code LOYALTY for a 10% DISCOUNT at the checkout