At the end of my pregnancy I weighed 101kg. I had put on 21kg in my pregnancy and after my daughter was born, I had only lost 4kg of that pregnancy weight. She weighed 3.8 kg!!!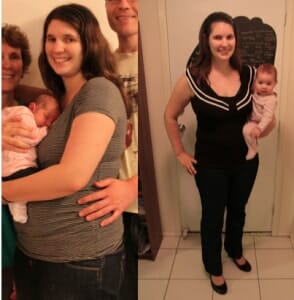 Over the following weeks I lost a few more kilos, but that was through fluid loss. After that I stayed at a steady 94.5 kg. I felt that my pregnancy weight was out of control.
I tried many things, I tried to eat 'healthily' but felt so frustrated as I lost nothing. That is when I stumbled upon your website and found the 28 day diet and exercise plan along with the standard Healthy Mummy Pack. I got these two, along with the 7 day winter warmer plan.
! completed the 28 plan and replaced nearly all of breakfasts with the Healthy Mummy Smoothies. Following this I went on the 7 day winter warmer plan.
I have learned so much from these plans. I now menu plan before I go shopping. I select recipes from the 28 plan, 7 day plan and also the website.
Gradually I have lost some weight. There has only been one week I haven't lost anything. It has been 7 weeks and I have lost 5 kilos of my pregnancy weight. The even better part is that I have lost 12cm from around body I
I feel like these plans have given me my confidence back. My first goal was 89kg, and I am there, which I am stoked about. I have another 89.5kg to get me back to my pre-pregnancy weight and I would also like to lose a few more kilos after.
The other great thing about the Healthy Mummy is that I have been able to incorporate light exercises into my routine form your recommendations. I had pelvic floor weakness after a long labour so have only been able to include low impact, light exercise and still lose weight. I have also had a few cheat days/meals which haven't impacted on my weight loss as I am eating low-fat nutritious meals the rest of the time.
The recipes, not only on the 28 diet plan and 7 day winter warmer, but the website, are delicious and tasty. I don't feel like I am depriving myself as they are full of flavour. I actually often make double and freeze for dinner or leftovers the next day. Perfect when I have a tired baby.
I also love if for lunch if I don't have the time, motivation or the food I can also have another Healthy Mummy Smoothie instead.
I can even make these smoothies one handed which is fabulous with a grizzly baby,. I think my husband loves that he is coming home to a cooked dinner every night for the first time in our relationship!
I have also found that my lifestyle and approach to food has changed – for the first time I am cooking most things from scratch without using packaged sauces/recipe bases and our shopping trolley has changed dramatically – it is now 90% fresh fruit and vegetables, nuts, beans and lean meats.
Oh, and my favourite use for the smoothie mix at the moment is Chocolate Soy Milky soy milk (the one in the fridge that is low fat and low sugar) mixed with 1tbs strawberry Healthy Mummy smoothie mix for a yummy treat/snack. It tastes like a choc berry milkshake!
Thank you again, Robyn Parkinson"
If you are ready to lose weight then the Healthy Mummy Smoothies offer a healthy and safe exercise and diet routine that are safe in breastfeeding

We have a new promotion each week, today is the last day for a FREE pedometer!!