The rockmelon in the grocer is incredibly sweet at the moment. Combined with the smoothness of the banana makes this a perfect combination.
This smoothie is using almond milk as a way to mix up the flavour.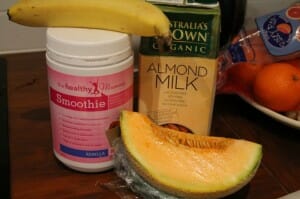 When choosing plant based milks, aim for calcium fortified and unsweetened.
Remember that all Healthy Mummy Smoothies have 10grams of protein (just in the smoothie mix) and 6 grams of fibre. Amazing benefits for weight loss AND for breastfeeding mothers.
What you need is:
2 tbs of Healthy Mummy Smoothie mix
1 banana
1/2 cup of rockmelon
200ml of almond milk
Blitz it together for a minute and serve.
Thick and delicious.
The Healthy Mummy Smoothie also has 10grams of protein per serve before any other foods or liquid has been added. This means it will help you feel full for longer as well and can be a great choice for a snack.
If you are ready to lose weight then The Healthy Mummy plans offer a healthy and safe exercise and diet routine that are safe if you are breastfeeding and you can use code LOYALTY for a 10% DISCOUNT at the checkout