Rocking Pear Crunch Smoothie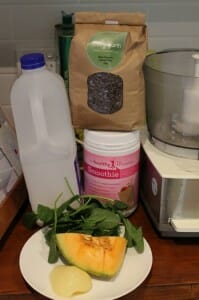 Now that is a mouthful isn't it? But we were trying to evoke how spectacular the flavour and texture in your mouth will be with this combination of Healthy Mummy Smoothie.
The cacao nibs give a punch of crunch and the energy of its raw superfood powers.
The pear and rockmelon give a beautiful sweetness without it being sickly.
The spinach, well that is for colour but also the wonderful benefits that leafy greens give. A serve of vegetables in a Healthy Mummy Smoothie is a great way to tick off your veggie intake each day.
What you need is:
2 tbs of vanilla Healthy Mummy Smoothie mix
1 pear halve (this one was canned in natural juice)
A large chunk of rockmelon
1 large handful of baby spinach
1 tbs of cacao nibs
200ml of milk of your choice
Blitz it together for around 2 minutes to combine well.
Voila. You will have energy from this drink for a Loooooonnnnggg time.
If you are ready to lose weight then The Healthy Mummy plans offer a healthy and safe exercise and diet routine that are safe if you are breastfeeding