Scientific BENEFITS of eating chocolate while pregnant!
We've got some great news for mums-to-be who are also chocolate lovers!
Not only is it a comforting snack to help curb nausea, scientists have revealed there are HUGE health benefits to consuming chocolate during pregnancy. HURRAH!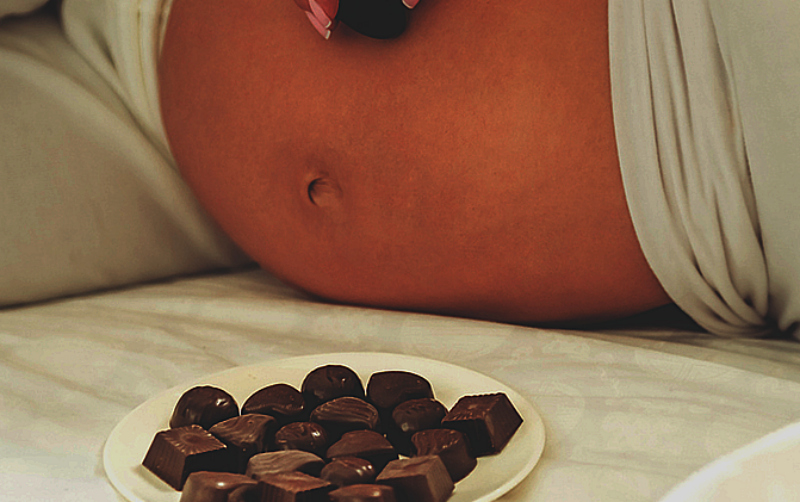 The study
Researchers from the University Laval Quebec City examined 129 pregnant women and divided them into two groups.
The first group was asked to eat 30 grams of high-flavanol or low-flavanol chocolate daily for 12 weeks. (The darker the chocolate the more flavanols it contains).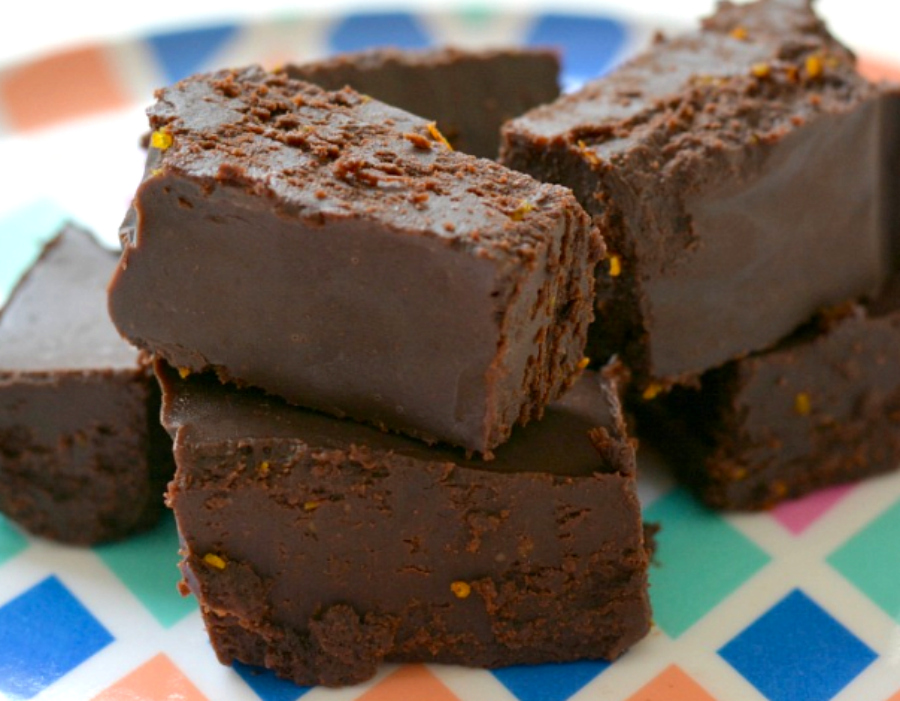 The conclusion
Researchers followed the women's progress until they delivered their babies, and found that chocolate ACTUALLY has a positive impact on placenta and foetal growth – as researchers identified a significant improvement in uterine artery Doppler pulsatility.
According to the team, this improvement was much greater than what is normally expected among the general population.
What's more, it didn't seem to matter whether women picked at high-flavanol or low-flavanol chocolate to see benefits.
"This study indicates that chocolate could have a positive impact on placenta and foetal growth and development and that chocolate's effects are not solely and directly due to flavanol content," says study co-author Dr. Emmanual Bujold.
"There were no differences in preeclampsia, gestational hypertension, placental weight and birthweight between the low- and high-flavanol chocolate groups."
To eat chocolate, or not to eat chocolate daily
Medical News Today asked Dr. Emmanual Bujold whether they would now go on to recommend mothers to have a daily dose of chocolate to improve fetal development.
He was quoted having said,
"We cannot speculate on the overall effect of chocolate on the risk of preeclampsia from our study results because we did not have a group of women who were not taking chocolate.
"However, previous epidemiological studies along with our results suggest that consumption of dark chocolate during pregnancy could help in the improvement of placental function and the reduction of preeclampsia."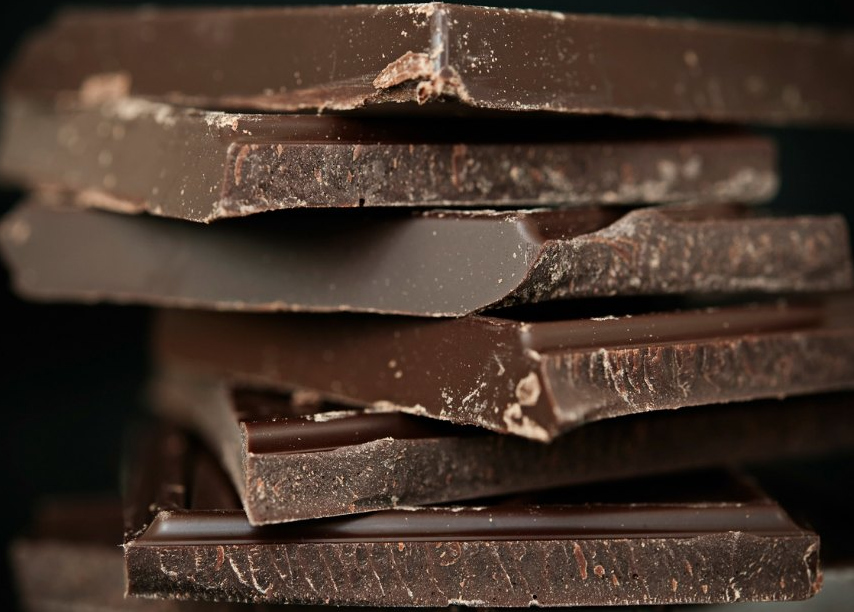 How chocolate makes 'happy babies'
Meanwhile, a Finnish study found that women who ate a small amount of chocolate weekly during pregnancy – felt less stressed and calmer.
Experts also discovered a link with the baby's positive temperament at aged six months.
Although there could be a whole RANGE of other contributing factors, it's thought the mood boosting effects of chocolate's ingredients also benefits your baby too.
While these studies certainly don't suggest to abandon your healthy eating plan and just load up on chocolate, they are great reminders that everything in moderation is okay.
If you have questions and or concerns about your dietary intake/requirements while pregnant be sure to chat with your healthcare practitioner. This article is not intended to diagnose, treat or prevent health conditions. Rather informs mums about NEW medical research.
You can even ADD chocolate to our Healthy Mummy Pregnancy Smoothie!
Fancy a healthy chocolate drink?
The Healthy Mummy Pregnancy Smoothie is a convenient and easy supplementary food, designed to complement your existing pregnancy vitamins or supplements, to help you meet the extra protein, vitamin and mineral requirements during your pregnancy.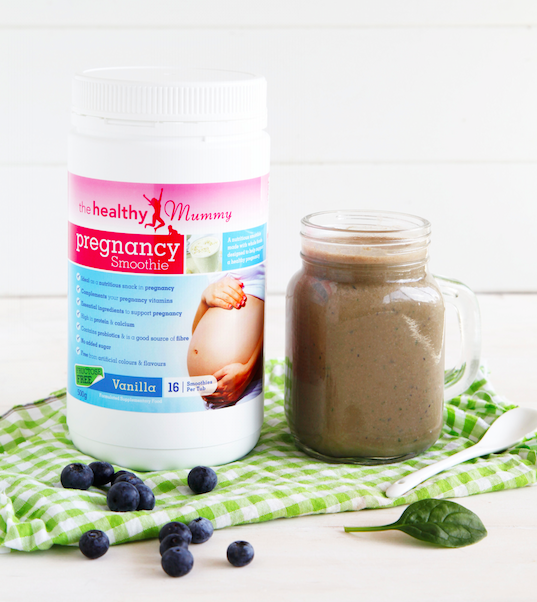 And you can add chocolate (think 70% dark chocolate  – YUM) to your Pregnancy Smoothie for a YUMMY chocolatey taste. 
More on the Pregnancy Smoothie
There really are no rules to making a super yummy Smoothie, all ingredients are interchangeable. You can add cocoa or fruit. If you don't have one ingredient, use another.
Please read below for all the information on the smoothie – you can also see the FAQ on the smoothie here.
The pregnancy smoothie is also free of all chemicals, fillers and artificial ingredients, has no fructose in, no added sugar in and uses high quality dairy protein sourced from grass fed cows in New Zealand.
You can download the Pregnancy Smoothie Label here.
How can the smoothie help?
HEALTHY INCREASED CALORIES – Additional nutrients and calories are needed in pregnancy to support the mum and the baby – and the smoothie is a convenient and tasty way to increase your calories in pregnancy whilst nourishing your body.
MORNING SICKNESS – If you are suffering from morning sickness and find eating food difficult – the smoothie is a great way to nourish your body with a easy to drink smoothie- it also contains ginger.
TIREDNESS – If you are feeling exhausted, the smoothie is a nutrient dense snack high in protein, B vitamins and low constipation iron to help keep energy levels up.
CONVENIENT- if you are struggling to find the time or energy to eat nutrient dense and healthy foods then the smoothie will be a great help. You could also have it as a quick breakfast by adding fruit, oats and vegetables to your smoothie to further increase calories.
PROTEIN & CALCIUM – It is ideal as a high-protein, high-calcium snack in pregnancy with each smoothie giving you 30% of your protein needs.
You can also download a fact sheet on the pregnancy smoothie here.
Buy your Pregnancy Smoothie here!