See How Delight Has Lost 11kg
Hello Healthy Mummy team, I am very happy to send in my results and to share with you that since I have started the healthy mummy smoothies I've lost 11kgs and I want to thank you for having such a fantastic product.
I have also sent in two photos as I have found the visual motivation to be great and I have loved seeing my stomach shrink!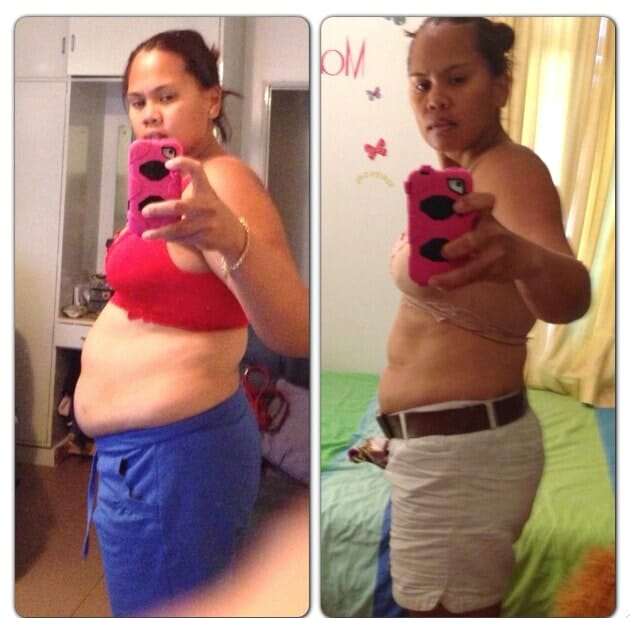 I'm a mum of two girls a two year old and 4 month old. With my second pregnancy I stopped weighing myself at 32 weeks when I was already 92kgs.
Two days after the birth of my baby, I weighed 88kgs. I knew I had to do something.However, my priority after birth was to get myself into a routine looking after two kids and establish a good milk supply.
But after 4 weeks I felt under control and ready to lose weight so I began searching for weight loss program that were safe for breastfeeding mums and that is when I came across your site
I ordered the basic pack and my journey started 23rd October 2012 after which there was no turning back.
The healthy mummy smoothie is so yummy and very convenient. For the first 8 weeks I was having two smoothies a day and then down to one.
I'm doing at least half an hour exercise a day and the rest is just the incidental exercise. My work requires me to be on foot most of the time. For me its not about being on a weight loss program anymore but a Lifestyle Change.
I'm 3kgs away to my pre baby weight and I'm hoping to go down to my pre wedding weight. I believe that I can do it!
Thank you so much!!!!

Delight Smallridge
Lajamanu NT
Special Offer & 10% Discount
If you are ready to lose weight then The Healthy Mummy plans offer a healthy and safe exercise and diet routine that are safe if you are breastfeeding and you can use code LOYALTY for a 10% DISCOUNT at the checkout