See How Felicity Loses 9kg
This is my weight loss journey so far and reading the other stories from your site gave me the courage to send my story in as I now know everything I have felt others have experienced as well.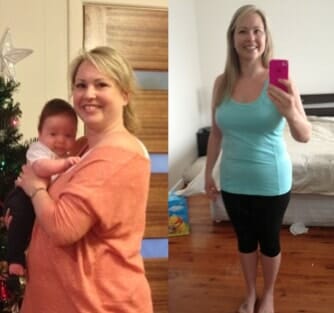 Before I became pregnant with my 1st baby I was 58kgs. I struggled instead of eating for 2 I ate for 4. My labour was hard and I ended up with lasting complications which left me unable to walk without significant pain, let alone exercise.
I felt depressed, alone and a failure. I hated my body and didn't enjoy the first few months of being a mum (which is really hard to admit). I slowly started to get more mobile and gradually start enjoying motherhood, however one year later I was still 71kgs.
At the end of December, and with the Healthy Mummy Smoothies and the 28 day eating plan I decided to give my weight loss another go.
As you can see from the photos below December and January has been a very very very successful month for me! I have lost 9kgs already.
I have a way to go but I am so happy that I have made it this far. Now if I can just get my 4 months old to sleep 😉
Felicity Collins
If you are ready to lose weight then The Healthy Mummy plans offer a healthy and safe exercise and diet routine that are safe if you are breastfeeding