Simple food – baked chicken and greens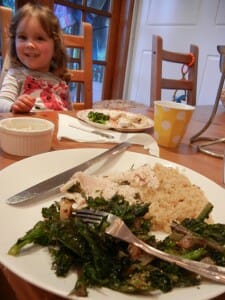 Some days I don't feel like anything too complicated and overdone to eat. This was me last night and so I wanted to share it with you too. Comfort eating can be healthy eating, you just need to pick the best ingredients.
You may have noticed a little obsession with kale recently….have a look here. So I went to my local farmer's market on the weekend and purchased some more. There were so many lovely varieties but I chose this one.
And then we cooked it up with some quinoa and chicken and what do you get?
Lemon and coriander baked chicken with sautéed broccoli and kale served with white quinoa
Wow that is a long heading!
Serves 4
Prep time 10 minutes
Cook time 30 minutes
Ingredients
500grams of chicken breast
1 lemon
1 bunch of coriander
1 tbs oil
1 head of broccoli florets (from my garden!!)
4 handfuls of chopped kale leaves
1 brown onion
2 garlic cloves
2 cups of cooked quinoa
Directions
Marinate the chicken breast in lemon juice, lemon zest and chopped coriander.
Bake this chicken in the oven for 15 minutes with covered with alfoil and 15 minutes with it off.
Heat the oil in a pan, sautee the garlic and onion.
Once fragrant, add in your chopped kale and broccoli and sautee and then cover with a lid to cook for 5 minutes.
Cook your quinoa
Slice the chicken over your quinoa and serve with the greens and enjoy!!
If you would like to see more recipes have a look here.