Snacks and weight loss
Snacks and weight loss can either be best friends, comrades or they can be arch-nemesis. Nutritionist Mandy dos Santos explains why.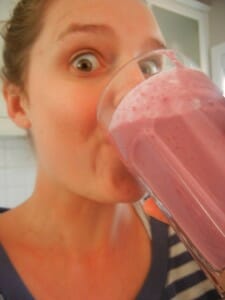 Snacks and weight loss can either be best friends, comrades or they can be arch-nemesis.
Weight loss is about planning and planning and more planning and support. You need to give yourself the tools to succeed and planning should be top of your list for your weight loss diet.
Yes of course good nutrition, lower energy intake and exercise are important. But if you do not plan how these work in your day to day life, you will possibly lose control and motivation towards your goal.
Today I wanted to show you one way in which snacking can assist you in your weight loss.
Many times I have heard that you should not snack between meals. How often have you heard your mother say that!! In fact, snacking can aid weight loss and I will explain to you why.
When you are going through your day, and between meals or smoothies you may start to get hungry. Your blood sugars are lower and all you feel like is the next quick fix of glucose and satiety. So often we reach for the sweet biscuit or quick fix that are very often energy dense and nutrient poor foods.
If you plan your snacks, you can have them ready for those times when you are hungry, and even if you are not. Plan them with options that are nutrient dense and higher in protein to give the satiety and energy until your next meal. Here are some great ideas on the Healthy Mummy site for snacks.
By doing this you can avoid unnecessary kilojoules from poor snack choices.
Personally, if I don't have snacks ready, I do reach for something which is not the better choice. Or if I don't have a good mid morning or afternoon snack, by 11am or 4:30pm I am starving and want dinner or lunch. Or a chocolate bar. My day spirals out of control. I get angry that I didn't eat well and question what I am doing.
I have started setting up a snacking station in my fridge which I fill up every couple of days. Here is a picture below.
I have three days planned here and two snacks for each day. So I have:
2 eggs hard boiled
Small yoghurt with chopped strawberries
3 x 15 almonds and a reminder to grab an apple
1 carrot and 1/2 a large continental cucumber (I have some dip in the fridge to nibble these with but I couldn't fit it in my tray!)
This helps me get something to nibble on the run if the day is crazy. I actually set up something similar for my daughter each day so that she doesn't ask for biccies repeatedly.
Some benefits of snacking are:
Keeps up the blood sugars
Keeps you from feeling 'starving' and binging
Avoids the craving of sweet snacks
Snacks high in protein keeps you feeling fuller for longer
Important to keep your metabolism going
Helps you get more vegetables into your day
Snacking is also incredibly important while you are breastfeeding. You just need to make sure they are the right snacks. You also may be inclined to snack more while pregnant. Or crave certain foods.This can lead to unnecessary weight gain but if you choose your snacks sensibly, it doesn't have to. Have a look here for some suggestions of foods to eat while pregnant and breastfeeding.
You could also try a Healthy Mummy Smoothie as a snack which is designed nutritionally for mothers, especially breastfeeding mothers.
Hope you are having a happy healthy day ; )
Mandy dos Santos (BSc. Food Science and Nutrition, Grad. Cert. Human Nutrition)
Don't forget to post me a question on Facebook about food or nutrition so you can read more about what you want to read!