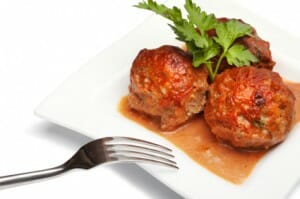 Here is an alternative to cook up with your family without the preservatives and if you choose the lean option there is lower fat and also less sodium.
These meal is perfect for the family (if you do not add the heat) and winter while following a healthy eating plan.
Prep time: 15 minutes
Cook time: 30 minutes
Serves 4
Ingredients
400grams of lean mince
1 tbs of oil
2 cloves of crushed garlic
1 brown onion diced
1 egg
1 handful of bread crumbs (or corn crumbs if gluten intolerant)
1 handful of chopped parsley
1 tbs of paprika
½ tsp of cumin
½ tsp of cayenne pepper
1 red capsicum diced
2 fresh tomatoes diced
1 can of diced tomatoes
½ cup of salt reduced stock
Directions
In a bowl mix together with your hands the mince, egg, breadcrumns, parsley and spices. Form little golf sized balls and set aside.
In ah eavy based pan add your oil and pan fry your onions and garlic until soft.
Add in your meatballs (if you have too many for your pan do them in two batches) and brown the outsides to 'set' them. Remove and repeat if you have too many.
Once they are all browned, add them back into the pan and add in diced tomatoes both fresh and canned, the capsicum and the stock.
Bring mixture to a ball and then reduce to a simmer and cook uncovered for 20 minutes.
Once ready serve with your grain of choice and a side salad or wrap them up.
The meatballs are 380 calories per serve. For more meatballs recipes, try our delicious pork meatballs recipe!
Special Offer & 10% Discount
If you are ready to lose weight then The Healthy Mummy plans offer a healthy and safe exercise and diet routine that are safe if you are breastfeeding and you can use code LOYALTY for a 10% DISCOUNT at the checkout