Spinach And Fetta Frittata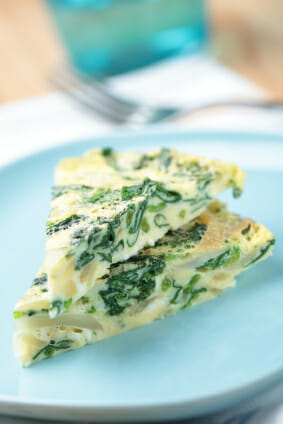 I adore this frittata because it is light and fluffy and flavoursome with the fetta. Healthy eating can be delicious and nutritious. You can also cut it into small squares and add it to a lunchbox or your lunch at work.
Spinach And Fetta Frittata
Prep time 5 minutes
Cook time 15-20 minutes
Serves 6
Ingredients
250g baby spinach leaves (or you could use around 3 pucks of frozen spinach defrosted)
2 bunches rocket (stems trimmed) or you can use around a 100gram bag of packet rocket
4 eggs
2 egg whites (keep the additional yolks for chocolate puddings or glazing)
1 brown onion diced
1 tbs chopped fresh parsley
125g reduced-fat feta, crumbled
Olive oil spray
Directions
1.Place the rocket and spinach in a pan. Add 2 tbs of water, cover and cook for 5 minutes. If you are using frozen spinach, don't add water.
2. Lightly whisk the eggs and egg whites in a bowl.
3. Add the spinach mixture, chopped onion and parsley.
4. Using a medium sized fry pan, spray with oil, pour in the egg mixture and cook for around 5 minutes. The sides will be set but the middle will be slightly wobbly still.
5. Put the fetta on top and place the pan under the grill the top and melt the cheese. Approximately 5 minutes.
6. Set aside to cool, then turn it onto a plate and cut into wedges. Another delicious frittata recipe
130 calories per serve
Special Offer & Discount
If you are ready to lose weight then The Healthy Mummy plans offer a healthy and safe exercise and diet routine that are safe if you are breastfeeding and you can use code LOYALTY for a 10% DISCOUNT at the checkout