Check out this delicious healthy eating recipe for spinach and ricotta mini pies. It's so simple and so tasty – and great for little ones too! So everyone in the family can it enjoy it even if you're taking part in the 28 Day Weight Loss Challenge!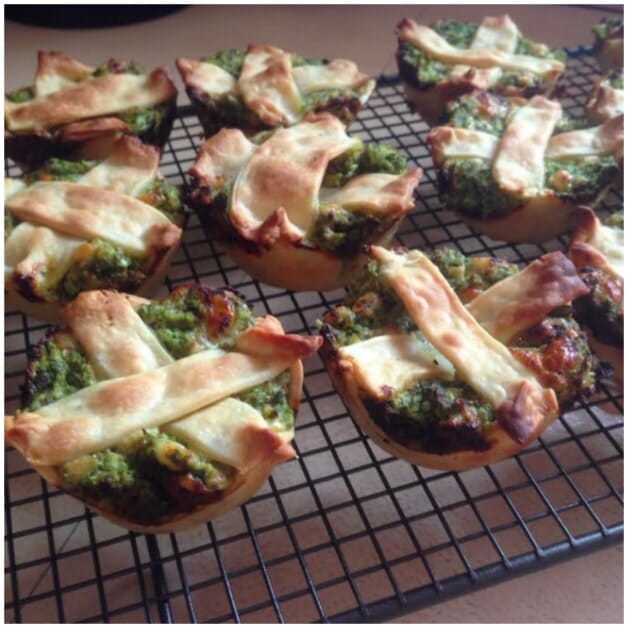 Ingredients
1 medium zucchini
3 cups spinach
1/2 bunch parsley
1/2 cup grated light cheese
1/2 cup Parmesan
250g light ricotta
3 cloves garlic
1 tsp chai seeds
2 tsp LSA
2 sheets reduced fat short crust pastry
Instructions
Pre heat oven to 200deg.
Put zucchini, spinach, parsley and garlic in food processor or blender and whizz until finely chopped. Add ricotta and process until almost smooth.
Put in another bowl and add cheeses and seeds/LSA and mix well.
Spray a 12 hole muffin tray with olive oil spray.
Cut your pastry sheets into 9 squares for each sheet.
Line your muffin holes with one square each ( they won't fill the entire muffin hole- that's ok adds to the look)
Fill your pies with the spinach mix.
With your remaining pastry squares cut each square into 4 strips.
Lay 2 strips over each pie as your pie top.
Bake in oven for 40mins or until golden on top. Another Delicious Ricotta recipe!
Serve with salad or veggies
Thanks to Kat Brown for the spinach and ricotta pies recipe!