Stocking a healthy pantry
Healthy eating for a busy mum, whether you have one baby, two little ones, teenagers and are working or not, can often be a challenge and even a bore. There are many ways to avoid healthy eating, yet there are many ways you can achieve a balanced and interesting diet and on a budget too. The best way to achieve this is through some simple planning and by having key staples in your pantry.
There are five top pantry items which feature at my house regularly. These five staples make it easy to create a meal quickly, cheaply and one which is better for you and your family. Multiple times a week these items feature in a Tuesday night style meal at our house.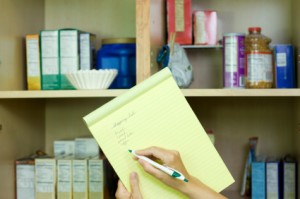 1. Canned tuna
Canned tuna, salmon, sardines or fish in general, is a cheap and convenient healthy food which is great thrown either in a salad or sandwich for lunch or as a base for a low fat pasta sauce for dinner. Canned fish (especially sardines, tuna and salmon) are high in Omega 3 fatty acids which are incredibly important for all members of the families' diet. Omega 3 fatty acids are essential fatty acids as we are only able to obtain them from our diet. They are important in brain and eye development, even in utero, and they are also important for cardiovascular health. Sometimes it is difficult to consume enough fish each week and that it is why fish oil supplementation is one of the most regarded vitamin supplements for people to consume. Have a look here to see other reasons why fish oil and Omega 3 fatty acids are important for our health.
2. Canned tomatoes
Canned tomatoes are a simple way to make a low fat pasta sauce with vegetables, tuna, chicken or herbs. They are also a great base for soup enabling you to avoid cream based products which are higher in fat. Of course you could make your own tomato passata which would be fresher in flavour, but who has the time when you a running around after kids!
3. Brown rice
Rice is such an easy and healthy base for a meal. Throw in some leftover vegetables or meat and you can call it risotto. Lightly fry it up with some egg and vegetables and you have some 'fried rice'. Rice is the base for so many yummy meals. Brown rice is higher in fibre then white rice which will keep you feeling fuller for longer. Fibre is incredibly important in weight loss and weight maintenance. Brown rice also tasty delicious with its nutty undertones. Just remember that is takes a little longer to cook then white rice, and if the family do not like it, maybe mix it in with some white rice and slowly wean them over.
4. Legumes and beans
Legumes and dried beans are not a common food group for Australians but they are a winner at our house. Not only are they cheap and easy to cook, they are also incredibly nutritious being jam packed with fibre and protein. They are also considered a vegetable so a great success when trying to up a kid's vegetable consumption (or husbands). The combination of high protein and fibre lends legumes and beans as a hit in weight maintenance and loss. You can cook them from scratch (using dried beans or legumes) or use the canned varieties which are just as tasty although often higher in sodium.
There are many ways to cook beans and legumes. Some examples are:
–          Chickpeas in a hummus dip
–          In a minestrone soup or blended with carrots for a carrot and legume soup;
–          As an accompaniment in a salad;
–          In a casserole or stew
–          As a vegetarian style patty
–          In a curry
Over the coming weeks, Healthy Mummy will be featuring some examples of these recipes.
5. Rolled Oats
Rolled oats are a favourite of mine as they are not only for healthy inspired meals such as porridge; they are also great in delicious baked goods. They are also a great addition to any of the smoothies that you might make using the Healthy Mummy range. Rolled oats are low in fat, a great source of fibre and also a great source of beta-glucan which is a type of fibre that helps to avoid cholesterol absorption.
What are your top five pantry items?