Strawberry Daiquiri Smoothie Recipe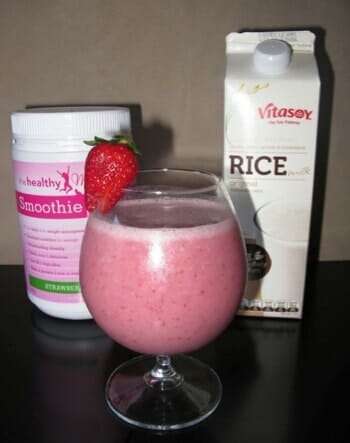 A great healthy eating smoothie to start your day – thanks to Rachel Lohman for sending in!
"Hi Healthy Mummy, I wanted to say a big thank you so much for creating such a tasty and breastfeeding-safe weight loss plan for mums – I love it!
I absolutely adore the healthy mummy smoothies especially now the weather is heating up. I have lost 7kgs on the plan so far which I am so happy about
I still have another 5-10kgs but am very happy to be back in a healthy weight range.I also wanted to send in one of my favourite smoothie recipes with you.
And after spending the last 3 years pregnant or breastfeeding I do miss indulging in the occasional cocktail – so this is my healthy mocktail version!
Strawberry Daiquiri Smoothie
2 tbsp of vanilla healthy mummy smoothie
1/2 punnet strawberries
1 cup rice milk
Three mint leaves6 ice cubes
1/2 banana
The juice of half a lime
Blend and enjoy, Rachel Lohman