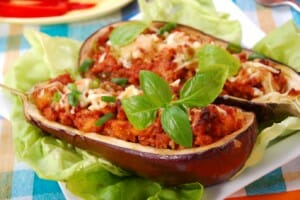 Here is a great healthy eating recipe for hearty baked deliciously stuffed eggplant.
Sometimes you can get carried away with the cheese which increases your calorie intake. This recipe is perfect for a healthy eating plan or weight loss diet. Try it.
Prep time: 20 minutes
Cook time: 40 minutes
Serves 4
Ingredients
Serves: 4
2 eggplants
2 tablespoons olive oil
1 medium onion, chopped
3 cloves garlic, minced
6 sprigs fresh parsley, chopped
1 can of diced tomatoes
1 small sweet potato chopped
1/2 cup grated parmesan
1 teaspoon salt
1 teaspoon pepper to taste
Preparation
1. Cut eggplant in half, scoop out the pulp, leaving a 1cm shell. Chop the flesh finely.
2. Heat 2 tablespoons olive oil in a frypan over medium heat. Cook chopped eggplant for about 1 minute.
3. Add in chopped onion, garlic, parsley and cook until tender.
4. Add in chopped sweet potato and canned tomatoes and cook until tender.
5. Stuff the eggplants with the mixture.
6. Top the eggplants with parmesan cheese.
7. Bake in a preheated 180 degree oven for approximately 30 minutes.
400 calories per serve
Special Offer & 10% Discount
If you are ready to lose weight then The Healthy Mummy plans offer a healthy and safe exercise and diet routine that are safe if you are breastfeeding and you can use code LOYALTY for a 10% DISCOUNT at the checkout