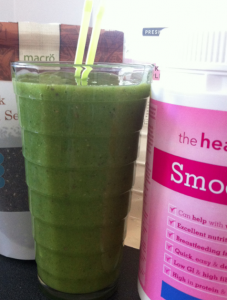 Our mums love experimenting with the Healthy Mummy Smoothies and adding good 'superfood' items into the mix. In this Super Green and Mango smoothie there are added chia seeds to this "mean green smoothie"!
Chia seeds are the highest known plant source of Omega-3, with 8 times more than salmon! Unlike other sources of this important
Essential Fatty Acid (eg. Flax or fish oil), it is in a highly stable form due to its powerful naturally occurring antioxidants.

Chia is an easy way to add healthy nutrition to your daily diet, with Vitamins A, B12 and C, complete protein (18 Amino Acids), minerals including potassium, phosphorous, folate, zinc, iron, and calcium as well as bowel-regulating soluble and insoluble fibre.
I used:
2 tbsp Vanilla Healthy Mummy Smoothie mix
250 mLs natural apple juice
a BIG handful of baby spinach
1/2 mango a mango
tsp chia seeds
Blend and enjoy
You can see more smoothie recipes here