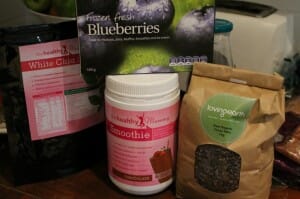 Well here is a Healthy Mummy Smoothie combination that sorts out three popular superfoods.
Chia seeds: high in protein, omega 3 fatty acids and fibre (you can buy these from the Healthy Mummy)
Bluberries: high in antioxidants, fibre and vitamin C (you can buy from your supermarket)
Cacao: raw cacao has a high level of antioxidants, magnesium and even iron (you can buy from your health food store or online).
For this superfood smoothie you need:
2 tbs of chocolate Healthy Mummy Smoothie mix
1 tbs of chia seeds
1 tbs of cacao nibs (or powder)
1 cup of frozen blueberries
200 ml of your chosen milk
Blitz them together and enjoy the long lasting benefits of energy throughout the day.
If you are ready to lose weight then The Healthy Mummy plans offer a healthy and safe exercise and diet routine that are safe if you are breastfeeding and you can use code LOYALTY for a 10% DISCOUNT at the checkout