Tacos and Mexican food is often thought of as fattening and unhealthy. But with this taco recipe, you can have a flavour filled meal which is Mexican inspired, delicious, higher in fibre with the addition of beans and lower in fat with less lean mince.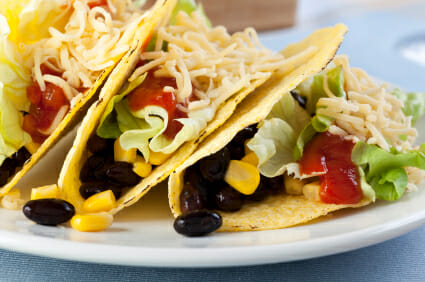 Prep time: 5 minutes
Cook time: 20 minutes
Serves 4
Ingredients for Taco Mince
1 tsp of chilli powder
2 tsp of smoked paprika
2 tsp of garlic powder
1 onion
1 handful of coriander
2 tbs of reduced salt tomato paste
300 grams of premium lean mince
1 can of butter beans or kidney beans rinsed and drained
¼ cup of water
Oil spray
Directions
Pan fry the onion with the oil spray.
Add in the mince and spices and pan fry until browned on the outside.
Add in the tomato paste and beans and water.
Cook for around 10 minutes until water has reduced.
Once cooked add in the chopped coriander.
To keep the meal lower in fat use reduced fat sour cream or natural yoghurt, chopped tomatoes, grated carrot and lettuce or leafy greens as your sides. Add minimal cheese. for more Tacos recipes try our delicious fish taco recipe!
Around 350 kJ per serve (not including tacos or sides)