Following a healthy pregnancy eating plan is easy when you know which foods will provide you with the nutrients you need during this special time in your life. Protein needs increase during pregnancy by 10-27 grams a day, as your growing baby requires lots of protein to help grow. The Healthy Mummy Pregnancy Smoothie is an easy and delicious way to get extra protein into your pregnancy diet.
Without enough protein, fatigue creeps in, making us exhausted and susceptible to lowered immunity, but we don't have to be having huge slabs of meat (which is the most common food aversion in pregnancy) to be meeting our needs.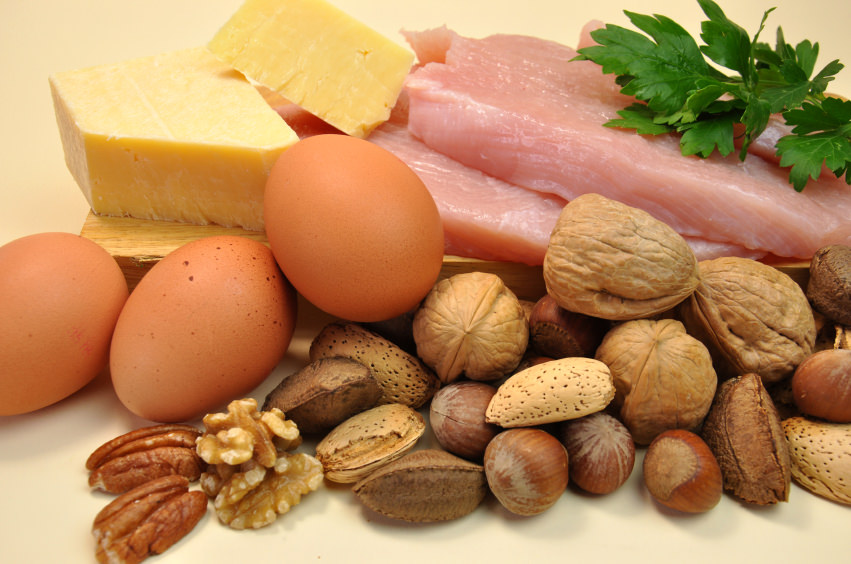 Here are some healthy snacks to increase your protein when pregnant:
1) Choc-Peanut Butter Avocado Mousse
The perfect option for something sweet.
1/2 an avocado, 1/2 tsp cacao powder, 1 tsp peanut butter, pinch salt, few drops stevia. Puree until smooth. Chill and enjoy. 360cal and 8g protein per serve.
2) Beef Jerky
Choose jerky with no preservatives or MSG and you will have a delicious high protein snack. A 20g serve is 82 calories and 7g protein.
3) Tofu Pudding
Silky smooth, this is wonderful chilled.
100g silken tofu, 1/4 cup blueberries, squeeze of lemon juice, 1 tsp 100% maple syrup. Puree until smooth. 157cal and 12g protein per serve.
4) Curried Egg Dip with Papadums
An easy peasy healthy snack that you could pop in your lunch box for work.
1 boiled egg, 1/2 tsp curry powder, 1 tbsp Greek yoghurt and a pinch of salt. Mash until you reach your desired consistency. Serve with three papadums you have puffed in the microwave. 163cal and 12g protein per serve
5) Quinoa, Tahini & Honey Balls
Easy to make and freeze so you always have a healthy snack at hand.
1/4 cup of tahini, 1/4 cup of honey, 1/4 cup of quinoa flakes, 1/4 cup of desiccated coconut, 1/4 cup of sultanas and 1/2 cup of almonds.
Mix everything in a food processor until it is sticky and binds together. Roll into 12 balls. Each ball has 116cal and 2.5g protein.
6) Yoghurt with Red Fruits & Pepitas
Packed with antioxidants and a good source of folate as well.
Serve 200g Greek yoghurt topped with 1/4 cup each of diced watermelon, sliced strawberries, and raspberries, 1 tsp pumpkin seeds and 1 tsp chia seeds. 101cal, and 4.5g protein per serve.
7) Nuts Trail Mix
A great emergency snack to have in your hand bag.
Combine 10 assorted nuts with 1 tsp chopped dried fruit and 1/2 tsp cacao nibs. 467cal and 10g protein.
8) Tuna Salad in Lettuce Cups
A very filling and healthy pregnancy snack.
Combine 1 small tin tuna (drained) with 1 finely diced celery stick, 1/2 tbsp finely chopped walnuts, 1 tbsp Greek yoghurt. Scoop the tuna mix into 2-3 crunchy lettuce leaves. 159cal and 21g protein per serve.
9) Cruskits with Hummus
For when you need a bit of crunch!
Divide 1/4 cup of hummus evenly over three rye Cruskits. 212cal and 8g protein.
10) Black Bean Brownies
Another healthy option for those sweet cravings.
1 x 420g tin black beans (rinsed and drained), 2 eggs, 3 tbsp vegetable oil, 10g cacao powder, 1 tsp vanilla extract, a pinch of salt, 2 tsp of baking powder, 1/3 cup maple syrup. Puree all ingredients until smooth. Bake in muffin tins at 170C for 15mins. Makes 12. Each one is 195cal and 8.5g protein.
And of course there's always a Healthy Mummy Pregnancy Smoothie which is loaded with nutrients ideal for you and your baby.
Cheree Sheldon, Nutritionist.
Click here to visit our pregnancy products shop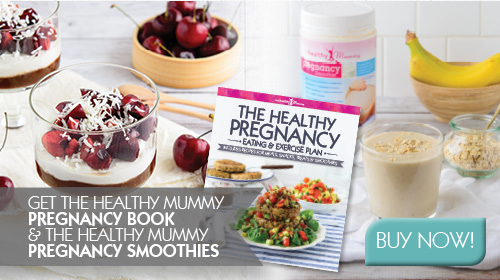 Disclaimer: Always speak to your doctor before changing your diet,taking any supplements or undertaking any exercise program in pregnancy. The information on this site is for reference only and is not medical advice and should not be treated as such, and is not intended in any way as a substitute for professional medical advice..
Our plans promote a health weight gain in pregnancy to benefit the mother & baby and you can read more on this here 
The owners of The Healthy Mummy do not make any representations or warranties, express or implied and shall have no liability or responsibility to any person or entity with respect to any loss or damage caused or alleged to be caused directly or indirectly by the information contained herein and nothing in this disclaimer will limit or exclude any liability for death or personal injury resulting from negligence, limit or exclude any liability for fraud or fraudulent misrepresentation, limit any liabilities in any way that is not permitted under applicable law or exclude any liabilities that may not be excluded under applicable law.