The Best Types of Food Combinations
Certain foods are much more effective in terms of health-giving properties when eaten together than they are when eaten alone.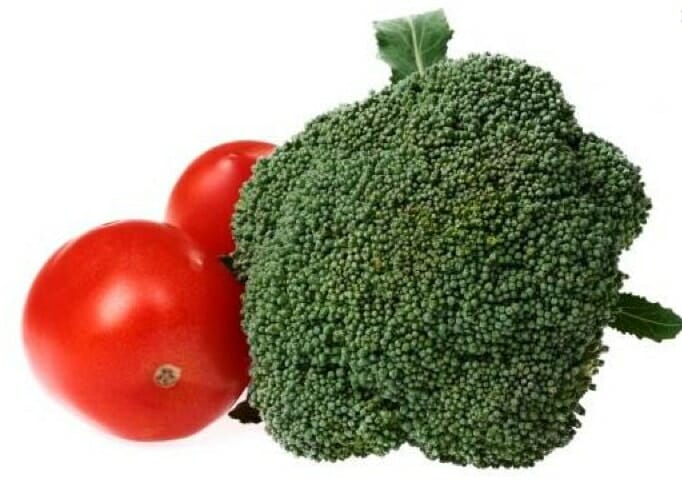 When specific vitamins and nutrients in certain foods interact with each other, they become synergised – and their health benefits are boosted which is great to know if you are following a healthy eating plan or trying to improve your diet.
Some of these super-powered food combinations are listed below.
Tomatoes and Broccoli
Tomatoes and broccoli are each known separately for having cancer-fighting properties – certain vitamins and minerals that are known to boost health and reduce your risk of certain cancers.
When eaten together, researchers at the University of Illinois found that the combo is more effective at shrinking prostate tumors than when the foods were eaten alone – this is because these foods both fight cancer in a different way, so when they are eaten together, they have different cancer-fighting properties that can act as a double threat to cancer cells.
You should also cook your tomatoes and broccoli to get the most nutritional benefits from them – a study published in the Journal of Agriculture and Food Chemistry found that tomatoes and broccoli retained more antioxidants when cooked, rather than when eaten raw.
Recipe: Scrambled Eggs with Tomato and Broccoli
Dice an onion or two and fry until sweet, then stir in halved cherry tomatoes and a handful of broccoli florets. Fry until tender or cooked to your liking, then add seasoned eggs and scramble to taste. Sprinkle with cheese, then serve!
Spinach and Oranges
Spinach is known for being packed with iron, which is essential for health as it allows our body to transport oxygen to our blood cells. Spinach is just one source of iron – you can also find it in lean meat and beans. However, on average, we only absorb up to 15% of the iron that we take in – meaning that 85% of it is wasted.
To improve iron absorption, we need to add vitamin C into the mix, which can improve iron absorption – and a great combo for this is to eat spinach and oranges together. You could also sprinkle citrus juice over your iron sources for a boost of vitamin C, or you could add strawberries or bell peppers to your favourite salad. It is also great to add a handful of spinach to your healthy mummy smoothies
Recipe: Baby Spinach Salad with Orange Dressing
Make your favourite spinach salad with a little bit of red onion for bite and some slivered almonds for crunch and omega-3. Dress it by whisking together a shallot, 3 tbsp. extra-virgin olive oil, 2 tbsp. vinegar of choice and 2 tbsp. orange juice, seasoned to taste with salt and pepper.
Yogurt and Oatmeal
Yoghurt and oatmeal are both full of natural goodness – and they work together so well because the oatmeal contains prebiotics and the yoghurt contains probiotics. Prebiotics feed probiotics, boosting their benefits for your gut – and prebiotics can also keep you regular, too, because they are indigestible. Eating prebiotics and probiotics together can boost your digestive health and your immune function and adding a tbsp of oatmeal and yoghurt to your healthy mummy smoothies is a great idea too.
Recipe: Artichoke Dip
Chop cooked spinach and artichokes and stir into Greek yoghurt, then season with a couple of minced garlic cloves, some lemon juice and salt and pepper. Serve with some buckwheat crackers.
Omelette Sandwich
Fry onions, leeks, garlic and asparagus until tender, then add eggs whisked with Greek yoghurt and cook to your liking – this is the probiotic component. Season with salt and pepper. Serve on toasted wholegrain bread for the prebiotic component.
Whole Grains and Garlic/Onion
Eating whole grains with garlic or onions or both can boost the absorption of both iron and zinc, making this a super powerful food combo. Recent research has found that cysteine, the amino acid found in garlic and onions, can increase the absorption of iron by a whopping 70% and zinc by 160%. Adding just a few chopped garlic cloves to your recipe can boost iron absorption – and it will also add plenty of flavour to your food. If you're worried about garlic breath, try eating a little fennel afterwards – it will get rid of any lingering smells, and it also has plenty of nutritional cancer-fighting properties.
Recipe: Garlic Hummus
Whiz a few garlic cloves into your favourite hummus recipe, along with a chopped shallot. Smear onto wholemeal bread for a tasty snack.
Bulgur Salad
Fry some onions and garlic in oil until tender. Cover bulgur wheat with simmering orange juice and leave to sit until plumped up. Finely chop fresh coriander and mint and stir in, along with the onions and garlic and some chopped nuts. Season to taste.
If you are ready to lose weight then The Healthy Mummy plans offer a healthy and safe exercise and diet routine that are safe if you are breastfeeding.
And don't forget to check out our current promotions and discounts page to see what specials we have on this week on our Healthy Mummy product range