The difference between baby led and puree based weaning
If your baby has reached the stage where you are considering introducing  solid food, you may have heard the words 'baby led weaning', 'rice cereal' and 'puree' floating around.
After only needing to worry about milk for the last few months, the world of solids can seem very daunting.
There are two main schools of thought when it comes to introducing solid foods and many mothers mix and match between both to tailor a solution that best suits their needs.  We give you the low down on the difference between baby lead and puree based weaning.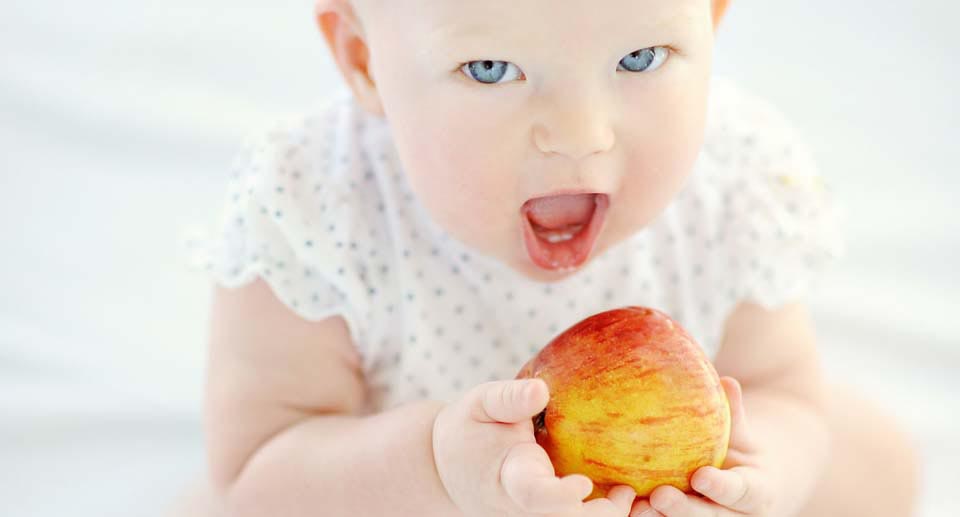 The basics of baby led weaning
Baby led weaning (BLW) refers to forgoing purees, mashes and spoons and letting your baby feed themselves.  Usually with finger food from the family table. For example, you baby's first food may be a chunk of avocado, half a banana or even a lamb chop! BLW gives babies the chance to explore different tastes and textures for themselves from the get go.
'But what if they choke!?' we can hear you ask. Fear of choking is usually the first fear and question on the lips of most mothers when considering BLW. While 'whole' food do come with a small risk of gagging, the odds of an actual choking incidence occurring are very slim.
Before commencing solids, babies should be able to sit upright without assistance and have strong head control, both factors will help minimise the risk of choking. BLW also allows babies to handle and control the amount they eat, and move it to the back of their mouths when they're ready.
The theory behind BLW is that your baby joins in family meals and becomes an active participant as they get older and start eating more. A typical day may follow something like this:
Breakfast – A chunk of fruit, scrambled eggs, toast fingers
Lunch – Veggie sticks (steamed or raw), a wedge of cheese, pasta spirals
Dinner – A lamb cutlet, chunks of sausage, pasta, chunks of chicken, beef and/or veggies
Puree, mashes and more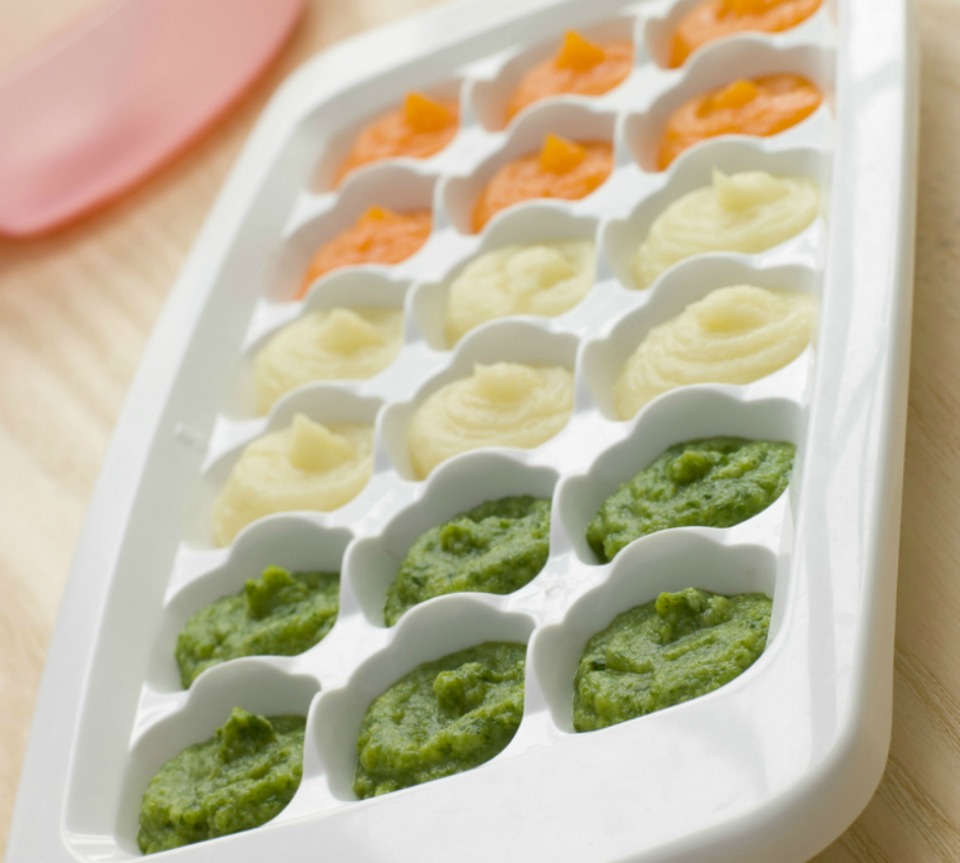 Introducing solids through puree and mash is how many of us would have been weaned as kids. The guidelines still include recommendations for including puree and mash in the diet of babies 4-6 months old. Dieticians often recommend a mix of purees, mash and BLW to ensure babies are exposed to a wide range of different tastes and texture. Many mothers feel more comfortable starting with soft, puree type foods before venturing into more solid options. Some ideal first foods include:
Avocado – Simply mash with a fork before serving
Banana – Mashed on its own of mixed with breastmilk/formula
Plain or Greek style full fat yoghurt
Sweet potato – Mashed on its own or mixed with breastmilk/formula
For plenty of other easy suggestions check out 42 ideas for baby puree.
Whichever way you decide to introduce solids there are a few key points to remember:
Never leave your baby alone while eating
Food = mess when it comes to babies! The best way to minimise the carnage is by using a highchair for meal time and investing in a plastic 'messy mat' or sheet to put underneath. These can be wiped or hosed down easily. Plastic bibs are also a great idea and save on laundry loads.
Introduction of solids should be fun! Babies love exploring new sensations and textures and food is just an extension of this. Enjoy the experience and let your little one take the lead. If they don't seem interested, there is no harm in waiting a few more weeks. Milk (breastmilk or formula) provides the bulk of their nutritional needs until 12 months and holding off on food won't cause major issues (unless you've been advised differently by a medical professional).
Try our Healthy Kids Smoothie!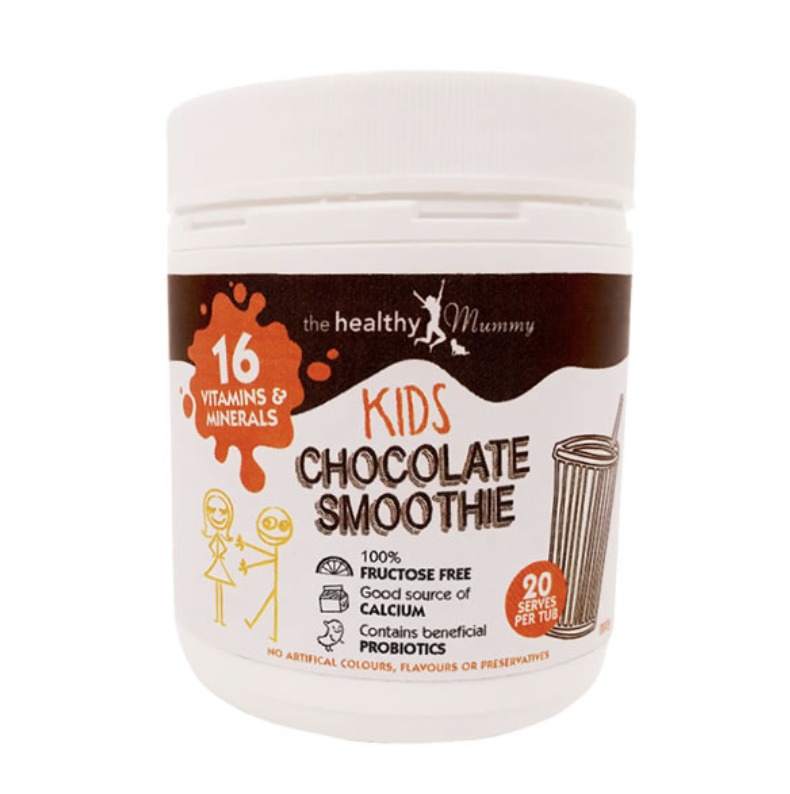 The Healthy Kids Smoothie has been specially made as a healthy snack for kids and is ideal if you have fussy eaters or want to ensure your children have a nutritious and healthy smoothie snack. It also has a 4.5 Health Star Rating when made with skim milk. Plus it contains NO added sugars.
The sugar content in The Healthy Kids Smoothie is from NATURAL sugars from the lactose in the milk and is FREE from added sugars. WHO recommend aiming for 5% added sugars in the diet and this product provides NO added sugar
The Healthy Mummy Kids Smoothie is rich in carbohydrates and protein and is a natural energy packed smoothie made for kids.

It contains 16 essential vitamins and minerals and when combined with milk, provides children with 50% of their Calcium RDI. 

It also contains probiotics needed for healthy guts and is free from fructose.
GET YOUR HEALTHY KIDS SMOOTHIE TUB HERE!