So here it is! My little creation with internet inspiration, The Stick Exercise Plan.
It is crazy how freakishly excited I am by this simple exercise plan.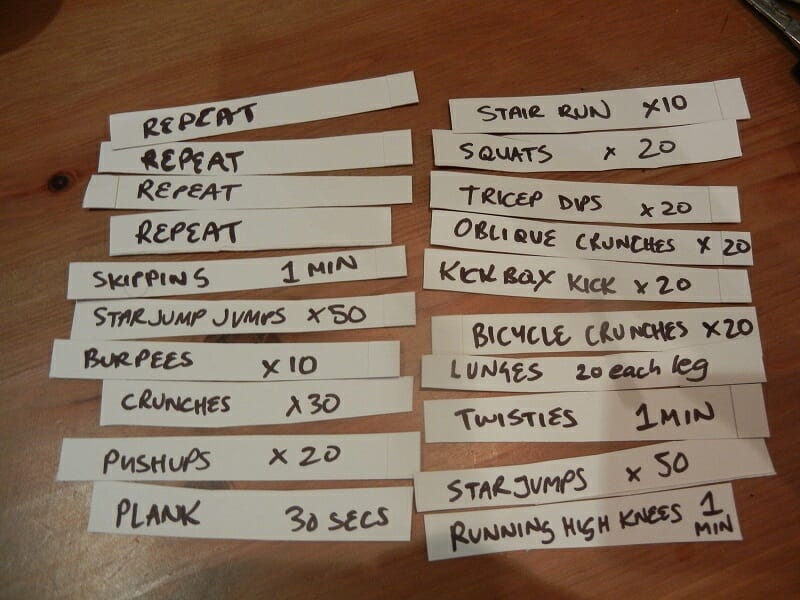 Step 1.
Pick out a stick, read and put into the cup beside.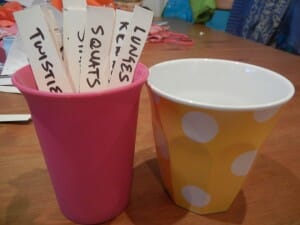 Step 2.
Complete the exercise.
Step 3.
Repeat.
The best part about this is that you can do as little or as much exercise as you like. And the trick is you can pick a repeat stick which will help make it buuurrnnn!
I think I am going to have two aims:
Aim 1: To complete the whole circuit once a week in one session
Aim 2: Every second day, pick 4 sticks out and complete them there and then or when I have time.
The reason why I love these two aims is because I think anyone can achieve that, whether you are a SAHM, WAHM or WAWM. If you are a Working at Work Mum, you can draw the sticks before going to work and complete them there. Or if you are the at home variety of mother, do it with the kids, while cooking tea or folding the washing.
You think your neighbours or co-workers will think you are a bit kooky? Who cares! You are the one that is fit and fabulous!
For some exercise inspiration actually designed by a professional, have a look at the 28 day exercise and diet plan. There are some great exercises in it, especially for new mothers. Or for some other exercise inspiration from the blog, read this or this.