These mums reveal how they use our whey protein powder
Making sure you get enough protein into your day is not always easy. So getting your daily protein intake can be made easy with The Healthy Mummy CHOCOLATE Whey Protein Powder, especially if used in smoothies and for snack making.
The Healthy Mummy Whey Protein Powder is simply a protein powder, great to consume post-workout or as a snack (on it's own or to be used when cooking/baking) to assist with tissue repair, muscle growth and muscle maintenance.
These 5 Healthy Mummies have first hand tried the NEW CHOCOLATE protein powder and they're dishing the sweetest recipes.
See below and get baking!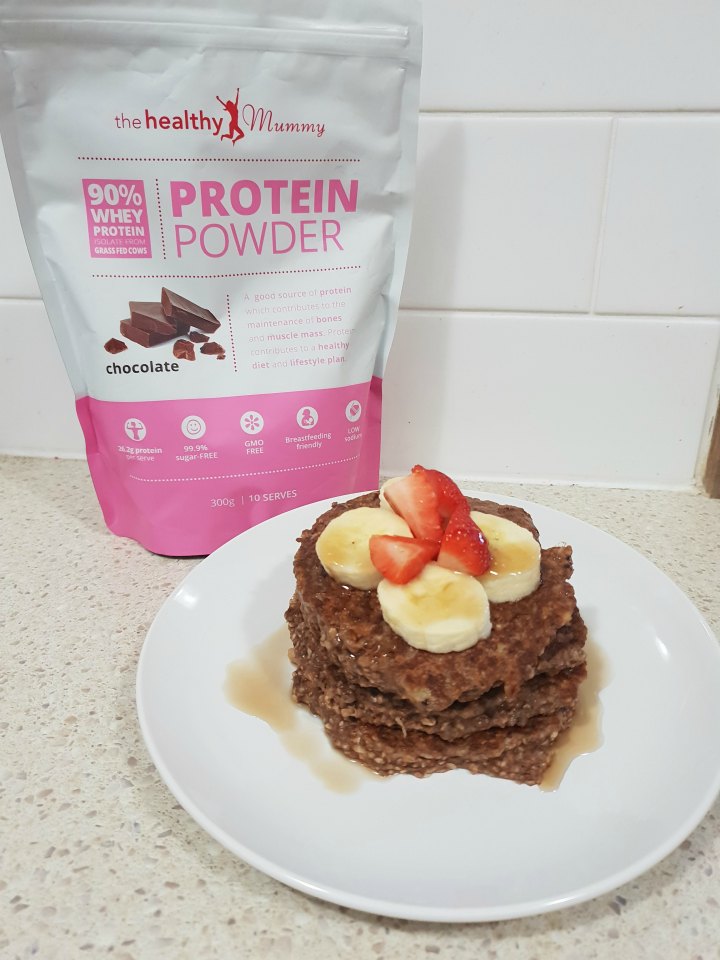 4 recipes made with chocolate whey protein powder
Amy Atkinson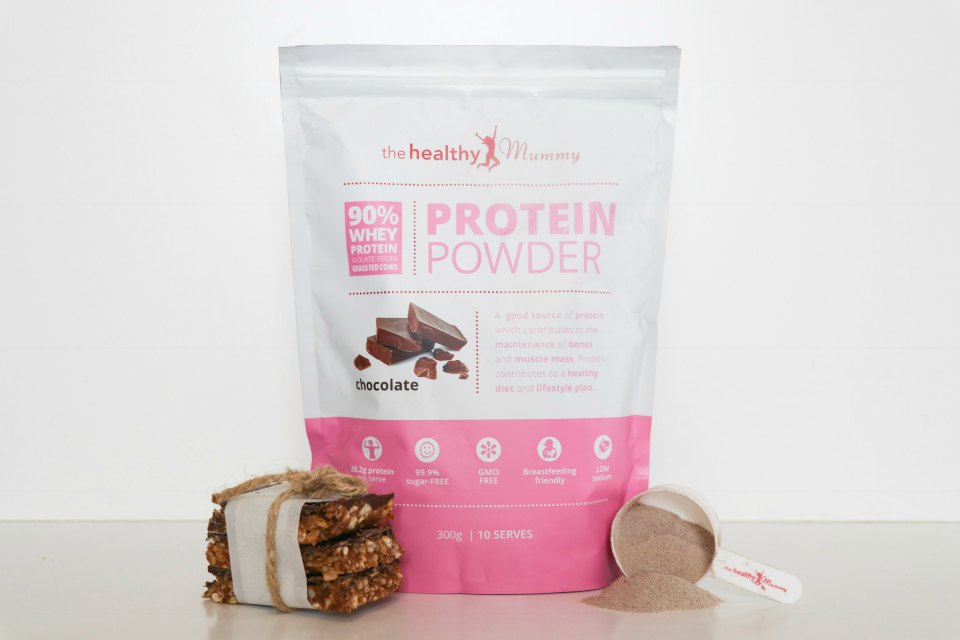 Hedgehog Slice
141 cals per serve (serves 16)
"Not only is this a great recipe to make for yourself and have on hand for a healthy snack but it's also a good one to make for the children's birthday parties," Amy says.
Ingredients
1 cup walnuts (160 grams)
1/2 cup pitted, dried dates (85 grams)
2 tbsp cacao/cocoa powder (16 grams)
2 tbsp honey (40mls)
3 tbsp desiccated coconut (24 grams)
1 cup puffed rice (25 grams)
100 grams dark chocolate chips
1 tbsp coconut oil (20 mls)
1 serve chocolate whey protein powder (30 grams)
Method
Line a loaf tine with baking paper. Soak pitted dates in boiling water for 10 minutes, then drain.
In the food processor. blend the walnuts, soaked dates, honey, cocao/cocoa powder, protein powder and desiccated coconut. Transfer mix to a bowl and mix through puffed rice. Press mix into the prepared tin. Set aside while you make the topping.
Melt chocolate bits and coconut oil together in the microwave for 30 seconds increments. Stir until well combined and smooth, then pour over base. Move tin from side to side so that the topping evenly covers the base. Tap tin on bench then place into the freezer for 10 minutes to set.
Cut slice into 16 bars. 1 slice is one serve.
Keep in fridge or freezer in an airtight container.
Sarah Maynard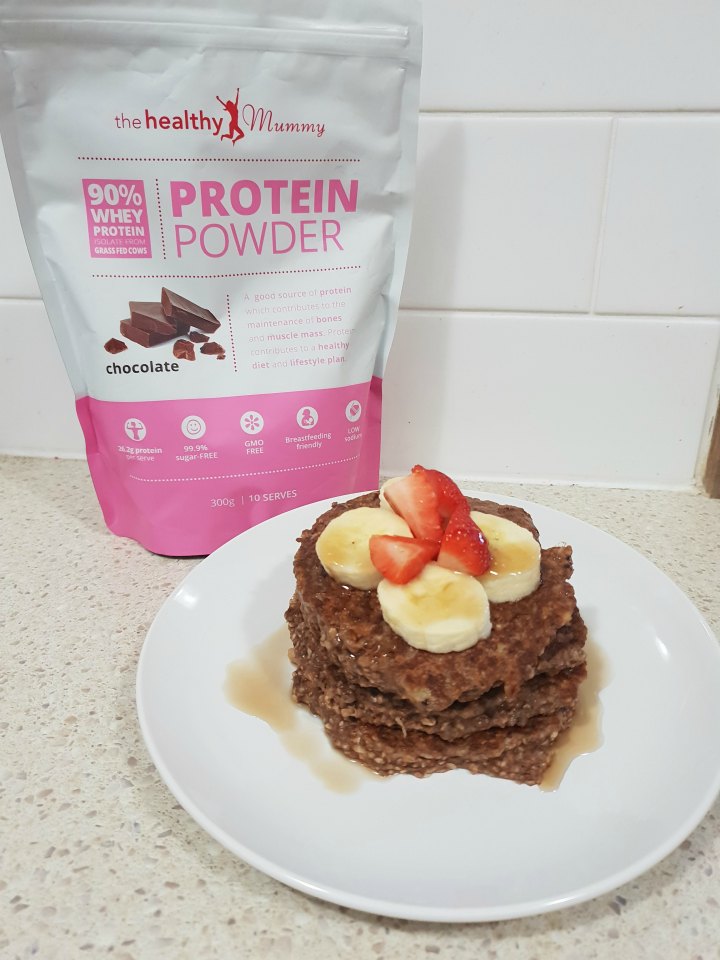 Protein pancakes
Serves 2
"Hubby & I go halves in this!" Sarah says.
Ingredients
2 tablespoons of chia seed (soaked overnight in 6 tablespoons of water) or you can soak for 20mins in morning.
1/2 cup oats
1/2 cup milk
Half banana (mash)
2 teaspoons cocoa powder
2 tablespoons HM chocolate whey protein powder
Method
Mix all ingredients together & cook to satisfaction.
Amy Atkinson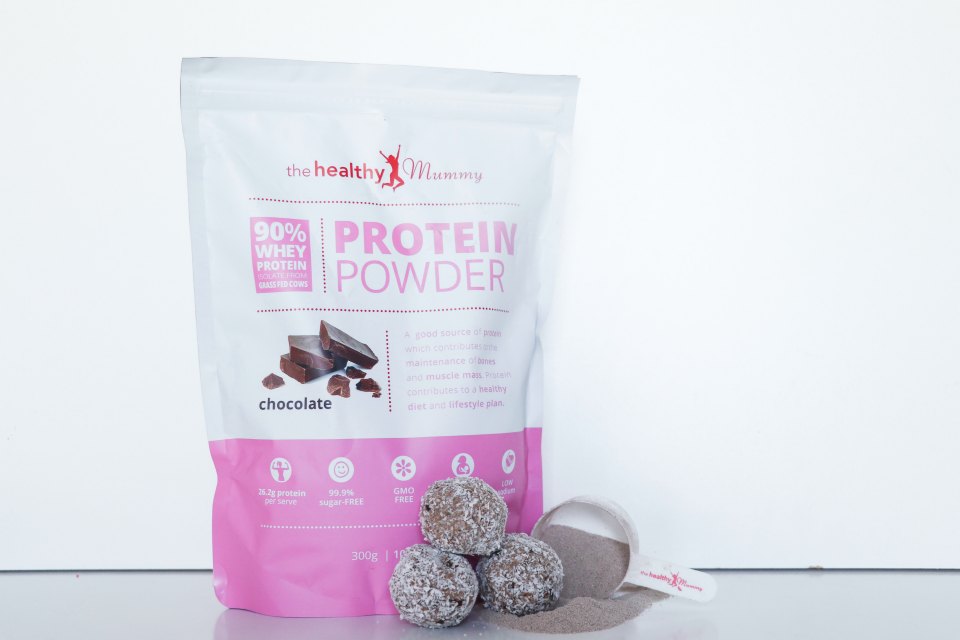 Chery Ripe Bliss Balls
198cals per serve – serves 5 (makes 10 balls, 2 balls per serve) Prep time 10mins
A delicious bliss ball recipe that is easy to prepare. Making homemade snacks like this will not only ensure you are eating well but also saving money.
INGREDIENTS
. 1/2 cup dried cherries (90 grams)
. 1/2 cup pitted, dried dates, chopped (85 grams)
. 1/2 cup desiccated coconut (50 grams)
. 2tbsp cacao/cocoa powder (16 grams)
. 2 tbsp coconut oil, melted (40mls)
. 1 serve chocolate whey protein powder (30 grams)
METHOD
. Place all the ingredients in a food processor and process until well combined. Add a little more coconut oil if needed to bring the mixture together.
. Roll tablespoons of the mixture into 10 balls.
. If you have a little extra desiccated coconut available, roll each ball in coconut to serve.
. Two balls is one serve. Store leftovers in an airtight container in the fridge for up to a week or freeze for up to 2 months.
Katie Purssell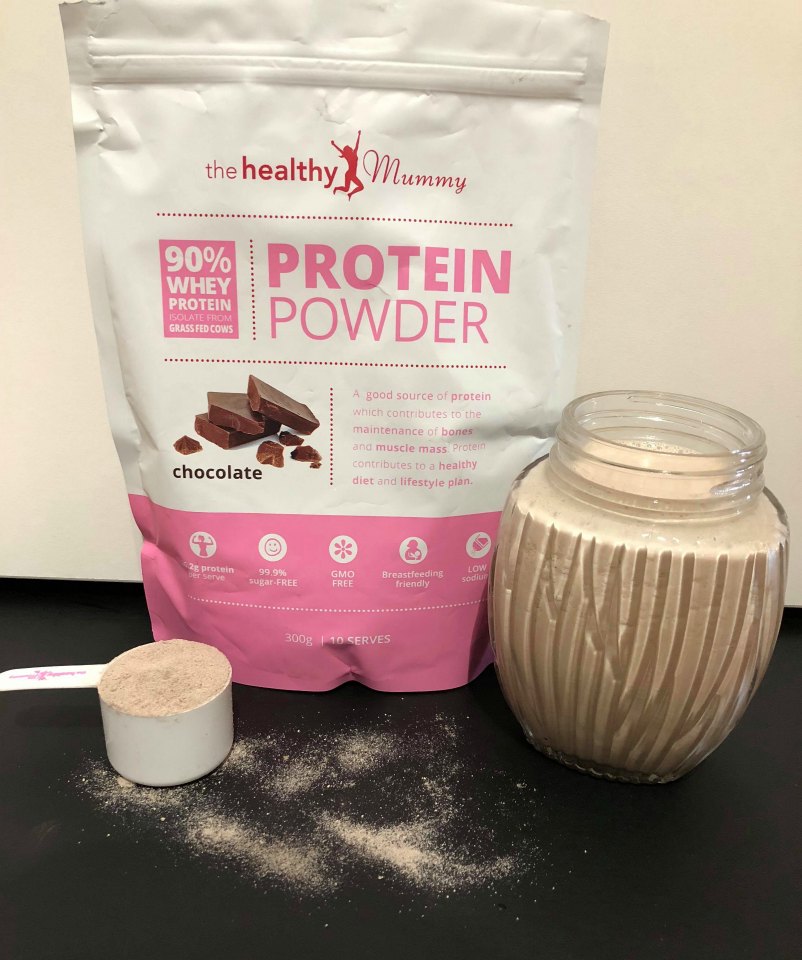 Choc Caramel Protein Smoothie
Ingredients 
Method
Blitz all ingredients together in a blender.
Try our NEW CHOCOLATE whey protein powder!
The Healthy Mummy CHOCOLATE Protein Powder is a great, convenient way for mums to ensure they are getting enough protein in their daily diet and maintain and build those muscles!
What's more our chocolate protein powder is FREE from saturated fatty acids and is low in sodium (which is great – as a diet low in sodium is good for reducing blood pressure).