Time for a reset? How to lose up to 5 kilos on the SUGAR DETOX 28 Day Weight Loss Challenge this May!!
Anyone over indulge on chocolate this Easter?!
Well don't worry. We can get you back on track with the Sugar Detox 28 Day Weight Loss Challenge that starts on April 25th!
We have heaps of delicious recipes to show you how to detox from sugar and shred without missing out on all your favourites! Think Fudge, Chocolate Cake, Cheesecake, Curries, Pizza and Pasta Bakes, all indulgent yet fat-fighting recipes! Plus we have an exciting new New 3 Pot Meal Plan with brand new recipes that will be available in the Healthy Mummy App!
Get a Sneak Peek of some of the amazing things happening in the Healthy Mummy App!
Sugar Detox Recipe Sneak Peek **
Sugar can make you feel good (for a while) but it comes with the inevitable sugar crash, which can see you lunging towards the biscuit jar looking for your next sugar hit.
By following the recipes in the May 28 Day Weight Loss Challenge you can wean yourself off the sweet stuff, have more energy, and lose the kilos you've been unable to shake.
Layered Wagon Wheel Slice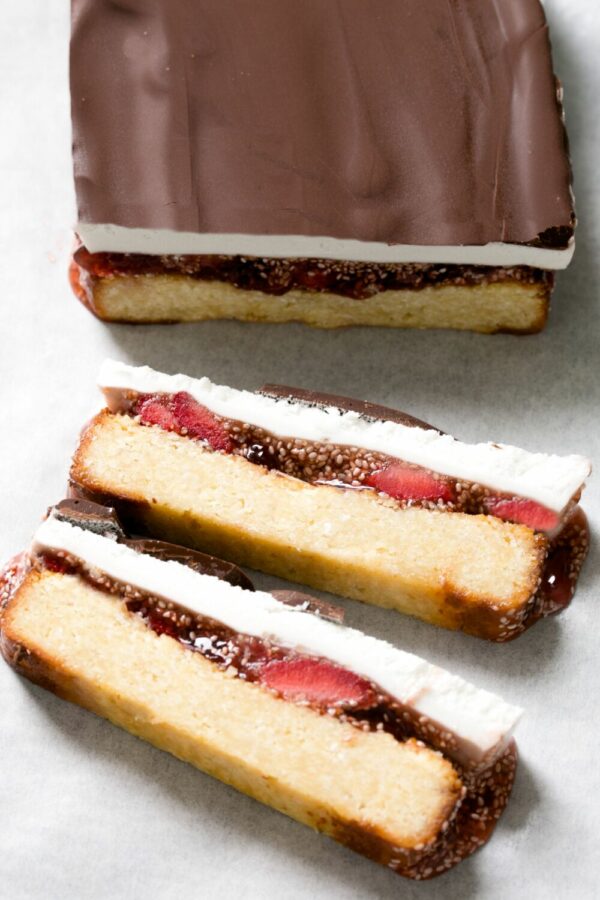 166 calories
You can still enjoy sweet treats when reducing your sugar intake, but make healthier versions of your favourite lollies, cakes and biscuits at home, rather than buying processed options that are loaded with added sugar.
Sink your teeth into this multi-layered slice that will have you experiencing all the nostalgic feelings of your childhood!
Serves 16

Prep time: 45 min, cook time: 35 minutes
Ingredients
6 free-range eggs
1 cup plain wholemeal flour
1 cup coconut sugar
1/2 tsp baking powder
1 cup Natvia baking sweetener
2/3 cups water
1 punnet strawberries, tightly packed hulled and quartered
2 tbsp powdered gelatine
2 tbsp chia seeds
1/3 cup coconut oil, melted
1/3 cup cacao/cocoa powder
Method
Preheat oven to 180 degrees
Line a medium-sized baking tin approximately 30 x 20 cm and at least 5cm deep with baking paper.
Beat eggs with electric mixer, adding coconut sugar slowly until mix becomes thick and fluffy.
Mix together the flour and baking powder then fold into egg mix a little at a time. Do not over mix as this will deflate the batter.
Pour into a prepared pan and bake for 20 minutes or until cooked through.
Set aside to cool.
Once cake has cooked enough to remove from tin set it onto a wire rack and use the same time to see the marshmallow. You can re-use the baking paper from the cake.
Combine Nativia and 2/3 cup hot water in a saucepan over medium heat. Cook, stirring for 3 minutes or until Nativa dissolves and syrup is clear.
Using a fork, combine gelatine and 2/3 cup cold water in a jug. Pour into hot syrup. Cook, stirring for 2 – 3 minutes or until gelatine has dissolved and mixture is clear. Pour into a bowl of an electric mixture.
Using an electric mixer, beat sugar and gelatine stirring on the lowest speed moving up to high for 6 – 10 minutes or until very thick. Spread into the prepared pan. Smooth top. Pop in the fridge to set while making the jam.
To make chia jam place strawberries and water into a small saucepan and cook stirring frequently for 8 – 10 minutes or until strawberries have broken down and are bubbling.
Remove from heat and use a potato masher or fork to create desired consistency. If you like your jam smooth without pieces of fruit you could use a stick blender. While the jam mix is still warm add chia seeds, stir for 5 minutes or until chia seeds start to swell.
Assemble slice on a wire rack, firstly gently spread the chia jam over the sponge cake and then top with prepared marshmallow.
Mix cacao and melted coconut oil in a bowl until smooth and carefully pour mixture over the slice to evenly cover.
Place slice onto a board and place into fridge until the chocolate mix has set.
Leftovers can be stored in an airtight container in the fridge for up to 4 days.
Take Part in the 12 Week Challenge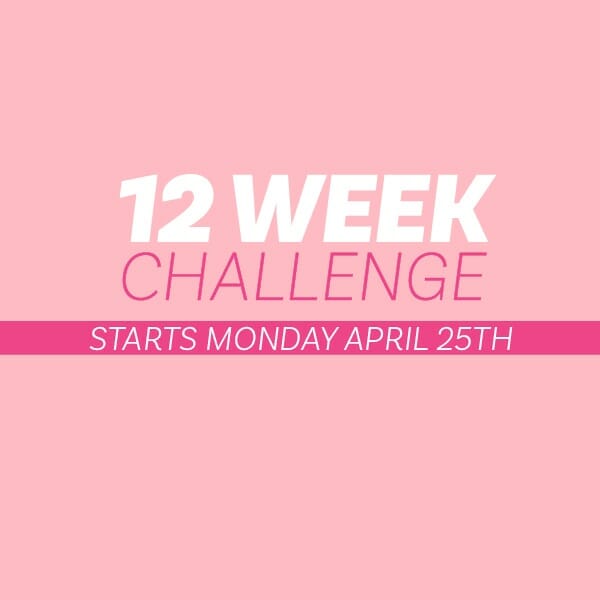 The 25th April also marks the start of the Healthy Mummy's 12 Week Challenge! This is a fantastic opportunity to kickstart your weight loss.
The challenge consists of following 3 consecutive 28 Day Weight Loss Challenges but for those taking part, they will pledge their 12 week goal, and along with receiving a free 12 Week Challenge Tool kit ebook, two lucky people will get the chance to win $1000 each!
They'll also have access to a 12 week Private Support Group on Facebook, where there will be weekly prizes drawn and where they can chat with other mums taking part in the 12 Week Challenge and get regular support emails. – Find out how to get the most of the 12 week Challenge here!

All of these incredible women have lost significant weight following pervious 12 Week Challenges! Be inspired by their stories here.
New Exciting Meal Plan and Recipes in The Healthy Mummy App
We also have an amazing new meal plan coming to the Healthy Mummy App which will also include some BRAND NEW Recipes!
The new 3 Pot Meal Plan is perfect for mums who want to cook less, without missing out on variety.  When following this meal plan, each week mums will cook 3 large batches of meals, and then make different meals out of the leftovers. It's Genius!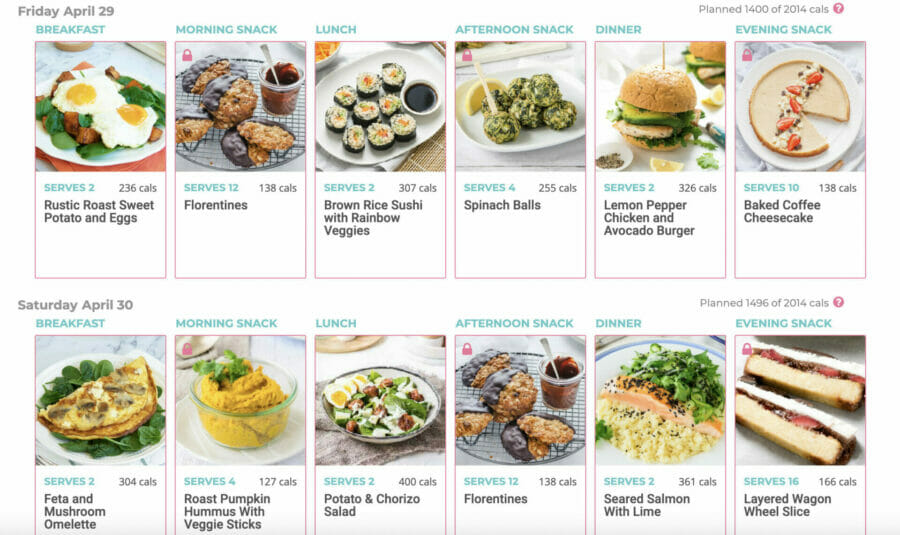 You'll save time and effort in the kitchen in the long run by following this meal plan, but learn how to still get different types of amazing healthy meals! For example, the Slow Cooked Asian Chicken becomes Asian Chicken with Broccoli and Rice, Asian Rice Paper Rolls AND Satay Chicken with Noodles!


The whole meal plan lends itself to prepping ahead with simple short cuts and easy recipes that'll have you feeling super organised and super healthy!
Sneak Peek of 3 Pot Recipes
Slow Cooked Bulk Asian Chicken with Broccoli and Rice
This is your versatile base meal that you will cook in bulk to provide extra serves that will be used in different meals later in the week. It is jam packed with lean protein and delicate Asian flavours that make for a delicious family dinner. And only 447 calories per serve!
Asian Rice Paper Rolls

With the left over Asian Chicken you already have portioned up in the fridge, you can knock up these fresh and tasty Rice Paper Rolls for lunch in the week. Just 365 calories per 3 rolls.
Ingredients (Makes 6 serves)
1 container Bulk Asian Chicken (1000 grams)
18 rice paper sheets (180 grams)
3 cups purple cabbage, shredded (150 grams)
3 cups iceberg lettuce, shredded (90 grams)
3 medium carrot, julienned (210 grams)
3 Lebanese cucumber, julienned (600 grams)
1/2 cup sweet chilli sauce (125 mls)
Method
Using the Bulk Prepared Asian Chicken:
Remove a container of Asian Chicken from the fridge, you can break into small pieces or shred with two forks.
In a large bowl combine cabbage, lettuce, carrot and cucumber.
Fill a second large bowl with warm water and soak the rice paper sheets in the water, one at a time, for 20-30 seconds, until soft.
Place the rice paper wraps on a damp tea towel and add salad mix to the centre of the rice paper sheet, top with asian chicken.
Fold the bottom of the rice paper up over the filling, fold the edges in, and then roll up as tightly as possible.
Repeat this process with the remaining rice paper sheets. Serve with sweet chilli dipping sauce on the side. 3 Rolls is one serve.
Satay Chicken with Noodles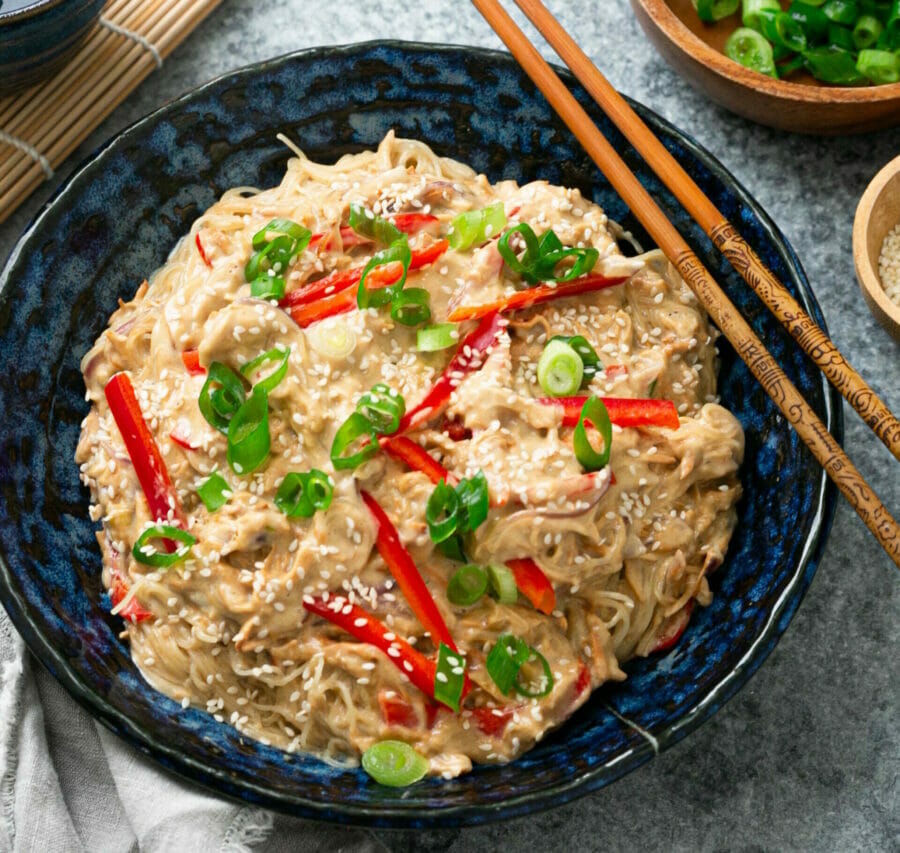 Having the Asian Chicken already to go, this speedy and tasty meal can be on the table in just over 10 minutes. With just 471 calories per serve, this is a much healthier (and tastier) alternative to take away!
Ingredients (Makes 5 serves)
1 container Bulk Asian Chicken (1000 grams)
2 red capsicum, finely sliced (200 grams)
1 red onion, finely sliced (100 grams)
3 tbsp peanut butter (48 grams)
3/4 cup reduced-fat coconut milk (180 mls)
250 grams rice vermicelli noodles, cooked to packet instructions
1 spring onion, finely sliced, to garnish (15 grams)
1 tbsp black or white sesame seeds, to garnish (16 grams)
Method
Using the Bulk Prepared Asian Chicken:
Add one container of prepared Asian Chicken to a large frying pan over medium heat with the container of slow cooker liquid, roughly break up the chicken with two forks and simmer over a medium heat.
Add capsicum and onion, cook for 5 minutes, then add peanut butter and coconut milk, stir until well combined.
Add cooked vermicelli noodles to the frying pan and toss until noodles are coated in the satay sauce.
Divide between 5 bowls and garnish with spring onion and sesame seeds. One bowl is one serve.
How to customise to different meal plans in the Healthy Mummy App
Ready to get in shape? Join us on the Sugar Detox Weight Loss Challenge!
The SUGAR DETOX Challenge starts on 25th April 2022! 
Reducing sugar doesn't have to be scary. You don't have to count every gram or totally remove sweet treats from your diet. Join the 28 Day Weight Loss Challenge and start your sugar detox!
With more than 6000 delicious (and healthy) recipes, 600 exercises & 24/7 support – the 28 Day Weight Loss Challenge is designed (and proven) to help busy mums like you lose weight!
To learn more and join the Challenge, click here!
See results from mums
Cyrstal Joy Maguire – 11.2 Kilos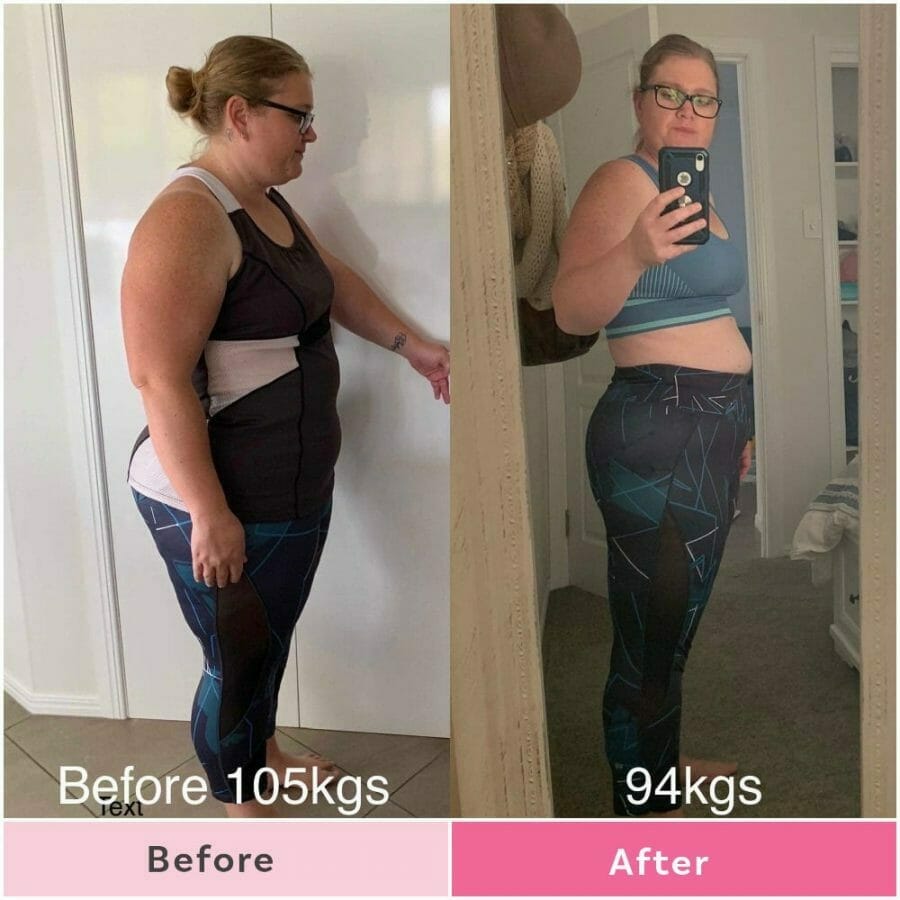 This Grafton-based mum has lost 11.2kg in JUST 12 weeks on The Healthy Mummy's 12 Week Challenge – find our budget offer to join here!
Crystal has been following the 28 Day Weight Loss Challenge  since the end of April 2021 but really started it when the 12 Week Challenge started in May 2021.
"I decided to join as I saw a photo of me full length on our holiday in April 2021 and it was so terrible that I said I couldn't look like this anymore and my son needs a healthy fit mum to keep up with and not to be an embarrassment to my son," she says.
See more of Crystal's story here.
Jasmine Ready – 10.5 kilos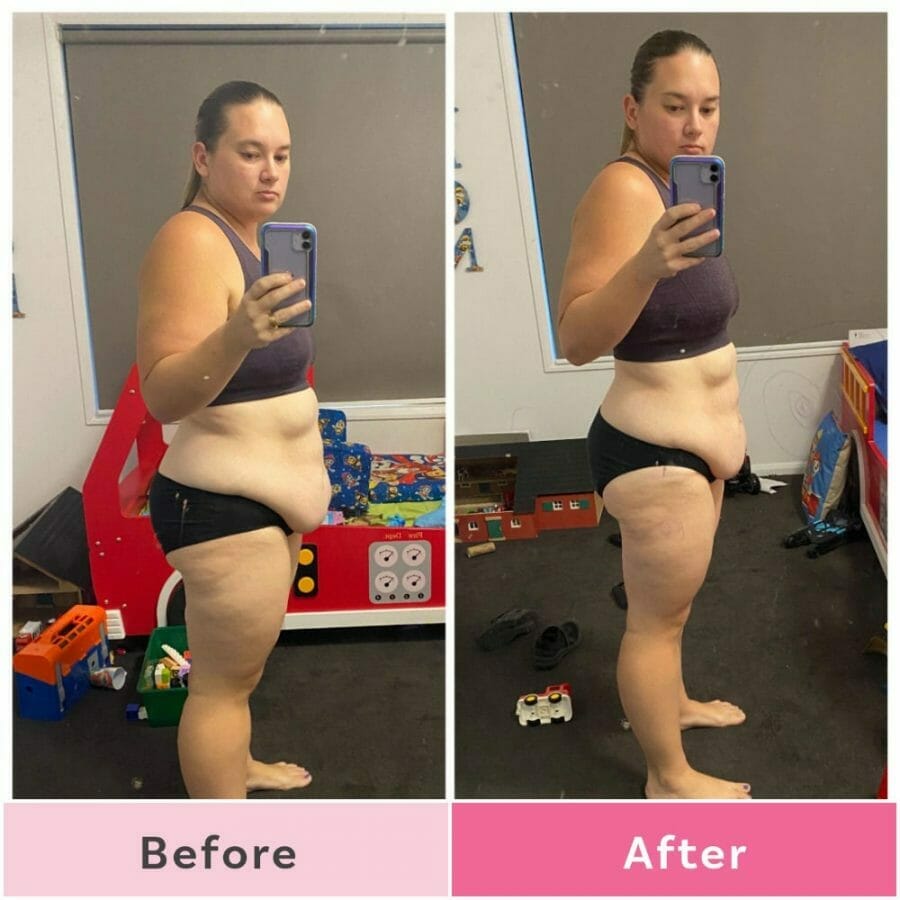 What a transformation Jasmine Ready has had on the 12 week Challenge – find our budget offer to join here ,losing 10.3kg and 37cm off her body!
The Queensland-based mum has been a member of the 28 Day Weight Loss Challenge since 2016 and has lost a grand total of 39kg in that time!
Jasmine signed up to the 12 Week Challenge because she wanted to lose between 10-12kg and fit in her dress!
"Amazingly, the dress was able to do up at six weeks and I changed my pledged for the other six weeks to get my back rolls gone," she says.
"Now, I am stronger and fitter every week and keep heading towards my goal. I used the app for everything during the 12 Week Challenge and continued on using it."
See more of Jasmine's story here.
Vanessa Teakle –had a  7.3 kilo weight loss on the 12 Week Challenge

Vanessa Teakle managed to lose 7.3 kilos on the 12 week challenge – find our budget offer to join here!
This mum of two children from Geelong in Victoria pledged to stay consistent and work out at least 3 times a week.
Her efforts more than paid off with her not only losing 7.3 kilos, but also 20 cms from her body.
Sarah Gibson lost almost 12 kilos in just under 12 weeks!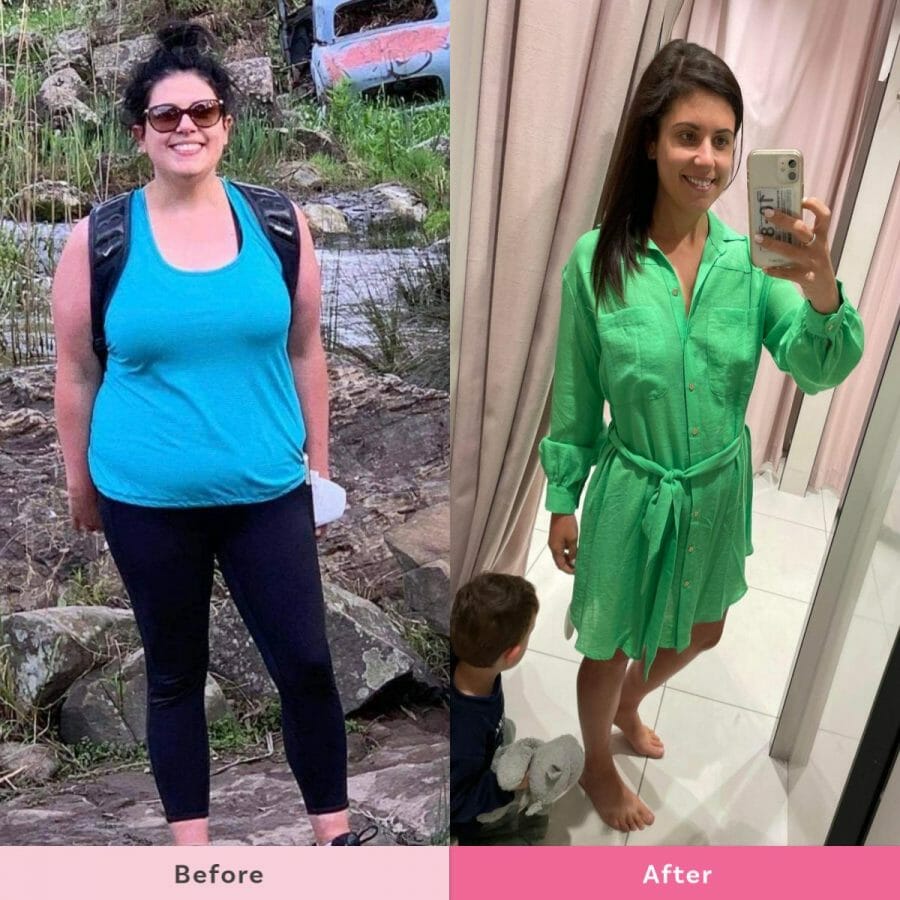 Since making a New Years Resolution to shed kilos and live a healthier life by joining the 28 Day Weight Loss Challenge, she is now 11.8 kilo's lighter, more toned, energised and rocking body confidence.
What's more, having tried and failed at lots of different diets before, the Healthy Mummy gave her all the tools she needed to succeed.
"I've completely changed my outlook on everything I have ever known about eating and exercise. Intuitive eating has changed my life – I feel like I am finally in the Body and mind I was born to be in."
See more of Sarah's story here
Husband and Wife team Katie and Shane smashed their weight loss goals on the last 12 week Challenge!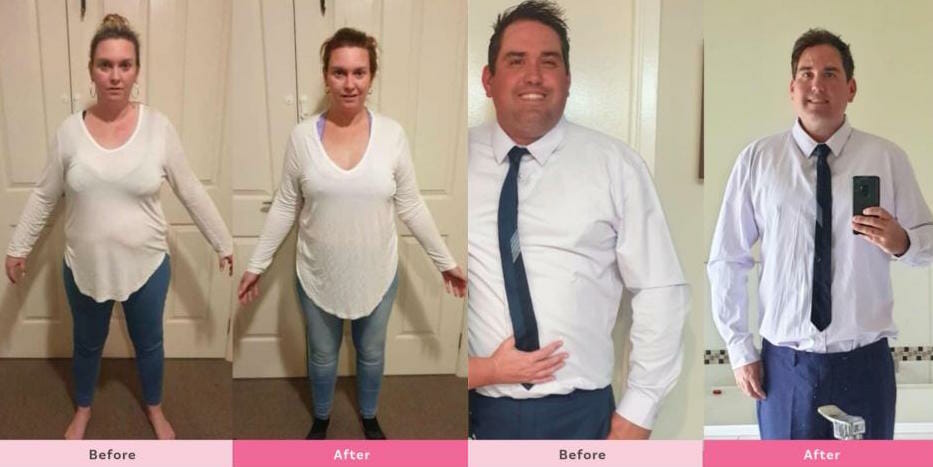 Katie signed up pledging to lose 10 kilos, and in order to support her, hubby Shane also got on board with the plan. In just 12 short weeks, Shane has dropped a HUGE 20 kilos, and Katie has lost 8 kilos!