Get this Month's TOP 10 Healthy Mummy Recipes!
There are over 4500 recipes in The Healthy Mummy App - we've put together a list of this months top ten Healthy Mummy recipes!
The Healthy Mummy App, home to The 28 Day Weight Loss Challenge has heaps of AMAZING family-friendly and delicious healthy recipes that have helped over 100'000 mums just like you get on top of their health and weight loss goals. In fact, there are over 4500 recipes to choose from and customise on your monthly meal plans.
With a mix of main meals, snacks, breakfasts and desserts, all our recipes are designed by nutritionists and are budget-friendly, tailored to fit into a busy mum's family life. And what's more, all your favourite foods are all included so you don't feel deprived – we're talking pasta, burgers, Asian meals and chocolate desserts – yes, you read that right! We've put together a list of this month's TOP 10 Healthy Mummy recipes to showcase exactly how good these recipes are!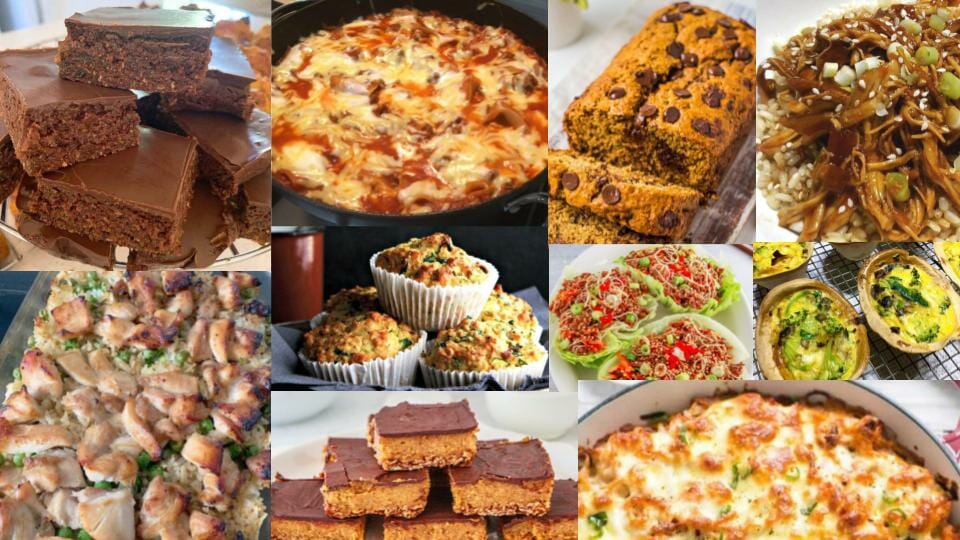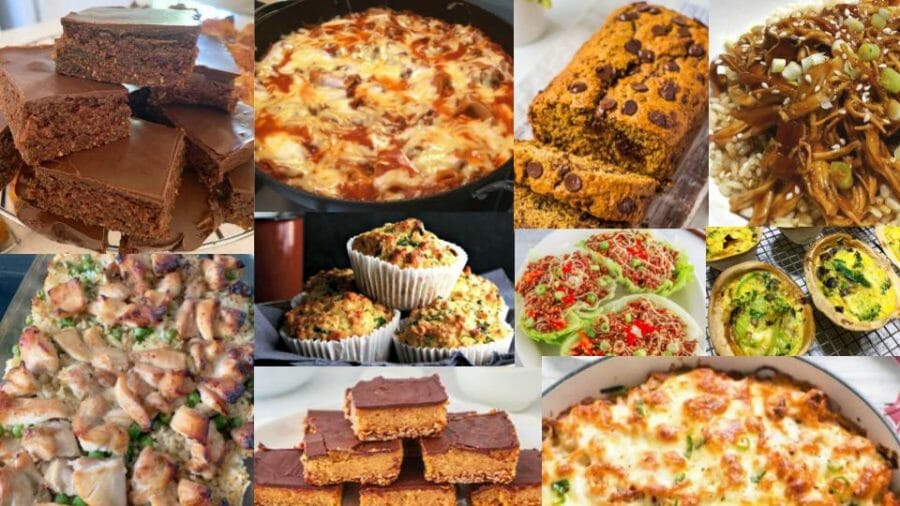 Here are our TOP 10 Healthy Mummy Recipes this month!
Healthy Chocolate Weetbix slice
This recipe is the gift that keeps on giving! Once you've made it, it will become your regular chocolate go-to recipe. At just 190 calories per serve, it satisfies chocolate cravings but without all the guilt!
Sticky Chicken Thigh Tray Bake
This Asian-inspired chicken thigh recipe all-in-one' tray bake dish is just like a Chinese takeaway,  all in the one pot! It's a perfect 'fakeaway' meal for the weekend or midweek without all the calories or cost. At just 392 cals per serve, it just takes 15 minutes to prepare and cooks in under an hour.
Sticky Chicken Thigh Tray Bake Recipe
Prep Time: 15 mins, Cook Time 55  mins, Serves 4
Ingredients
1 cup basmati rice uncooked
1/2 cup salt-reduced liquid chicken stock
1 cup water
2 tbsp tamari (gluten free soy)
1 tsp sesame oil
500 g chicken thigh fillets trimmed and chopped
2 tsp honey
2 cloves garlic minced
2 tsp fresh ginger minced
2 spring onions sliced
1 cup frozen peas defrosted
2 free ranged eggs beaten
Method
Preheat oven to 200C.
Place rice in a deep baking dish with stock, water, half of the tamari and all of the sesame oil. Cover with foil and cook for 30 minutes.
Meanwhile marinate the chicken in honey, the remaining tamari, garlic and ginger.
After the rice has been cooking for 30 minutes, remove from the oven and stir through the spring onions and peas.
Make four holes in the rice and pour a little beaten egg into each hole. Place the chicken on top of the rice.
Return to the oven and cook for a further 20-25 minutes or until the chicken is cooked through.
Toss the rice and chicken together to combine with the egg.
Divide between four bowls to serve.
Leftovers can be stored in an airtight container in the fridge for 2-3 days, or freeze for up to 3 months.
Stovetop Family Friendly Beef Lasagne
A super popular recipe with mums! Everyone loves a lasagne but let's face it sometimes there's a bit of effort involved. Not with this recipe! You don't even need to turn the oven on. It's just 280 calores per serve and will be a huge hit with the whole family.
Healthy Slow cooked Asian Chicken
Perfect for the cooler months, this Asian-inspired recipe will get the most out of your slow cooker. Just pop it all in your slow cooker then voila! Dinner is ready – and at only  320 calories, including the rice!
Choc Chip Banana Bread
This delicious and Healthy Choc Chip Banana Bread Recipe is from the 28 Day Weight Loss Challenge is super easy to make and is only 179 calories per serve! It's a great snack that can be prepared ahead of time, and sliced into individual portions to grab and go. You can even make mini ones so no slicing necessary.
Choc Chip Banana Bread Recipe
Prep Time: 10 mins, Cook Time 50  mins, Serves 16
Ingredients
2 small banana
100 grams butter
2 cups wholemeal self raising flour
1 1/2 tsp baking powder
1/2 cup coconut sugar
2 free-range eggs
1 cup dark chocolate chips
Method
Preheat the oven to 180C. Line a loaf tin with baking paper. Mash bananas and melt the butter
In a large bowl, place the mashed bananas, flour, baking powder and coconut sugar. Mix together until combined
Add the eggs and melted butter and stir until combined into a batter.
Add 3/4 of the chocolate bits to the batter and fold through gently.
Pour the batter into the prepared tin and sprinkle the remaining chocolate bits over the top.
Place in the oven and bake for 40-50 minutes or until a skewer comes out clean.
Slice into 16 pieces. One piece is one serve. Store leftover slices in an airtight container in the fridge or wrap individually and freeze to defrost and toast as required.
Beef san chow boy
This is a great weight loss recipe the whole family will love! Flavoured beef mince served with noodles in fresh lettuce cups, it's just 390 calories per serve.
Easy Zucchini Savoury Muffins
Using ingredients you probably already have in the pantry and fridge, these muffins are a delicious savoury snack you can make in a big batch to enjoy throughout the week. Plus, they're great in lunchboxes!
Healthy caramel slice
Sweet tooth? Then this recipe is for you. You don't have to feel guilt indulging in a slice of this. Just 108 calories per serve, it's easy to make in bulk so you always have some on hand for when those sweet cravings strike!
Baked chicken spaghetti
Pasta doesn't have to be off the menu when you're watching your weight. This healthy and family friendly meal is only 369 calories and uses a few key ingredients making it super simple to prepare too.
Healthy quiche taco boats
A savoury snack perfect for lunchboxes. These Quiche Taco Boats can be enjoyed hot or cold. You can use what you have on hand, add some ham, bacon or feta cheese. They are 128 calories per taco boat.
Healthy Quiche Taco Boats Recipe
Prep Time: 15 mins, Cook Time 15  mins, Serves 8
Ingredients
8 mini taco boats such as Old El Paso brand
4 eggs
2 tbsp reduced fat cream
1 large handful baby spinach
1 Onion
1 leek
4 button mushrooms
5 broccoli florets
Method
Preheat oven to 180C.
Place 8 boats on a baking paper lined tray and set aside.
Lightly steam broccoli.
Saute the leek in a small splash of olive oil until it becomes soft. Add onion and mushroom and cook for a couple of minutes.
Add spinach and cook for 1 minute or until spinach is wilted.
Place equal amounts of vegetable mix and broccoli in boats.
Mix eggs and cream together and pour over top of veggies.
Bake in oven for approximately 15 minutes, or until egg mix has risen and is firm to the touch.
Want more amazing recipes like this? Join the 28 Day Weight Loss Challenge!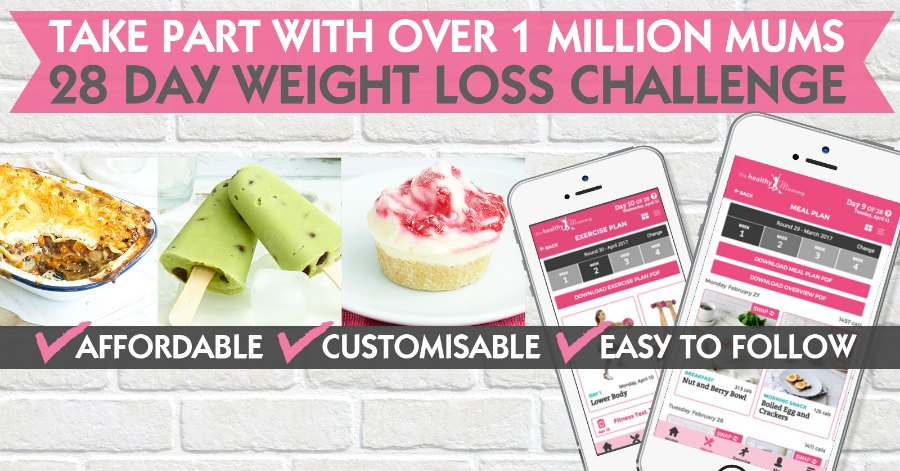 With more than 4,500 delicious (and healthy) recipes, 350 exercises & 24/7 support – the 28 Day Weight Loss Challenge  is designed (and proven) to help busy mums like you lose weight!To learn more about our challenge OR to join – click here.To learn more about our products – head to our Healthy Mummy Shop.