Often when we commence on a weight loss diet, especially after a life changing event such as having a baby, there are a few difficult eating habits that we need to take control of.
Acknowledging what your own personal journey is and challenges you  face when trying to lose weight is part of the process of learning to live a healthier lifestyle.
Here we talk about 5 common themes women face when trying to lose weight and how you can break the bad eating food cycle, today and learn to enjoy food and a healthier lifestyle.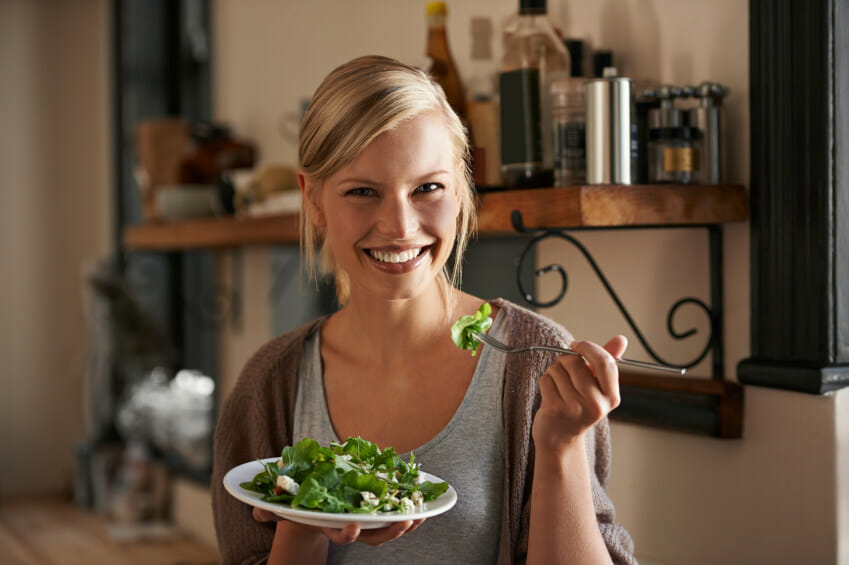 1. Emotional Eating
Emotional eating is very real among many women. We feel that food is a reward so when we are sad or happy we reward ourselves by eating ice cream while watching TV, eating a block of chocolate, finishing the cake, or celebrating with the same vices. Then we feel awful about the behaviour and put ourselves down and sometimes even eat more out of guilt and desperation.
We you get the craving for a treat of some sort and you feel that it is coming from an emotional point of you, recognise the occasion, walk away and remind yourself you are worthy of feeling great.
Try and occupy yourself for about 20 minutes and more often than not the craving will disappear. 20 minutes is all it takes for cravings to subside.
2. Snacking at night time
Dinner is done and dusted. You may have even had a bit of dessert. Come 9pm, you want something else to snack on. Chocolate or chips preferably.
Stop.
If you eat a whole large bag of chips, you could consumer over half your energy intake for the day in the space of 10 minutes.
How can you stop it?
Prep some other yummy, healthier snacks to eat such as fruit dipped in yoghurt or half a frozen banana blended with some cocoa.
Or even have a cup of tea.
We don't really need to eat anything at this time of night and most probably we are bored.
If you are genuinely hungry or breastfeeding, look at what you are eating at dinner. Do you need more protein? Was it not enough? It is better to eat healthier foods at dinner time and more of them rather then a packet of chips at 9pm.
3. Too busy to prepare dinner and buy takeaway or fast food
People are busy, yes. Families, kids, jobs, responsibility. But with a little preparation once or twice a week you can avoid last minute stop offs at the drive thru or throwing a frozen pizza into the oven.
A few tips to break through this cycle?
Try cooking on Sundays for 2 hours. You can make 3 or 4 meals in that time (and lunch for the week). Pop the leftovers in the fridge or freezer to eat on the nights that you really just cannot be bothered.
Throw together a 5 minutes salad with an egg and a mini can of tuna. Chop up the veggies, season and done.
Have an egg on toast with 2 cups of baby spinach. Done. It isn't Masterchef worthy but it is better than a dial in pizza.
Eat breakfast for dinner! No veg or meat. Well it is better than fast food!
4. Snack on banana bread at 10 am
Similarly to the above point, many people complain of being too busy in the morning to eat breakfast but then have a coffee and banana bread at 10am because they are starving.
But you can't lose weight?
There is around 400 calories in one small slice of banana bread at some cafes. That is a lot of calories for not much satisfaction. High in sugar and low in protein so it also doesn't satisfy and fill you up.
Best way to avoid this mid morning dip. Eat breakfast. Every day.
Don't have time? Even make it the night before and eat it first thing at work.
Here are some lovely recipes to try.
5.

Grazing all day
Again a result of being busy, some people don't eat a proper breakfast, lunch, dinner or snacks and just graze all day. They don't know what or how much they eat of anything and are never feel completely satisfied.
When trying to lose weight or lead a healthier lifestyle, it is crucial to eat at least 3 square meals a day and 2or 3 sets of healthy snacks. Plan your meals and snacks in advance and make them a priority. Make sure you eat a meal regularly, and enjoy it. Food is our fuel remember.
If you are ready to lose weight then the Lose Baby Weight plans offer a healthy and safe exercise and diet routine and you can get a 10% discount by using code LOYALTY at the checkout
PLUS our BEST SELLING 28 Day Diet & Exercise Plan is available as a 200pg Printed Book and you can get your copy here
Plus our NEW CALORIE BIBLE is now available – get your copy today! Only $19.95 and a must have in your handbag!