Vanessa Looks And Feels Amazing!
Firstly I would like to thank your product, company and people involved with the Healthy Mummy Smoothie range. I wouldn't be here if it wasn't for all of you.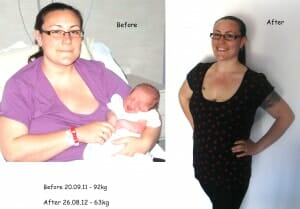 I begun the 28 diet and exercise plan a few days after my 29th birthday. I was 82 kilograms and felt so unhappy with my appearance and felt unhealthy and unfit.
I was adamant that I would not enter my 30s in the condition I was in. I wanted to be healthy and happy for myself and my children. So I took the plunge. Plus with the 30 days money back guarantee there was nothing to lose.
I have two young gorgeous children. A 3 year old boy and a little girl almost 1. Recently my son was diagnosed with Autism. This places quite a lot of stress on our daily lives and lives me quite time poor.
On top of these issues, I suffer from depression and do not have much family support. Before I ordered the smoothies I was at rock bottom. I knew I had to do something for myself but didn't know where to look or where to start. I found this great product online on Facebook and as I am breastfeeding (and still am) it was perfect!
Your 28 day weight loss plan and Healthy Mummy smoothies were perfect for me. The smoothies were incredibly delicious and so quick and easy to make. I learned so much from the 28 diet and exercise plan, about portion size and what better choices to make.
The diet and exercise plan taught me how to exercise again. It also taught me what choices to make food wise, not to pig out on junk and better for you options that would keep me full for longer. The recipes on the site were great as well, even my hubby loved them.
The exercise examples were incredibly helpful. Even the mere fact that I could spread exercise over the day instead of one solid session was reassuring. The exercises targeted key areas that are problem areas after having kids and I noticed a huge difference in only a few days. Not to mention my energy levels.
To my great surprise and excitement I lost a huge 3 kg in only the first week. Of course there were bad weeks and difficult weeks but I managed to maintain or lose a little each week. I made sure I followed the tops and read the weight loss advice on the site.
My weight was 92kg just after my daughter Amelia was born in September 2011. In my before picture I do not look very happy, and I wasn't. Ir eally hated my picture being taken.
I currently weigh 63kg which is fabulous. I am quite short so would like to lose roughly 6 kilos more to get a healthier BMI.
Now that I have the knowledge and tools from the Healthy Mummy and its range, I know I will get there in the next few months or so. I always thought I would be unhappy and overweight for the rest of my life, but now I am not. I can't thank you enough for creating this fantastic business and product.
I am so much happier and healthier which only makes me a better mum and wife. So thank you!!
Thank you, thank you, thank you!

Vanessa Allen