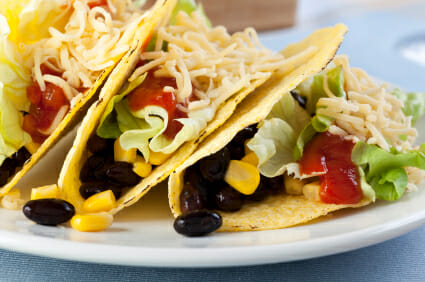 Meatless Mondays are becoming a popular event for many families to increase their vegetable intake.
This vegetarian taco meal is a great recipe to add to your healthy eating plan or weight loss diet. You could also add in minced beef if you like.
Prep time: 10 minutes
Cook time: 10 minutes
4 serves
Ingredients
8 taco shells
Oil spray
8 tbs of Mozzarella/Tasty Cheese
1 brown onion
2 cloves of garlic crushed
1 can of kidney beans rinsed, drained
1 cup of frozen corn
Butter lettuce chopped
1 cup of chopped cherry tomatoes
1 handful of fresh coriander
½ red onion
1 chilli (optional)
1 lemon squeezed for juice
Salt and pepper for seasoning
Directions
In a pan, spray some oil, heat it up and cook the garlic and brown onion until soft. Add in the kidney beans and corn and cook until hot.
While they are cooking, place the tacos into a 180 degree preheated oven.
In a separate bowl, chop up the coriander, cherry tomatoes, red onion, chilli (optional) and the juice of one lemon, set aside as salsa.
Once the tacos are ready, spoon in the bean and corn mixture, salsa, butter lettuce and cheese. for more Taco recipes try our delicious fish taco recipe!
310 calories per serve
If you are ready to lose weight then The Healthy Mummy plans offer a healthy and safe exercise and diet routine that are safe if you are breastfeeding